Kate 'Tormented' Over Social Class Like Meghan Was on Race—Tina Brown
Kate Middleton was mocked as a social climber by the same U.K. press who "stooped to new lows" in relation to Meghan Markle and race, according to Tina Brown.
The former magazine editor's new biography The Palace Papers, released on April 26, charts how every high profile royal wife in modern times has faced the wrath of the media.
Meghan acknowledged in her Oprah Winfrey interview in March 2021 how other royal women had experienced rudeness but suggested her own treatment was different because it was racist.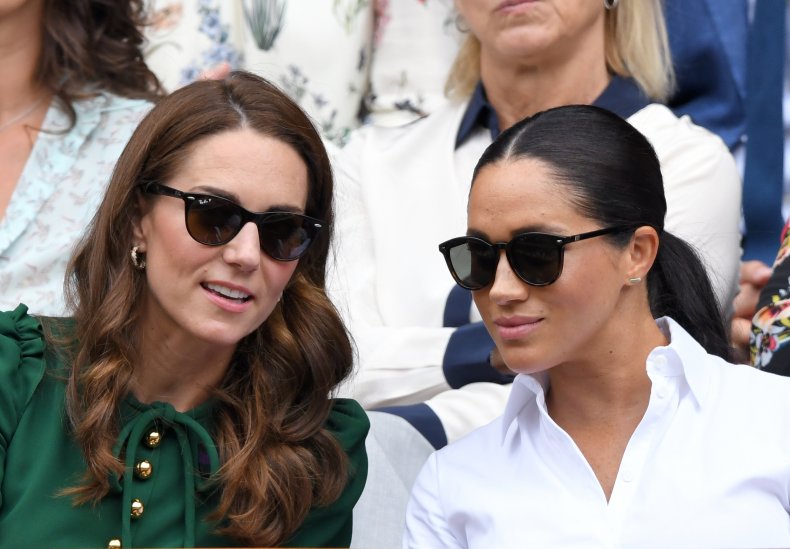 However, Brown highlights how some of the hostile coverage Kate and the Middleton family experienced spoke to their social background and class.
She wrote: "No one knew better than Harry what the British press was capable of. He had seen it all—from the primordial trauma of his mother's last hours to the brutal invasions of his previous girlfriends' privacy, and the monstering of every woman in the royal family except the Queen.
"Kate had been tormented about class and social climbing and her mother's Party Pieces business—'Mail Order Bride,' one columnist sneered. The jibes didn't end after the wedding either. She was routinely depicted as a placid nonentity.
"It was perhaps inevitable that the same malevolent scribes who had heaped scorn on the class and looks of the other royal women would go after Meghan on race, practically throwing their backs out as they stooped to new lows."
The book cites Wolf Hall author Hilary Mantel's lecture for the London Review of Books which described Kate as being "as painfully thin as anyone could wish, without quirks, without oddities, without the risk of the emergence of character."
However, Kate and sister Pippa Matthews were also framed as being too middle class to pass in aristocratic circles.
Other examples not listed in The Palace Papers include an anonymous source quote in The Daily Mail in 2007, which read: "Kate and Pippa have already been dubbed The Wisteria Sisters—they're highly decorative, terribly fragrant and have a ferocious ability to climb."
A June 2008 headline in The Mail on Sunday, the same newspaper Meghan would famously later sue, read: "Queen: Kate should get a proper job before Prince William announces their engagement."
The article suggested it could damage Prince William's public image if Kate did not establish herself in a career and quoted an anonymous palace aide discussing "what is being called the Kate problem."
Brown describes how Camilla, the Duchess of Cornwall, and Prince Andrew's former wife Sarah Ferguson, the Duchess of York, also experienced negative press coverage.
She wrote: "With Sarah Ferguson, the 'Duchess of Pork,' the tabloid sharks were merciless about her weight. Camilla Parker Bowles was reviled as ugly and old with such frequency, she took to signing her letters to Charles 'your devoted old bag.'"
The book quotes an interview Camilla gave on her 70th birthday in which she said: "I wouldn't want to put my worst enemy through it."
Meghan told Oprah: "Kate was called Waity Katie, waiting to marry William. While I imagine that was really hard, and I do, I can't picture what that felt like, this is not the same.
"And if a member of his family will comfortably say we've all had to deal with things that are rude. Rude and racist are not the same."
However, Prince Harry has framed some of the wider discussion about Meghan that was not related to race in terms that went beyond rudeness.
The Duke of Sussex told a panel discussion for Wired in November 2021: "Maybe people know this and maybe they don't, but the term Megxit was or is a misogynistic term, and it was created by a troll, amplified by royal correspondents, and it grew and grew and grew into mainstream media. But it began with a troll."
The couple's Oprah interview was strong in its condemnation of Meghan's treatment at the hands of the media but did not account for the way criticism of other royal women has, at times, gone beyond rudeness to speak to other social justice issues, including social class and sexism.
For more royal news and commentary check out Newsweek's The Royal Report podcast: