12 Times Kate and Meghan Wore Jewelry From Diana
Princess Diana was a style icon and wore a wealth of impressive pieces from her own or the royal family's collection.
Kate Middleton and Meghan Markle, the wives of her two sons Prince William and Prince Harry, have been have on occasion been spotted wearing her jewelry.
The Princess of Wales' sons, who carry on her legacy, have made sure their partners carry a piece of her memory, including on very special occasions. Here are 12...
1. Kate Middleton's Engagement Ring
Prince William proposed to Kate Middleton in 2010 using Princess Diana's sapphire ring.
However, former royal butler Paul Burrell revealed the Duke of Cambridge was given it by his younger brother Prince Harry who wanted a part of his mother to one day be on the throne.
Burrell told Amazon Prime documentary The Diana Story: "Harry said to him: 'Wouldn't it be fitting if she [Kate] had mummy's ring?'."
He added: "Then one day that ring will be sat on the throne of England. Harry gave up his precious treasure."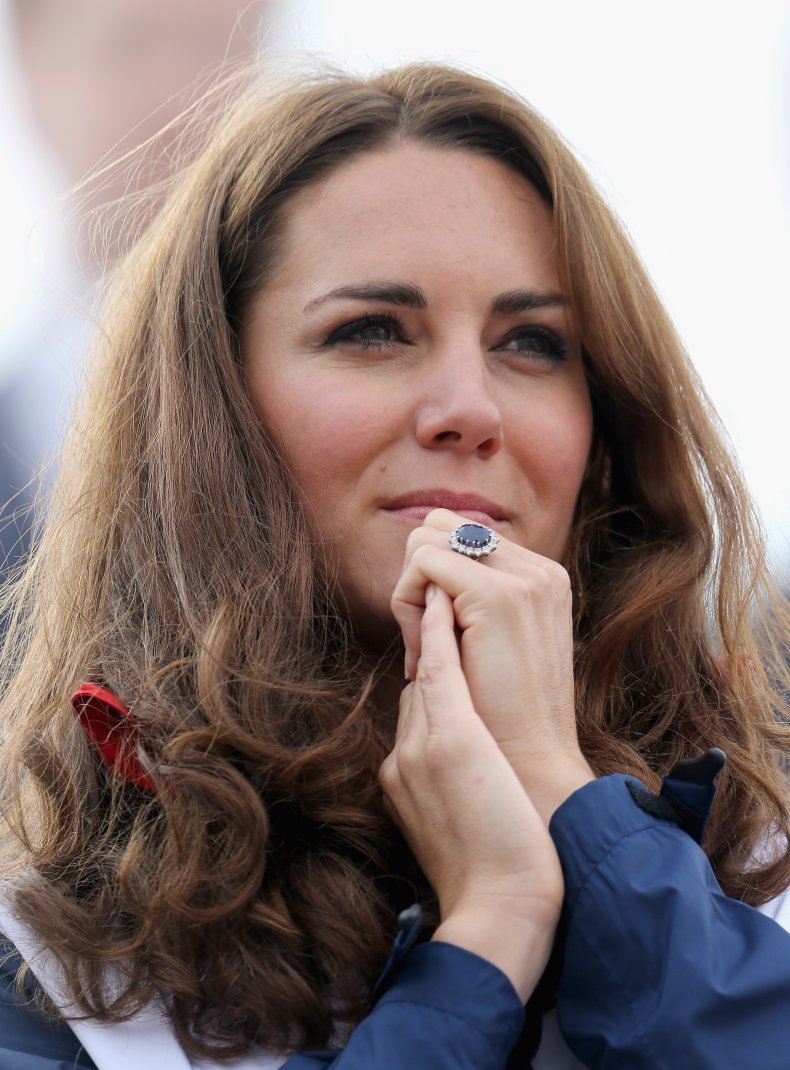 2. Meghan Markle's Engagement Ring
Prince Harry no longer had the sapphire ring to give his own wife, but he still made sure Princess Diana would be a symbolic part of his marriage to Meghan Markle.
The Duke of Sussex had a new engagement ring specially made using a central stone from Botswana and two diamonds from his mother's collection.
The prince told the story during the couple's engagement interview with the BBC in November 2017.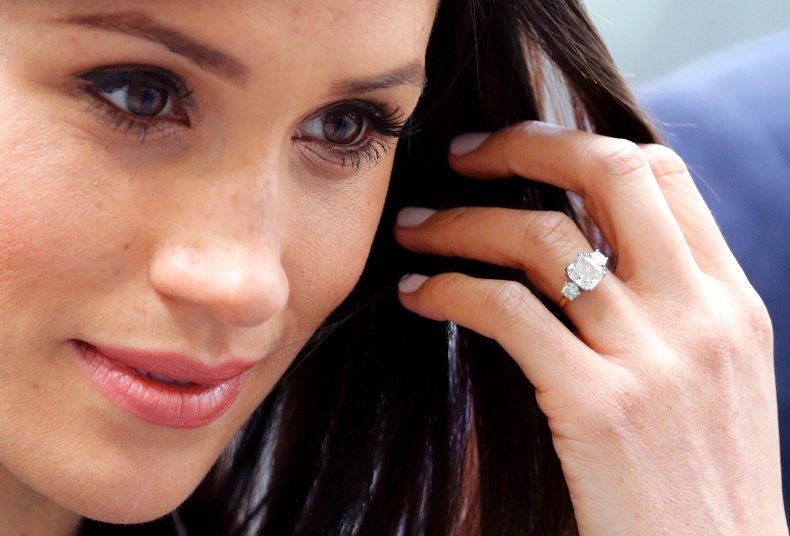 Harry said: "The ring is obviously yellow gold because that's her favorite and the main stone itself I sourced from Botswana and the little diamonds either side are from my mother's jewelry collection to make sure that she's with us on this crazy journey together."
Meghan added: "Obviously, not being able to meet his mom, it's so important to me to know that she's a part of this with us."
3. Butterfly Earrings
Meghan wore Princess Diana's butterfly earrings on her first royal tour after her May 2018 wedding.
The Duke and Duchess of Sussex had already visited the four home countries of the United Kingdom and it was time to look further afield to Australia, which also has Queen Elizabeth II as its head of state.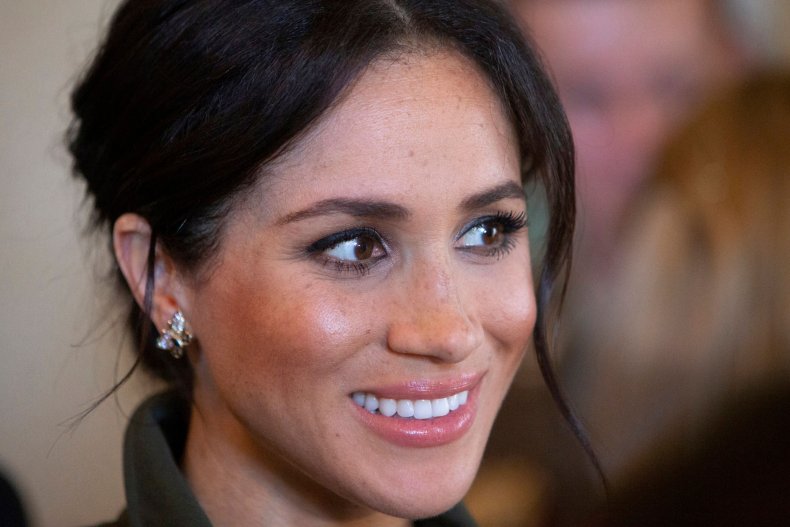 Just a day after the couple announced Meghan was pregnant, the duchess paid tribute to Prince Harry's own mother.
The butterfly earrings she wore to Admiralty House, in Sydney, on October 16 were worn by Princess Diana during a tour of Canada in 1986.
4. The Lover's Knot Tiara
The Duchess of Cambridge wore the same Lover's Knot tiara that was iconic for Princess Diana at a State Banquet at Buckingham Palace on October 23, 2018.
Kate also wore a set of pearl earrings which Princess Diana had been given as a wedding present after marrying Prince Charles in 1981.
The princess wore the tiara at an event in New Zealand in 1983.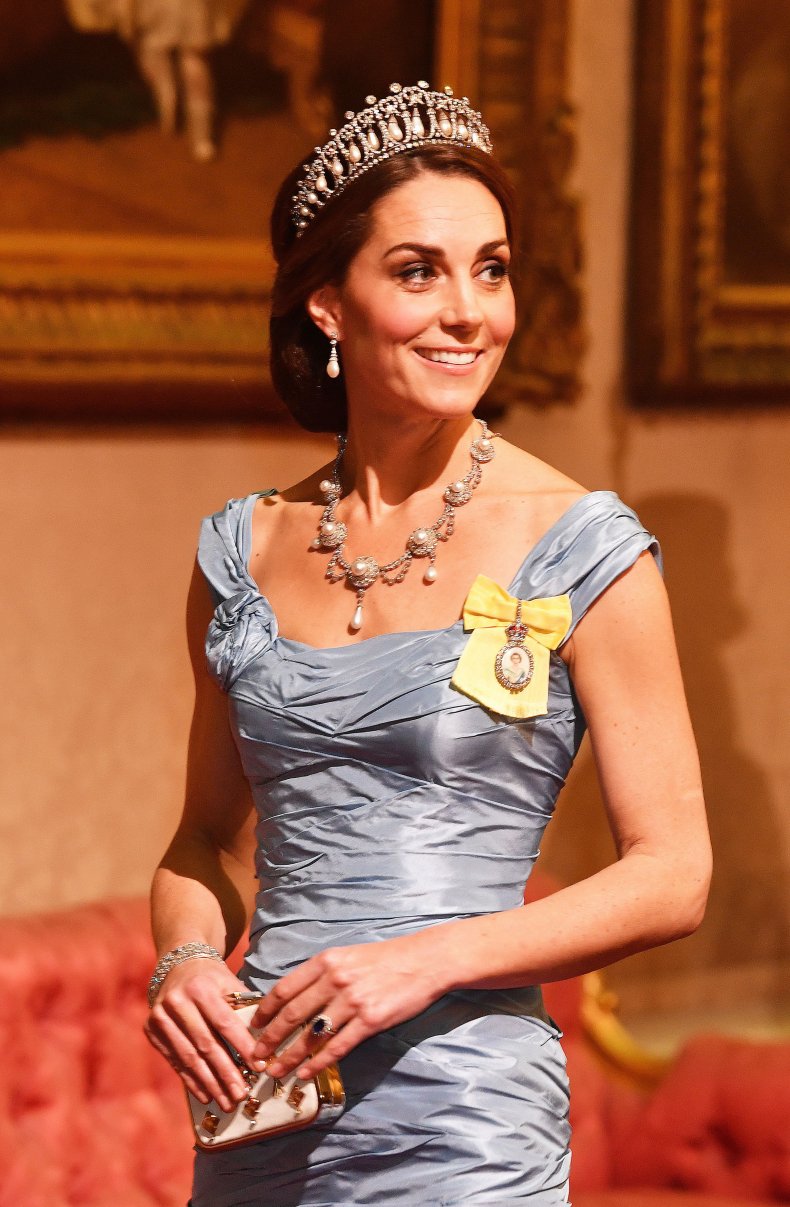 5. Pearl Bracelet
Kate Middleton wore Princess Diana's pearl bracelet on a tour of Germany in July 2017.
The Duchess of Cambridge was seen in the jewelry as she and Prince William arrived for a reception at the Clärchens Ballhaus, Berlin's last original dance hall.
The piece was designed by Nigel Milne and worn by Diana in Hong Kong in November 1989.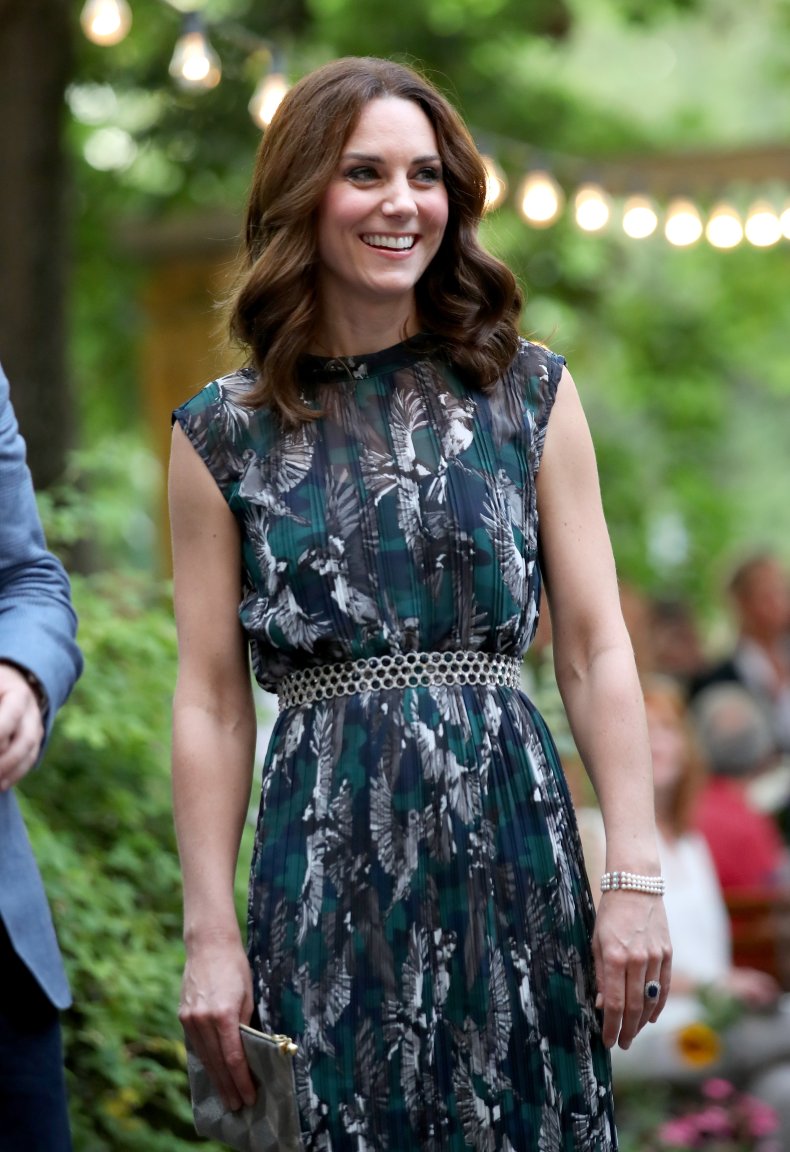 6. Princess Diana's Bracelet
Meghan Markle and Prince Harry walked in Diana's footsteps as they gave a bombshell interview attacking the Monarchy in March.
The tell-all reminded many of Princess Diana's own dramatic allegations in 1995 when she told the BBC there were "three of us in this marriage."
Meghan also channelled her mother-in-law through her outfit by wearing Diana's diamond Cartier tennis bracelet.
People reported Prince Harry wanted his wife to wear the item during the sit-down so Diana could be with them.
7. The Aquamarine Cocktail Ring
Prince Harry made sure Princess Diana was with them at their wedding reception too, when Meghan wore his mother's famous aquamarine cocktail ring.
The duchess was seen in the dramatic jewelry as they drove from Windsor Castle to their reception at nearby Frogmore House, on May 19, 2018.
Diana commissioned the ring from British jeweler Aspery in 1996 and wore it in Sydney on October 31 that same year.
It was a tumultuous time for the princess as that year she divorced Prince Charles following four years of acrimonious separation.
The Prince of Wales also hosted the wedding reception where Meghan wore the ring.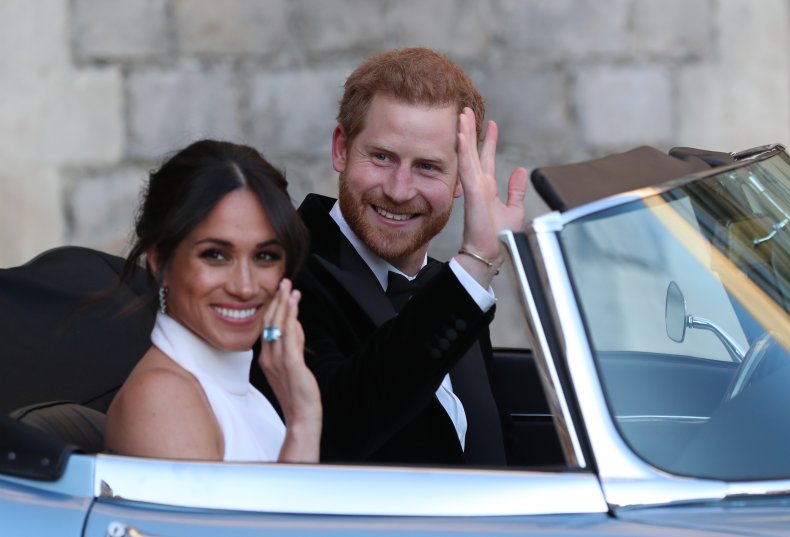 8. The Japanese Four-Row Pearl Choker
Kate Middleton wore a dramatic pearl choker to Queen Elizabeth II and Prince Philip's 70th wedding anniversary in November 2017.
And the same necklace was worn by Princess Diana to a state banquet at Hampton Court Palace, in London, for Queen Beatrix of the Netherlands, in 1982.
The Japanese Four-Row Pearl Choker, in fact, belonged to Elizabeth who commissioned it from jeweller Garrard, who, according to Marie Claire, said they were made with the "finest cultured pearls presented to her by the Japanese government."
9. Diamond Jubilee Earrings
Kate Middleton honored Princess Diana during the queen's Diamond Jubilee celebrations in 2012 with a set of earrings from her mother-in-law's collection.
The sapphires, surrounded by diamonds, were modified for the duchess from a pair Diana wore which originally had a second oval stone below, Marie Claire reported.
Princess Diana wore them at a reception in Brisbane in April 1983 after they were a gift from the Crown Prince of Saudi Arabia.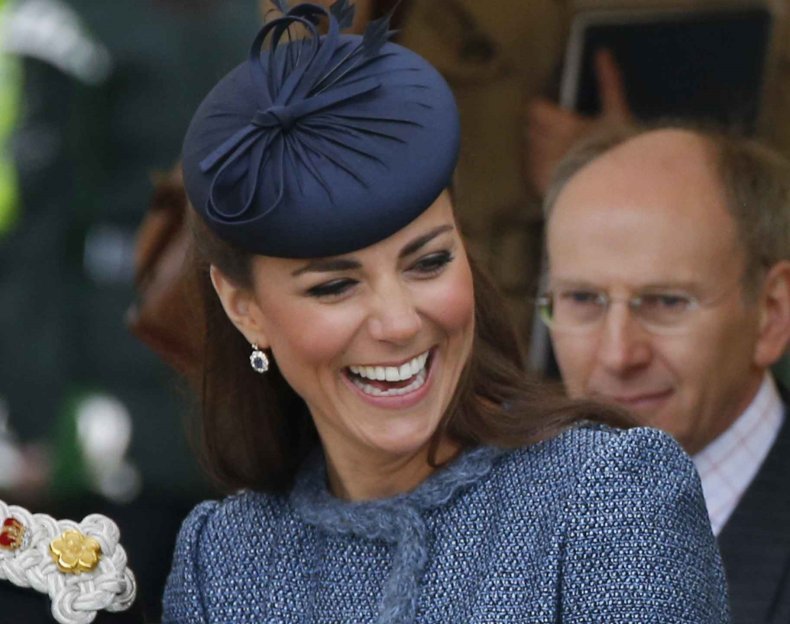 10. Sapphire Necklace
The other half of the same set of Princess Diana's earrings is believed to have been used for one of Kate's necklaces, People reported.
The duchess wore the piece when meeting Ukrainian President Volodymyr Zelensky at Buckingham Palace last year.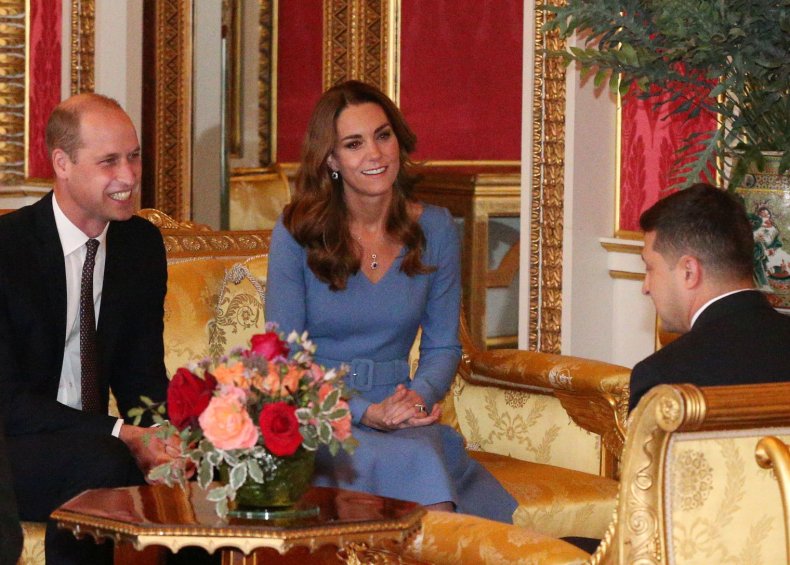 11. Princess Diana's Gold Bangle
Meghan Markle wore Diana's gold bangle at an event which was all about fashion in September 2019.
The duchess launched her Smart Works collection wearing the bracelet which features two blue stones.
Princess Diana wore the piece when she visited the Lord Gage Centre, in Newham, in 1990, the Daily Express reported.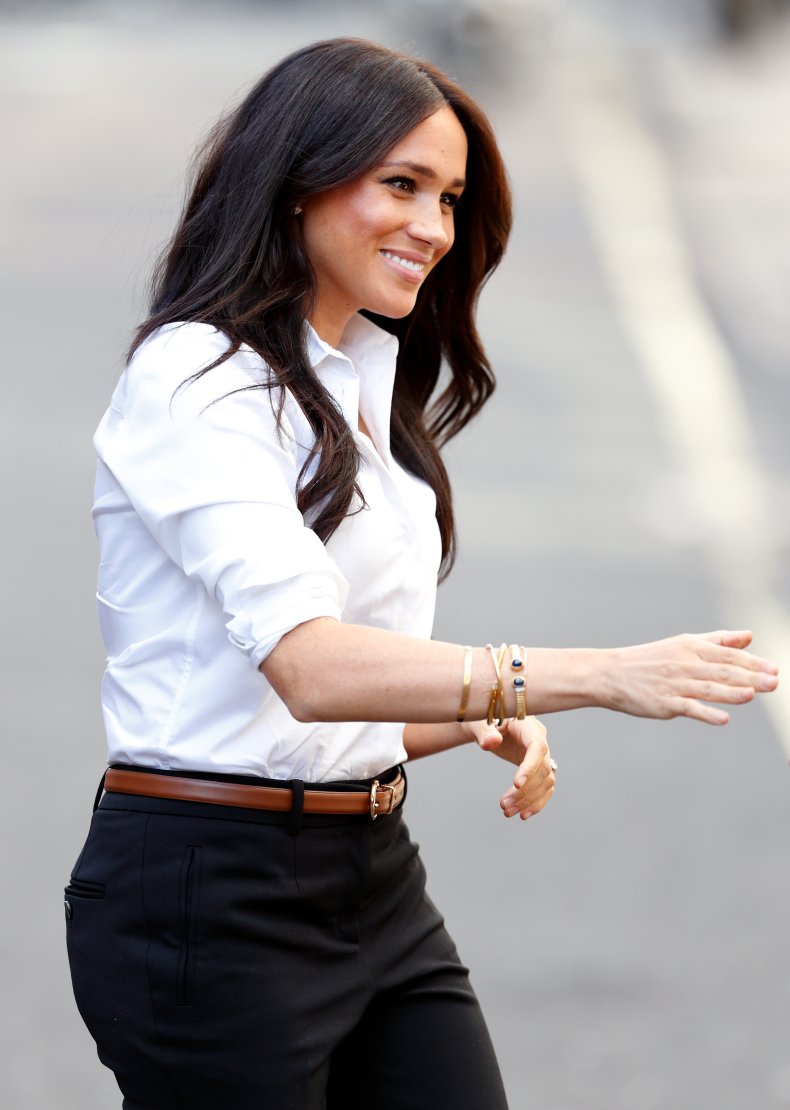 12. Pearl Earrings
Kate Middleton wore a set of Princess Diana's pearl earrings to the BAFTAs, Britain's answer to the Oscars, in 2019.
Prince William is BAFTA president and the duchess kept his mother with her for the glamorous occasion.
Diana was given them as a present following her wedding to Prince Charles in 1981 by Collingwood Jewellers.