I've Seen Kate Middleton With Her Children, She Doesn't Deserve Trolling | Opinion
Kate regularly drives George and Charlotte to school. She—and William when he's on daddy duty—have to travel down my road so I've got used to seeing them. They're quiet, unobtrusive and seem like just any other couple doing the school run. I've given way to Kate more than once and she's also given way to me! I always feel that shows a kindness of character.
The only little person I've not had a glimpse of before this weekend is their youngest, Prince Louis, and what a character he's turning out to be. The 4-year-old was lively, boisterous, cheeky—a real star of the show. He charmed the world.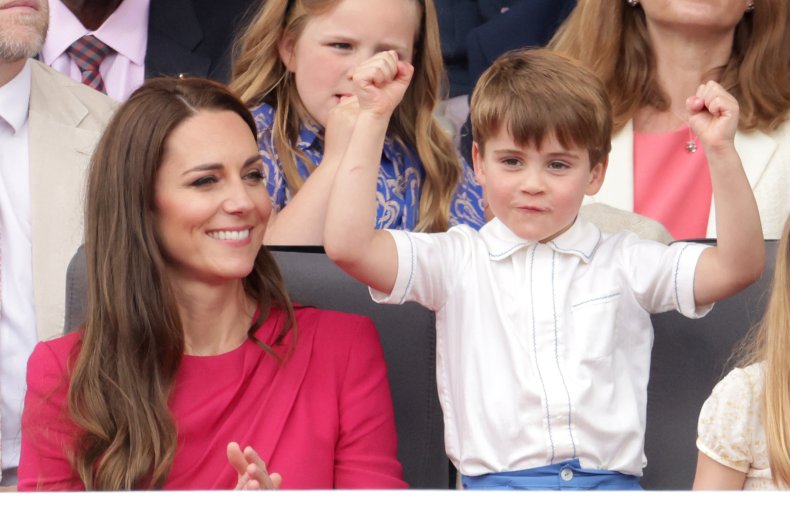 So how is it that Kate is being so badly trolled over the perfectly natural behaviour of a pre-school age little boy? Harsh internet trolls have accused Kate of poor parenting as she failed to "keep control" of him during Sunday's three-hour pageant. Even nastier trolls have sought to wound deeply by suggesting the little boy may be displaying signs of attention deficit hyperactivity disorder or even autism. These diagnoses are serious and cannot possibly be decided by a non-expert judgment call from someone watching a TV screen.
One commented, "Kate better get it together as a parent," while another instantly decided that "Louis is spoilt by his mother and she lets him get away with poor behaviour or he wouldn't be doing this."
Another snide poster added, "Kate is relying on the nanny too much," while others laid it on even more thickly, including this:
"Next time bring Louis's real mother to future outings (the nanny). Kate needs to stick to photography and pay more attention to her own children. Is there anything Kate is good at? Failed Caribbean Tour and poor parenting skills."
And so it goes on.
The royal family has long been seen as fair game; it's as if they are a soap opera, not real people trying to make the best of the role in which they have been put. But to be trolling the behavior of a small child, and thus his mother, feels as though yet another line has been crossed.
I think Kate is a great parent. Why do I believe that? Because in all the footage we see, including at last weekend's Platinum Jubilee celebrations, little Louis and his siblings George and Charlotte appear to be secure, happy and confident children, just as any parent would want.
I would add, William appears a great parent too, but the trolls aren't out to get him in this role—why is it always the woman?
The Duchess was there this weekend to support Louis on his first public outing. He first appeared in a carriage during Trooping the Colour and then on the balcony of Buckingham Palace where he stood next to Queen Elizabeth II and let enough of his personality shine through to keep her amused and the waiting photographers happy.
The Pageant was different and little Louis was relaxed and comfortable at the centre of his immediate and extended family. As a result, he played up. Of course he would. Did I mention, Louis is four. You could see Kate was trying her best to keep him in check when he stuck his tongue out at her. But what could she do, knowing the eyes of the world were upon her? Pictures of a little boy convulsing with tears do not look good, as every parent who has ever dealt with a tired child on a Sunday afternoon knows all too well.
Louis doesn't know he's special in the eyes of the world. He just knows he's Kate and William's much-loved baby and he's behaving accordingly. We need to really enjoy the moment. It won't last for long.
Lulu Sinclair is a counsellor and psychotherapist.
The views expressed in this article are the writer's own.