Kate Middleton's 'Second Wedding Dress' Goes Viral on TikTok: 'Beautiful'
A video of Kate Middleton wearing her lesser-known "second wedding dress" has gone viral on TikTok.
The clip showing Kate on the evening of her wedding day leaving Clarence House with Prince William, Prince Charles and Camilla, Duchess of Cornwall to join guests at an evening reception at Buckingham Palace, has received over 130,000 views and in excess of 5,000 likes since being uploaded by user allacortedi.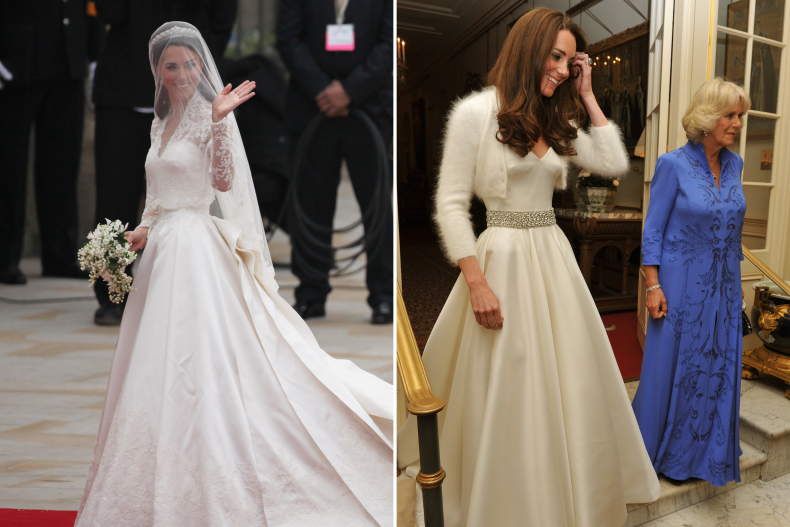 The dress was not officially photographed on the day of the royal wedding on April 29, 2011. Instead, news cameras and press photographers were permitted to capture the royal couple leaving Charles' London residence on their way to the palace.
The elegant white silk gown was designed by Sarah Burton for Alexander McQueen. She was also responsible for the dress worn for the wedding ceremony at Westminster Abbey earlier in the day.
More simply designed than the tradition-laden wedding dress, the reception gown comprised a strapless bodice with sweetheart neckline and voluminous free-flowing skirt more typical of fashion trends in 2011. The gown was accessorized with a crystal-embellished belt that sat at the high point of the waist.
The outfit was topped off with a fluffy white angora bolero jacket which covered the new Duchess of Cambridge's shoulders and upper arms, igniting a new trend in bridal wear which saw demand for similar garments increase under what is known as the "Kate effect"—the duchess' influence on consumer behavior.
It is not uncommon for brides to change from their wedding dress to a less cumbersome design for the evening reception. Meghan Markle followed Kate's example for her 2018 wedding to Prince Harry.
Following the wedding ceremony at St George's Chapel and a small drinks reception afterwards hosted by Queen Elizabeth II at Windsor Castle, Meghan changed out of her Givenchy haute couture wedding gown into a simpler halterneck dress by British designer Stella McCartney.
Princess Eugenie, the daughter of Prince Andrew and Sarah Ferguson, also changed into a second dress on the day of her October 2018 wedding, swapping her Peter Pilotto- and Christopher de Vos-designed ceremony gown to a blush pink pleated evening dress by Zac Posen.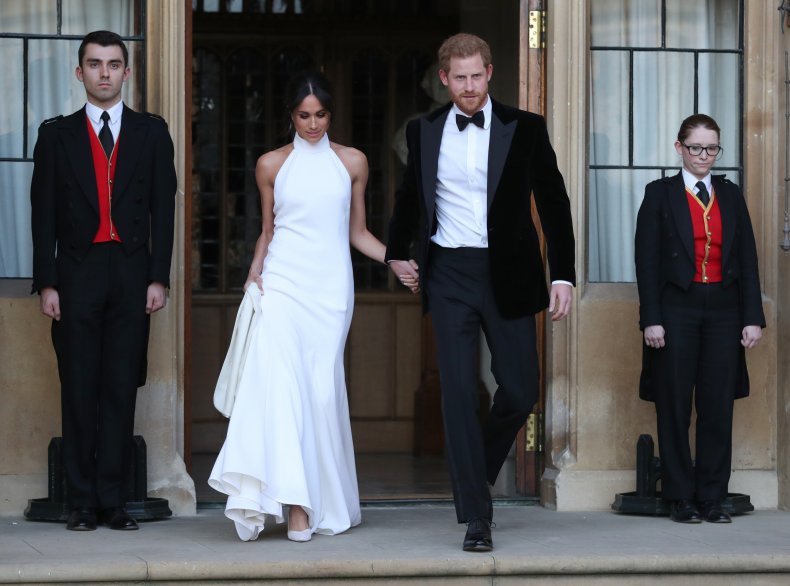 TikTok users have praised both Kate and the dress in the comments section, commending the new duchess' "poise and grace."
"She is so perfect," said one user.
"Love them, the next generation of Royals," said another, with many more commenting "beautiful" in regards to the dress.
Since her marriage Kate has become a leader in British fashion, with society bible Tatler magazine hailing her as the most stylish woman of 2022 after adopting a number of vintage style silhouettes for event dresses.
The designer of a number of the royal's most celebrated looks so far this year has been Alessandra Rich, a British-based fashion label specializing in bold designs for strong women.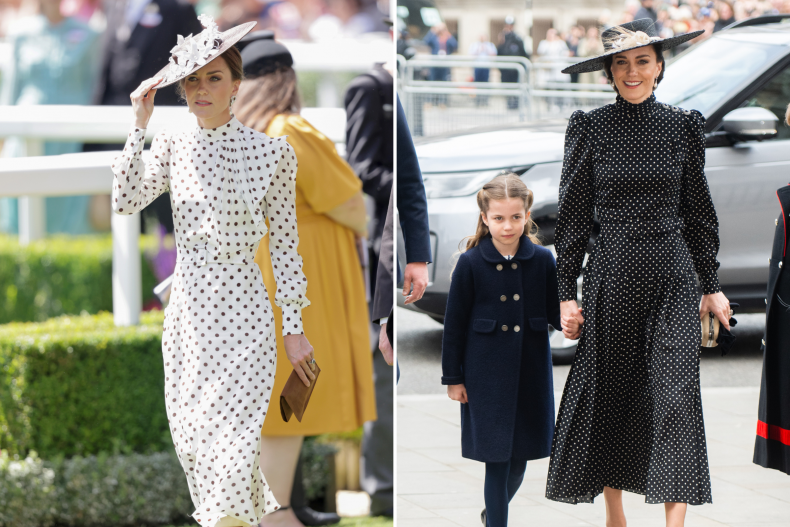 In August, the designer gave an interview about her most famous client's sense of style saying:
"The Duchess of Cambridge is such a style icon, I can't ever say I'm not thrilled she likes my clothes."
Kate has worn Rich dresses on five high-profile occasions this year alone, including a cream and coffee-colored polka dot ensemble to Royal Ascot. "She looked so beautiful," Rich commented, "It was the perfect choice for this incredible event."
Despite becoming a newfound fan of Alessandra Rich, Kate has remained a loyal client of the design house responsible for her two wedding day dresses, with Alexander McQueen regularly making appearances on the duchess for evening events and royal ceremonial occasions.