Kathy Griffin Brands Woody Allen 'Creepy' for Defending Bill Cosby
Kathy Griffin has slammed Woody Allen for defending embattled comedian Bill Cosby, branding the filmmaker "creepy."
Cosby was last week hit with a civil lawsuit from one of the more than 50 women who have accused him of drugging and raping them—allegations he has vehemently denied over the years.
The star of The Cosby Show had been convicted of three felony counts of aggravated indecent assault back in 2018, though the Pennsylvania Supreme Court vacated his conviction and he was released from prison in June of this year.
And amid the once-beloved comedian's legal battles, Griffin took to Twitter to express her distaste for Allen's purported defense of Cosby at a dinner party.
Actress Rosanna Lisa Arquette posted an undated photo of Allen and his wife, Soon-Yi Previn, walking behind late convicted sex offender Jeffrey Epstein, alongside the caption: "Any questions?"
Griffin responded to the post: "I sat next to Woody at a dinner party. (Long story) and he actually had the nerve to say to me 'and now I have to watch my good friend Bill Cosby get railroaded'. So yeah, it's a club. They cover for each other."
When fellow comedian Christopher Titus slammed Allen's alleged statement and said the director "makes me wanna puke," Griffin wrote back: "I guess he thought I would be in agreement because I'm a comedian??? He was as creepy as I feared."
Allen has faced his own controversy over the years, with his adopted daughter, Dylan Farrow, accusing him of sexually abusing her as a child—with the allegations being detailed in the HBO documentary Allen v. Farrow. The director has never been charged or prosecuted and denies the allegations.
In his memoir, Apropos of Nothing, published in March 2020, filmmaker Allen wrote: "I never laid a finger on Dylan, never did anything to her that could be even misconstrued as abusing her; it was a total fabrication from start to finish, every subatomic particle of it."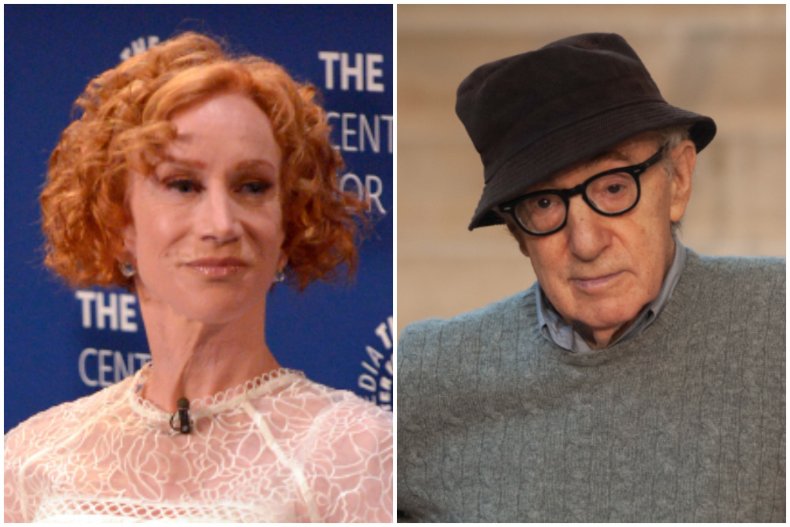 He also stated: "It makes no sense why a fifty-seven-year-old man who has never been accused of a single impropriety in his life, while in the midst of a contentious and very public custody fight, drives up to the hostile environment of the country home belonging to the woman who hates him most, and in a house full of people sympathetic to her, this man, who is thrilled as he has just recently found the serious love of his life, a woman he'd go on to marry and have a family with, would suddenly choose that time and place to become a child molester and abuse his seven-year-old daughter whom he loved.
"It defied simple common sense. Especially since I had been alone with Dylan many times in my apartment over the years, and if I were actually fiend, I had ample opportunities to act like one.
"Yet it makes perfect sense for the angry woman who had announced she would take away my daughter and had a plan worse than death for me, to resort to the single most common cliché of custody warfare, accusing the spouse of abusing the child."
Manhattan director Allen shares Farrow with former partner Mia Farrow. The abuse allegations arose after his relationship with Mia Farrow ended following his affair with her and Andre Previn's adopted daughter, Soon-Yi Previn.
Allen and Soon-Yi Previn, who said they got together when the latter was in her 20s, have been married since 1997.
Soon-Yi Previn addressed the abuse allegations leveled at her husband in a 2018 interview with New York magazine, saying: "What's happened to Woody is so upsetting, so unjust. [Mia] has taken advantage of the #MeToo movement and paraded Dylan as a victim. And a whole new generation is hearing about it when they shouldn't."