Kathy Griffin Compares Consequences for Beheaded Trump Photo to Paul Gosar's Violent Video
Comedian Kathy Griffin has recounted the consequences she suffered in 2017 for appearing in a photo holding up the bloody head of then-President Donald Trump.
She mentioned those consequences in relation to the lack of repercussions facing Republican Arizona Representative Paul Gosar after he posted a video showing himself threatening Democratic President Joe Biden and killing Democratic New York Representative Alexandria Ocasio-Cortez.
Gosar has since deleted the video from his Twitter account where it was originally posted.
On Tuesday morning, Griffin retweeted Twitter user @flexghost1's tweet which read, "Kathy Griffin got a visit from the secret service over a tasteless joke. Gosar made a video showing him murder AOC and the president. Are there ever repercussions for R's [Republicans]?"
Above @flexghost1's tweet, Griffin wrote that she was "fully investigated" by the Secret Service and the U.S. Attorney's Office for her Trump image. She was also put on the no-fly and Interpol lists, she said. Additionally, she lost all of her professional work and had her comedy tour canceled due to threats of violence, Griffin added.
Griffin wrote that her First Amendment had been "legitimately violated" by the federal government and attorney general.
"Oh, I forgot to mention," Griffin added in a follow-up tweet, "interrogated under oath at the conclusion of the weeks long investigation in which the Feds informed me and my attorneys they were considering charging me with a crime of 'conspiracy to assassinate the president of the United States.'"
"But Gosar ..." she concluded.
In a statement published on Tuesday, Gosar wrote, "This video is truly a symbolic portrayal of a fight over immigration policy."
He wrote that he posted the video in protest to Ocasio-Cortez and Biden's alleged support of "open border amnesty," which would "leave the border open while illegal aliens invade from all points."
"I do not espouse violence or harm," Gosar wrote. "The cartoon depicts the symbolic nature of a battle between lawful and unlawful policies and in no way intended to be a targeted attack against Representative Cortez or Mr. Biden."
"It is a symbolic cartoon," his statement continued. "It is not real life. Congressman Gosar cannot fly. The hero of the cartoon goes after the monster, the policy monster of open borders."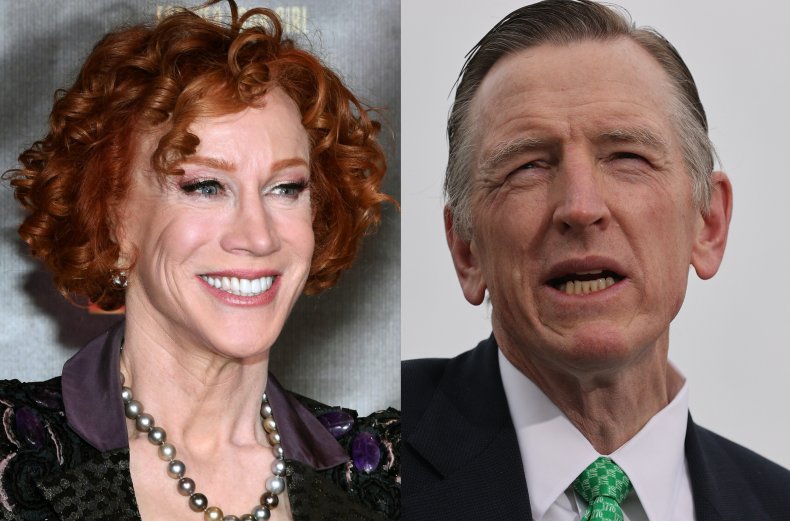 Griffin eventually apologized for the gory image she created with photographer Tyler Shields.
"I sincerely apologize," she said in a video posted to social media on May 30, 2017. "I am just now seeing the reaction of these images. ... I went way too far. The image is too disturbing. I understand how it offends people. It wasn't funny. I get it."
While Republican leaders have demurred on criticizing Gosar for his video, Democrats have been vocal in condemning him.
"This should not be happening, and we should be condemning it," White House spokesperson Karine Jean-Pierre said. "There is absolutely no place for any violence of any sort in this political system."
In a tweet, Democratic House Speaker Nancy Pelosi wrote, "Threats of violence against Members of Congress and the President of the United States must not be tolerated."
The House Democratic Policy and Communications Committee said in a statement, "In any other job in America, if a coworker made a video killing another coworker, that person would be fired."
On Tuesday morning, Gosar published an image that declared, "It's a cartoon. Relax."
Newsweek contacted Gosar's office for comment.