Kathy Griffin Wants Clarence Thomas Impeached Over 'Extremist' Wife Ginni
Kathy Griffin has slammed Virginia "Ginni" Thomas and called for her husband, Supreme Court Associate Justice Clarence Thomas, to be impeached following a report that she sought to overturn the 2020 election.
The Washington Post has published details of text messages Thomas sent to former Trump White House chief of staff Mark Meadows, in which she reportedly urged him to continue to fight now-President Joe Biden's victory.
As CNN reports that the text messages are now in the hands of the House Select Committee investigating the January 6 Capitol riot, Griffin has weighed in on the controversy, branding Ginni Thomas a "legit extremist."
"The Ginni Thomas texts do not disappoint," the comedian wrote on Twitter. "Each one is crazier than the last."
Continuing to lash out at the conservative activist, Griffin recounted the backlash she had faced for posing with the severed head of an effigy of former President Donald Trump in 2017.
"Ginni Thomas is a legit extremist," the TV personality wrote. "After my Trump photo scandal, the craziest of magas would flood my social media & even send letters to my house about me being imprisoned in Guantánamo Bay! They would mock up pictures and memes of me in the jumpsuit and everything. She is NUTS."
After the controversial photo of Griffin was unveiled, the star was condemned by Trump, who used the campaign slogan "Make America Great Again (MAGA)" during his bid for the White House in 2016.
The Suddenly Susan star added: "I post a lot about fringe maga ideologies and the various conspiracy theories etc that feed trumpism. Let me tell you, [Ginni] Thomas is really deep in to this stuff. Those texts show her believing in and acting on very extremist stuff, even by maga standards."
When one of Griffin's followers enquired if she believed that Justice Thomas should still be on the Supreme Court in light of the allegations, she responded: "I Think he should be impeached because he never recused himself in any and all cases regarding the legitimacy of the election."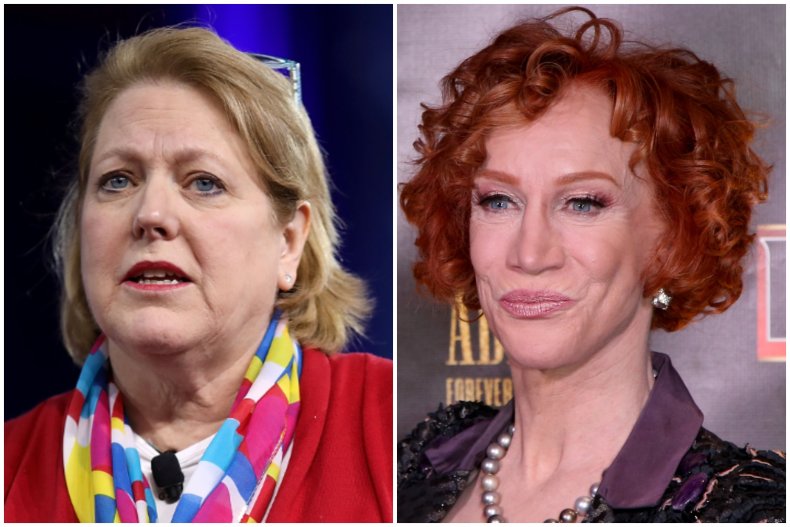 She stated in an earlier tweet: "I want Clarence Thomas to get impeached, because you CAN impeach Supreme Court Justice, and then I want Anita Hill to get his position on the Supreme Court."
Lawyer and professor Hill made headlines when she testified at Justice Thomas' 1991 Supreme Court confirmation hearings that he had sexually harassed her while serving as her supervisor at the U.S. Department of Education and the Equal Employment Opportunity Commission.
In her stream of tweets, Griffin also made note of the voicemail Thomas left Hill in 2010, in which she urged her to "consider an apology sometime and some full explanation of why you did what you did with my husband."
In an interview with The Washington Free Beacon earlier this month, Thomas said that she attended the January 6 rally near the White House but "played no role" in planning the event. She said she left the rally early because she got cold.
While she stressed that she does not involve her husband in her work, Justice Thomas has faced pressure from critics, who have called from him to be investigated or impeached.
Newsweek has contacted Virginia Thomas and the Supreme Court for comment.