Kathy Griffin Says Monica Lewinsky Voted for Hillary Clinton Over Trump
Comedian Kathy Griffin said that Monica Lewinsky, who had an affair with former President Bill Clinton, voted for Hillary Clinton in her 2016 bid for the White House.
Lewinsky was a White House intern when she met the president in the 1990s. They were involved in a relationship from 1995 to 1997, and the news about it broke in January 1998.
At the time, Bill Clinton vehemently denied the affair, famously saying publicly that he "did not have sexual relations with that woman." In a sworn deposition on January 17, 1998, he denied having a "sexual relationship," "sexual affair" or "sexual relations" with Lewinsky.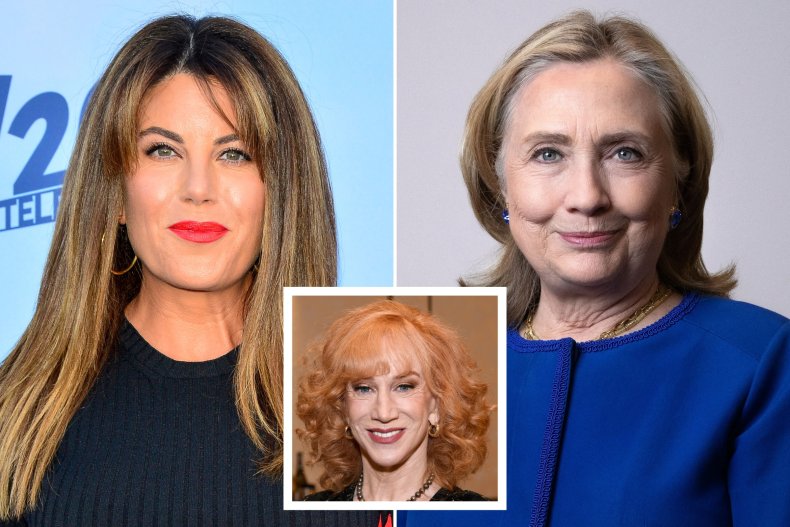 Bill Clinton would later admit to having an "inappropriate relationship" with Lewinsky, after repeated denials. Lewinsky said later the news media frenzy caused her to lose "so much of my life for over a decade."
The former president was impeached by the House on December 19, 1998, on charges of lying under oath and obstruction of justice in regard to his testimony. He was acquitted on both counts following a Senate vote and served the rest of his term.
Despite a contentious history with the Clintons, Lewinsky disclosed that she voted for Hillary during her unsuccessful campaign against Donald Trump, Griffin said.
During a Tuesday appearance on Jimmy Kimmel Live!, Griffin spoke about her salon dinner parties, one of which was attended by Lewinsky, now an activist who speaks out against cyberbullying and harassment.
"I put her with a bunch of really smart people and journalists," Griffin told Kimmel, speaking of Lewinsky. "She has a lot of friends in that field. And I did ask her, because she's lovely and, like, really easygoing and fun and funny. She was like a dream.
"But she has, like, you know, an issue to deal with everywhere she goes—she's very recognizable and stuff. And at first she was talking about wanting to go with a hot cop and I was like, Hold on, that's a whole other matchmaking business. I might be open to it."
Recounting another part of their conversation, Griffin told Kimmel: "I said, 'Look Mon...is it OK if I ask you this? If you don't want to answer, fine.... But I'm dying to know: Were you able to bring yourself to vote for Hillary Clinton in 2016?' And I said, 'Have you ever been asked?' She said, 'No.'
"So anyway, she did," Griffin said about Lewinsky's voting for Hillary. "She said, 'I couldn't let my own issues get in the way. I couldn't be a vote for Trump. So yes, of course I voted for Hillary.'"
"That would have been a great campaign ad," Kimmel quipped in response to the revelation. "By the way, it wasn't enough, [it] turns out."
"I know," replied Griffin, who is an outspoken critic of Trump, 76. "We tried."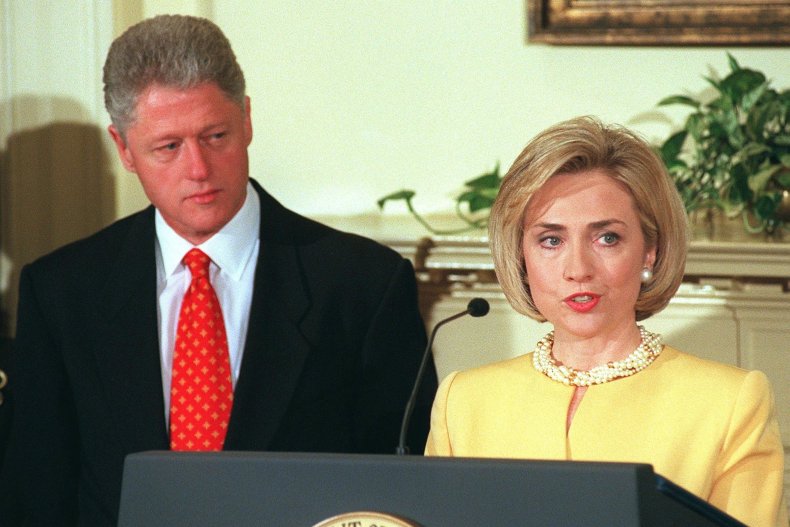 Newsweek has reached out to representatives of Lewinsky for comment.
Lewinsky wrote in a 2018 essay that late lawyer and judge Ken Starr "turned my 24-year-old life into a living hell in his efforts to investigate and prosecute President Bill Clinton" in relation to the headline-making affair.
The Clintons, who for years dismissed allegations that they had attacked Lewinsky's reputation in the wake of the scandal, expressed remorse in the 2020 Hulu documentary series Hillary.
"I feel terrible about the fact that Monica Lewinsky's life was defined by it, unfairly I think," Bill Clinton said. "Over the years, I watched her trying to get a normal life back again. But you gotta decide how to define normal."
In the documentary, Hillary said learning of her husband's affair was an earth-shattering experience.
"I was just devastated," she said. "I just could not believe it. I was just so personally hurt and 'I can't believe this. I can't believe you lied.' It was, anyways, horrible. And I said, 'If this is going to be public, you've got to go tell Chelsea.'"
Still, there was no reason to stop supporting her husband politically, Hillary said.
"I defended and stood by him because I thought the impeachment process was wrong, but that wasn't the necessary answer to what I would do with my marriage," she said. "It was not—to me—the same. I still had to decide whether I wanted to stay in the marriage, whether I thought it was worth saving."