Kathy Griffin Calls Johnny Depp 'Bloated Boozebag' Amid Amber Heard Verdict
Kathy Griffin didn't mince words when asked for her opinion of Johnny Depp this week, calling him an "orange, fat, bloated boozebag."
Griffin is the latest celebrity to come out in support of Amber Heard after the jury in her defamation trial found she had defamed her former husband.
Depp was found guilty of one count of defamation in Heard's countersuit, but has enjoyed high-profile celebrity support since the early days of the trial.
During the trial both parties leveled allegations of violence against the other, all of which were consistently denied.
At the beginning of a June 2 call-in episode of CNN political analyst Brian Karem's "Just Ask the Question" podcast, Karem asked Griffin for her thoughts on the Depp-Heard trial.
Griffin prefaced her statements by saying she's "friends with Amber Heard," adding, "I completely believe her."
She said the verdict was "really disturbing" to her as a woman and a feminist.
Referring to the testimony of several female witnesses, and the possible pressure they felt to "change their tune," she said "nobody wants to get Kathy Griffin-ed, as I was very famously canceled and blacklisted and all that stuff."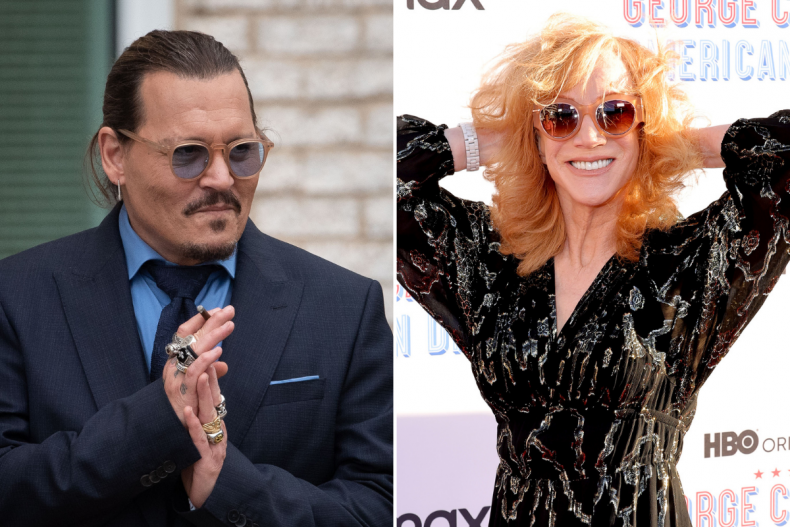 Griffin was referring to the infamous photoshoot in which she held a mold of Donald Trump's severed head, which led to her being widely criticized and attacked in the media.
There is no evidence that any of the females called to the stand to speak on Depp's behalf were coerced into making statements in support of Depp, or felt undue pressure to alter past experiences.
Griffin then called the discussion around the trial a "social media bloodbath," and opined that #MeToo is not dead yet. Then, she set her comedic sights on the current state of Depp.
"I just think Depp is gross," she said. "Do you know what I find funny?" She went on:
These Johnny Depp stans that are talking about this trial and yet they refuse to show pictures of what he looks like now, which is a big orange fat bloated boozebag. He looks like Donald Trump with a ponytail. And so they keep sticking up for him and being like, 'Amber is taking down Johnny! He's so gorgeous and dreamy!' I'm like, okay, he talks like Kanye when Kanye had his jaw wired. He has a fake accent like when Madonna turned British. So, you know, who are we kidding here?
Karem agreed that Depp's newfound accent is suspect.
"He's a Kentucky boy so every time I hear that from him I go, 'He didn't learn to speak like that in Kentucky,'" Karem said.
"He learned it from his idol Keith Richards," quipped Griffin.
She also ripped his fans who waited outside the courtroom each day, saying, "And just the whole thing of how he had, like, his digital warriors outside. It's... this is a middle-aged man. This is pathetic. So, anyway, I don't... I don't get it."
The six-week trial between Depp and Heard gripped the world as it was broadcast live whenever court was in session.
Depp sued ex-wife Heard for $50 million over three lines in a 2018 op-ed published in The Washington Post that she co-authored with the American Civil Liberties Union (ACLU). Heard countersued for $100 million over statements Depp and his camp had made about her.
The jury found Heard guilty of defamation on all counts and ordered her to pay Depp $10 million in compensatory damages and $5 million in punitive damages.
The jury also found Depp guilty of a defamation charge stemming from an April 8, 2020, article by his associate, Adam Waldman. They ordered Depp to pay Heard $2 million in compensatory damages.