Katie Ledecky Age and Record for Team USA Olympic Swimmer
Katie Ledecky, one of the greatest athletes in U.S. history and one of the stars of Team USA, has three more shots at a medal at the Tokyo Olympics after being dethroned by Australia's Ariarne Titmus in the 400m freestyle.
The two-time Olympian has won six Olympic medals and 15 world championship titles and can still win the 800m, 1500m and defend the gold she won at the Rio de Janeiro Olympics five years ago in the 200m.
Remaining at the top of a sport as demanding as swimming is incredibly difficult, but the 24-year-old is determined to add to her medal tally at the very highest level in Tokyo.
"When I won that first gold in London, and I had a lot of fun," she told Forbes in May.
"But I also knew that nothing was guaranteed, and that I could have been a one-year star and fallen apart. So, after London and my first gold, my goal was to break a world record, but also then to stay at that top competitive level. After that, I progressed in the years leading up to Rio. [...] I had individual goals for the NCAA and World Championships. I have my goals for Tokyo now, and that keeps me motivated."
Here's all you need to know about one of the greatest-ever U.S. athletes.
Katie Ledecky's Age
Ledecky was born in Washington, D.C. on March 17, 1997, making her 24.
She was the youngest athlete on Team USA when she made her Olympic debut aged 15 at the London 2012 Olympics, and she was the youngest member of the 2016 U.S. Olympic Swimming Team at the Rio Olympics four years later.
Katie Ledecky's Record
For some athletes, statistics tell only a part of their story. Ledecky, however, is firmly in the camp of athletes whose greatness can only be understood when their stellar records are listed. A two-time Olympian, the 24-year-old has won six Olympic medals in her career, five of them gold.
Just four months after her 15th birthday, Ledecky won gold in the 800m freestyle at the London 2012 Olympic Games. Four years later, she defended her title at the Rio de Janeiro Olympics, adding a silver medal in the 4x100m freestyle relay and three more gold medals in the 200m freestyle, 400m freestyle and 4x200m freestyle relay.
In Rio, Ledecky also set new world records in the 400m and 800m freestyle.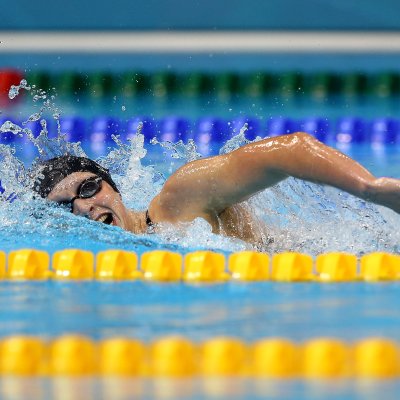 If possible, her world championships track record is even more impressive with 15 gold medals and three silvers over four appearances, in 2013, 2015, 2017 and 2019. Her 11 golds in individual events at the world championships are the most in history among female swimmers.
Ledecky made her FINA World Championships debut in 2013 in Barcelona, Spain, where she won gold in the 400m freestyle, 800m freestyle, 1,500m freestyle and 4x200m freestyle relay. Two years later in Kazan, Russia, she defended her four titles and also won gold in the 200m freestyle.
Her stranglehold over the freestyle disciplines continued in 2017 in Budapest, Hungary, when she won gold in the 400m, 800m and 1,500m events for the third consecutive world championship, while claiming silver in the 200m. Ledecky also won gold in the 4x100m and 4x200m freestyle relays.
Her most recent appearance at the FINA World Championships was also the leanest in terms of returns, as she won gold in the 800m freestyle in Gwangju, South Korea, while she also finished second in the 400m freestyle and 4x200m freestyle relay.
Ledecky represented Stanford University at collegiate level, winning eight individual and two team NCAA titles and earning the Collegiate Woman Athlete of the Year award in 2017. In the same year she was named the Associated Press Female Athlete of the Year, one of a host of personal awards, which include being named as the U.S. Olympic Committee Female Athlete of the Year in 2012, 2013, 2016 and 2017, and as the Champion of Champions by prestigious French daily L'Equipe in 2014 and 2017.
Ledecky is also a five-time Swimming World World Swimmer of the Year and was named Swimmer of the Year by FINA in 2013.
In 2019, she finished third behind Serena Williams and Simone Biles in the vote for the Associated Press's Female Athlete of the Decade.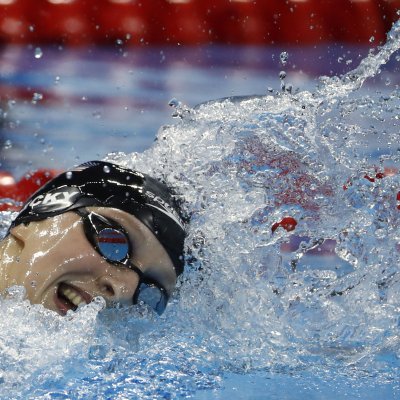 How Much Does Katie Ledecky Make?
Quantifying the amount of money swimmers make is notoriously difficult, as their contracts aren't publicly disclosed, unlike players in the NBA, NFL, MLB and NHL. What is known is that U.S. swimmers who are ranked among the top 16 in the world in an Olympic event earn approximately $40,000 a year from the U.S. Olympic Committee (USOC) in the form of an athlete partnership agreement (APA).
Swimmers can supplement their APAs by winning events. Prize money in swimming, however, is nowhere near as lucrative as golf or tennis. For example, the USOC offered a $25,000 bonus to the gold medalist at the Rio 2016 Olympics, while FINA—the International Swimming Federation—paid $20,000 to swimmers who won a gold medal at the 2019 World Championships in Gwangju, South Korea, and an additional $30,000 to those who broke a world record.
Ledecky, like most swimmers, makes most of her money through commercial endorsements after penning a six-year deal worth $7 million with swimwear apparel giant TYR in 2018.
Katie Ledecky's Uncle Owns an NHL Franchise
Ledecky's mother, Mary Hagan, is of Irish descent, while her father, David Ledecky, is of Czech descent. David's brother, Jon Ledecky, has been heavily involved across the U.S.'s four major leagues over the last two decades.
A Harvard alumnus, Ledecky founded U.S. Office Products in 1994, leaving it in 1998, three years after the company's initial public offering. In the same year, the New York City-native attempted to become a shareholder in MLB franchises the Cincinnati Reds and the Los Angeles Dodgers, but to no avail.
Bids to purchase the NHL's Montreal Canadiens in 2000 and the MLB's Oakland Athletics in 2002 were similarly unsuccessful, as was an attempt in 2005 to buy the MLB's Washington Nationals. Ledecky eventually got his breakthrough when he became a minority holder of the NHL's New York Islanders in 2014, before becoming a majority shareholder two years later.