Katie Ledecky's Reaction Reveals How Dominant She Was in Olympics Swimming
Kate Ledecky's commanding victory in the 1500m freestyle has been perfectly illustrated in a photograph shared to social media.
The American won the inaugural event with a time of 15 mins and 37.34 seconds, finishing more than four seconds ahead of her nearest competitor, compatriot and teammate Erica Sullivan.
Ledecky's dominant display was brilliantly demonstrated in an image shared to Twitter by CBS Sports which showed that the 24-year-old had enough time to turn around and watch Sullivan win silver.
Commenting on the image, one person compared her to Usain Bolt who famously found himself so far ahead in one Olympic event, he was able to look across at his fellow competitors and their progress.
The victory saw Ledecky claim the sixth Olympic gold medal of her career to date and her first at the Tokyo Olympics.
It was also the perfect response after back-to-back defeats to Australian rival Ariarne Titmus.
Just hours earlier, Ledecky had suffered defeat in the 200m freestyle, finishing a distant fifth and 1.71 seconds behind Titmus, who claimed gold.
That was the Australian's second gold medal of the Tokyo games, following on from her win in the women's 400m freestyle final on Monday – a victory celebrated wildly by her coach Dean Boxall.
Ledecky claimed silver in that event, but went one better in the 1500m with a victory that saw her become only the second female swimmer to win five individual Olympic gold medals.
Her sixth gold medal was won as part of the 4×200 metre freestyle relay team at Rio in 2016.
Only Michael Phelps has won more Olympic gold medals in the pool, having collected 13 during his career.
Despite failing to retain her 200m and 400m Olympic titles, Ledecky has also rejected the notion that winning a silver or bronze medal would represent a disappointment.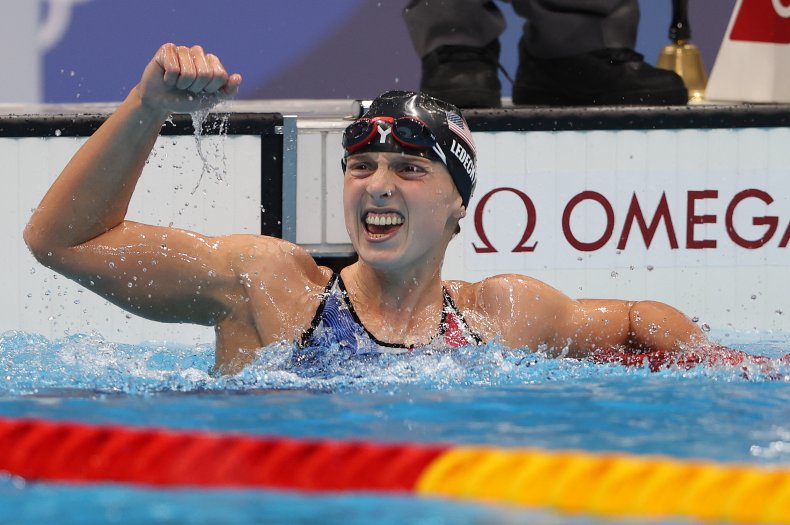 She told reporters afterwards: "I just really wanted to get a gold medal to get that opportunity again. But I kind of laugh when I see things like 'settles for silver' because there are so many Olympians who won silver or bronze who are really happy with that.
"They are deserving of a lot of praise. Just because I've won golds all the time leading into that, it doesn't mean that the silver doesn't mean something to me."
"I don't want anyone to feel sorry for me or feel like silver or any other medal besides gold is a disappointment or anything. I would much rather people be concerned about people who are truly struggling in life," she added.
"We don't get this kind of attention and support every year so I do truly appreciate the concern and the support and interest in our sport and I guess I just hope people can pour that energy into other things as well."
The American will be hoping to add to her tally of medals when she once again faces off against Titmus in the women's 800m freestyle and the 4x200m freestyle relay.
Newsweek has reached out to Ledecky for comment.