What Katy Perry, Orlando Bloom's Ex Miranda Kerr Have Said About Each Other
Orlando Bloom's fiancee, Katy Perry, and ex-wife, Miranda Kerr, have an excellent relationship and often gush about each other.
Most recently, Perry turned up to support the model at the 20th anniversary G'Day USA Arts Gala, and even presented Kerr with an award on the night.
"Many of you may be confused as to why I'm presenting Miranda with this award," Perry said, before giving Kerr the award for her Kora Organics skincare line. "It doesn't fit the ex-wife, new wife narrative. Many in the media would like to see us mud wrestle...but this is about love, and Miranda is love."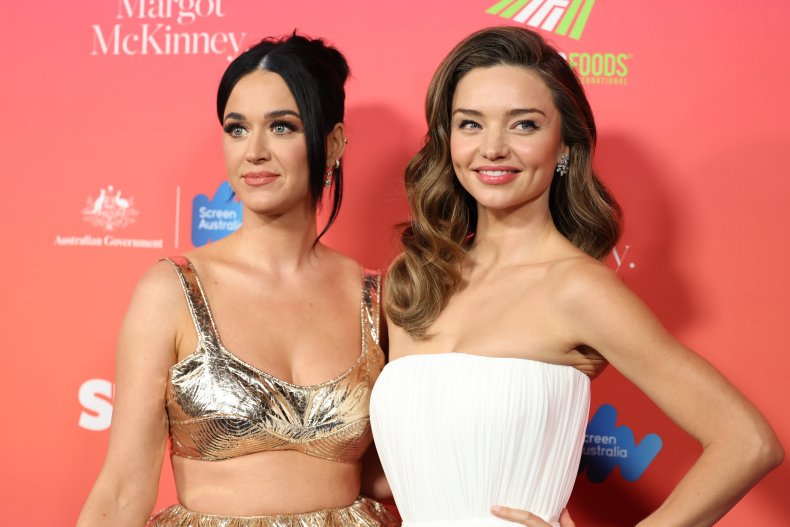 The gala raises money for the American Australian Association's art scholarships for up-and-coming Australian and American artists studying overseas.
After the event, Perry even took to her Instagram to continue to shower Kerr with love.
"i loved celebrating my fav 🇦🇺Aussie Aussie Aussie 🇦🇺 (oi oi oi!) & sister from another mister 😂 @mirandakerr the other night @gdayusa Art's Gala. congrats on the honor, I love our modern family & I love @koraorganicsTurmeric Glow Moisturizer so much i dressed like it ✨," she wrote alongside a series of photos and videos from the evening.
"also thank u for introducing me to celery juice I just thought they were those veg stick things I stir me Bloody Mary's with 🤦🏻‍♀️."
As for Kerr, she has spoken many times about co-parenting with Perry and Bloom, with whom she shares son Flynn, 12.
"I adore Katy and I just feel so happy that Orlando has found someone that makes his heart so happy," Kerr said in 2020 on The Drew Barrymore Show. She added that it was the "most important thing...for Flynn to have a happy father and a happy mother."
"We really do always think of what is the best thing for Flynn," Kerr added.
Bloom and Kerr were married in 2010 after three years together, but eventually divorced in 2013. She is now married to Snapchat founder Evan Spiegel, with whom she shares two children, born in 2018 and 2019.
"I'm just so grateful that Orlando and Katy found each other, and I'm so grateful that I found my incredible husband and just that we all really respect each other," Kerr told Barrymore on her talk show.
"When it comes to special occasions, when we have to be together, we work it out so we have compromises [about] what is best for our whole family."
She also described how they all manage to co-parent together.
"Co-parenting with Orlando and Katy is something that I feel really happy about," Kerr told Vogue in 2022. "From day one when Orlando and I decided to separate, I said, 'Listen, whatever we do, we have to put Flynn's needs first, not our own.' That's the way we make our decisions. Family is my number-one priority.
"I just love being a mother and I always wanted three boys, so I feel really blessed that I have three healthy boys."
Perry and Bloom first dated in 2016, but split the following year, before reconciling in 2018 and eventually getting engaged in 2019.
The couple welcomed daughter Daisy Dove Bloom in 2020.