Kayleigh McEnany Calls Beijing Olympics 'The Genocide Games'
Fox host Kayleigh McEnany shared her contempt for the 2022 Winter Olympic Games, referring to them as "The Genocide Games" on Outnumbered, and said she'll refuse to tune in.
The 2022 Winter Olympics in Beijing, China, have been surrounded by controversy. China has been accused, by the U.S. and others including many human rights groups, of carrying out genocide against millions of Uyghurs, an ethnic minority in Central and Eastern Asia.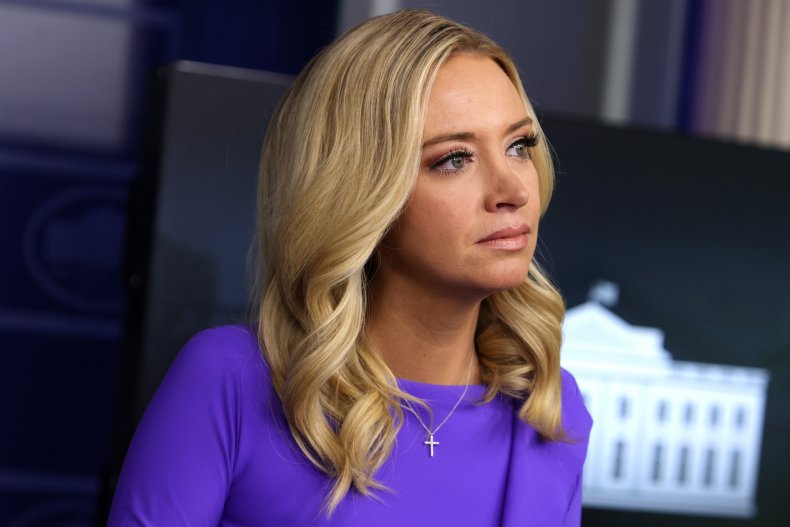 McEnany, press secretary for former President Donald Trump from April 2020 until he left office, made her comments Friday afternoon during a discussion about the Olympics and the political situation surrounding the Games in Beijing, according to Mediaite.
"That is what is incredible to me. Look, it's my view that these are not the Olympic Games, these are 'The Genocide Games,' that's what I'm calling them. I'm not going to watch them. Of course, I support our athletes. Team USA all the way. But I just don't want to be a part of it and what's happening in China."
McEnany, in her comments, went on to blast NBC for their coverage of the Games in Beijing.
"NBC, in particular, you put your finger on it, Emily. Let's look at some of the things they're saying. Josh Rogin, a Washington Post reporter, has really been on top of this. He tweeted about NBC trying to have it both ways. He called it 'the both sides approach' to the Uyghur genocide. Here are some of the things that we're hearing from NBC: 'Western governments allege a systematic repression of Muslim Uyghurs. It has to be said that the Chinese government emphatically denies all of this. They say the accusations of genocide is the lie of the century.' Well, NBC, why does it have to be said what China says? What does it have to be said?"
NBC, which has had exclusive U.S. broadcast rights to both the winter and summer Olympics for decades, announced in January that they would not be sending any reporters to cover the Games. Instead, the announcing and commentating of the Games would be conducted stateside. However, this announcement was not due to political controversy but was a safety measure against COVID-19.
Mike Tirico, the network's Olympic host, is expected to be at the opening ceremony.
During the same segment, former Olympian Caitlyn Jenner talked about her experience in the 1972 games in Munich, Germany, when several Israeli athletes were murdered by terrorists.
"I was two buildings over in 1972 in my first Olympics in Munich, Germany, when Arab terrorists came in and...11 Israeli athletes wound up dying. When that happened, it just, it made me so upset because the Olympic Games are the greatest gathering of countries in the world, for good."
Jenner said, pointing out how some countries have used the Games as means to deliver a political message, that has not worked and that it will not work for China, either.
"Using the Olympic Games as a political tool is not going to work. I think in Beijing, this is all going to blow up on the Chinese."
In December, the Biden administration announced a diplomatic boycott, where no government official representing the U.S. would attend the Games. Other countries like Canada, the U.K., Australia and Scotland followed and implemented diplomatic boycotts of the Beijing Games on their own.
The Games get underway in Beijing on February 4.
Newsweek reached out to Fox News for comment but did not hear back before publication.