Ke Huy Quan's 'Indiana Jones' Audition Resurfaces After Oscars Win
Footage from Ke Huy Quan's audition for Indiana Jones and the Temple of Doom has resurfaced online after he won the Best Supporting Actor Oscar for Everything Everywhere All at Once.
In a video posted to Twitter by Will McCrabb, a young Quan can be seen reading lines with his eventual co-star Harrison Ford.
The pair appear to be acting out a scene from midway through the movie in which Quan's character, Short Round, accuses his companion, Indiana Jones, of cheating during a card game.
According to the tweet, which has been viewed over 130,000 times, Quan was chaperoning his younger brother, who was auditioning for the role in front of the film's producers, when he was asked to read for the part.
Commenting on the tweet, one fan shared an image of Quan from his Oscar-winning performance in Everything Everywhere All at Once, alongside the caption "how it started...how it's going."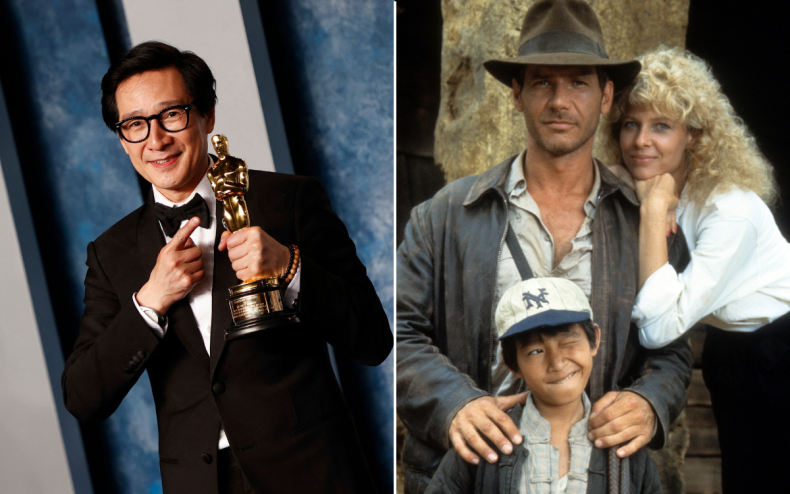 Empire magazine previously reported that as many as 6,000 children worldwide auditioned for the role. Quan was, indeed, there to accompany his brother, but he was spotted by Spielberg who then set up the resulting improvisation in which Short Round accuses Indy of cheating at cards.
"I didn't go looking to be an actor," Quan told Deadline earlier this year. "I was just like a normal kid, going to school every day at my elementary school, 12 years old at that time. I immigrated here to Los Angeles in 1979, and four years later, as fate would have it, Steven Spielberg and George Lucas was looking for a Chinese kid to be Short Round. And they went everywhere looking for him. Couldn't find him, almost gave up the role, when they decided to have an open call in Chinatown, Los Angeles."
Quan added: "My brother went to audition. I tagged along, and I was coaching him what to do behind the camera. The casting director saw me, and asked me if I'm interested in reading for him, and I said yes. The next day, we got that fateful call from Steven Spielberg's office."
Despite enduring a lean period during adulthood in which Quan turned to stunt work and assistant directing, the success of Crazy Rich Asians inspired the star to return to acting ahead of his 50th birthday.
He was cast as Waymond Wang just a few weeks later. On Sunday night, Quan's career came full circle with the actor claiming an Oscar in front of a packed out Dolby Theatre, with both Spielberg and Ford watching on.
Quan's success came as part of a memorable night for Everything Everywhere All at Once, with Michelle Yeoh winning Best Actress and Jamie Lee Curtis taking home the Best Supporting Actress Award - much to the apparent chagrin of fellow nominee Angela Bassett.
The film dominated proceedings, taking home seven Oscars.
Newsweek has contacted Quan's representatives for comment.