Keith Olbermann Recalls Dating Laura Ingraham As He Criticizes Her 'You' Video
Keith Olbermann recalled how he once dated Laura Ingraham, as he criticized a viral video of the Fox News host's purported confusion over hit show You.
During Monday's installment of The Ingraham Angle, the titular host spoke with author Raymond Arroyo, who compared popular Netflix series You to the Paramount Network's Yellowstone as they discussed their desire for "woke-free TV."
"There is a reason people are in love with Yellowstone, Laura," Arroyo said. "It is an antidote to the politics and all those woke storylines in so many shows today. I was watching an episode of You, where measles came up..."
Interrupting Arroyo's train of thought, Ingraham enquired when she had ever mentioned the measles, indicating that she thought he was referring to her show.
As the two went back and forth, with Arroyo repeatedly yelling "You" and Ingraham taking it as reference to her show and her person, the host said: "We have never done a measles and vaccine episode. Is this a joke?
"I don't know what you are talking about. Raymond, I have never had measles, what are you talking about? This is stupid."
Despite Arroyo eventually clarifying that he was talking about the Netflix show You, the clip, which has been viewed on TikTok more than 15 million times, ended with Ingraham apparently remaining confused. The video can be viewed here.
As the video clip spread across Twitter on Tuesday, sports and political commentator Olbermann, 62, insisted that the moment was staged as he also shared his recollection of his brief history with Ingraham, 58.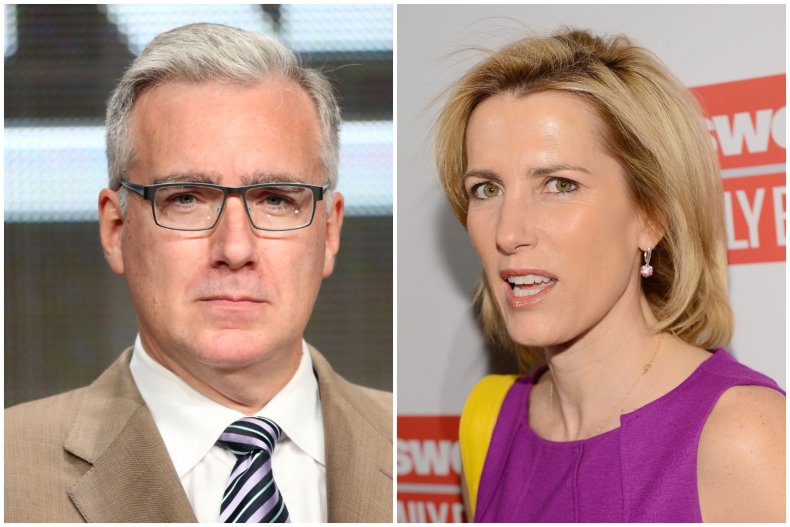 Responding to journalist Aaron Rupar's tweeting of the clip, Olbermann wrote: "JFC. It's a BIT. I didn't suffer through three dates worth of her "sense of humor" in 1998 for you to not recognize these are the same acting skills @IngrahamAngle turns to, whenever she tries to pass for human."
He also responded in similar fashion when Rachel Vindman, wife of retired Lt. Col. Alexander Vindman, a witness in President Donald Trump's impeachment inquiry, directed her Twitter followers' attention to the clip.
"JESUS. IT'S A BIT. For God's sake, trust me on this," Olbermann tweeted. "I dated her. I went through three evenings of this kind of humor, some of it far more agonizingly long than this. She thinks she's funny, and funny in this way."
While other Twitter users appeared steadfast in their belief that Ingraham was genuinely confused, Olbermann continued to reiterate his point, as he wrote: "I DATED HER. IT'S A BIT. SHE THINKS SHE'S FUNNY. TRUST ME ON THIS."
Another shared their belief that Ingraham was "stupid" in explaining why they thought her reaction to be genuine, prompting Olbermann to cuttingly comment: "I dated her. She is evil, not stupid."
When one Twitter user asked "what happened," in apparent reference to the TV personalities going their separate ways all those years ago, Olbermann responded: "S*** like that."
In a 2008 interview with The New Yorker, Olbermann revealed that he had briefly dated Ingraham a decade beforehand, saying of their ill-fated relationship: "There were a few problems. There were a few things that I could see were going to be impediments. Oddly, they were not political things."
Elsewhere on Tuesday, former MSNBC host Olbermann accused Ingraham of "thinking she radiates humor," as he added: "Lying is the only thing she's this good at."
Comedian Kathy Griffin backed up Olbermann on his insistence that the viral You discussion was staged, as she said: "He's right. It's a bit. She thinks she's funny and will frame this as an example that libtards don't have a sense of humor. My guess is, it's to help the fallout from the [Rep. Paul] Gosar video."
Penn Badgley, who plays lead character Joe Goldberg in You, also expressed a similar sentiment after viewing the clip, though he was notably more flattering in his assessment.
"Definitely a bit. His delivery is great tho," Badgley said of Arroyo, before adding in a follow-up tweet: "It's gotta be a bit. Dude is committed, he actually made me lol, but watch how he waits for her to cut him off."