'The Voice': When Will Kelly Clarkson Return?
The Voice 2021 has seen its latest change in the judging panel, with country singer Kelsea Ballerini taking Kelly Clarkson's place on the NBC show for the battle rounds. Unlike Gwen Stefani's replacement by Nick Jonas, however, this change is not for the entire season.
Due to sickness, the American Idol winner has had to take a break from the show. This was confirmed by The Voice host Carson Daly on the March 22 episode. He said: "Unfortunately, our own Kelly Clarkson was not feeling well this week. Kelly's staying at home and she's watching the battles remotely."
This led to some confusion among fans of the singer, as she had hosted her syndicated talk show The Kelly Clarkson Show earlier in the day as normal. Jonas joked during the episode, "She's probably on her talk show...I think we just do it without her."
The reason that Clarkson appeared on her talk show but not on The Voice was because they were filmed at different times. While The Kelly Clarkson Show films daily, The Voice pre-records its auditions, battle rounds and knockouts. Filming on the current Season 20 began in October 2020, meaning that Clarkson was likely ill in late 2020.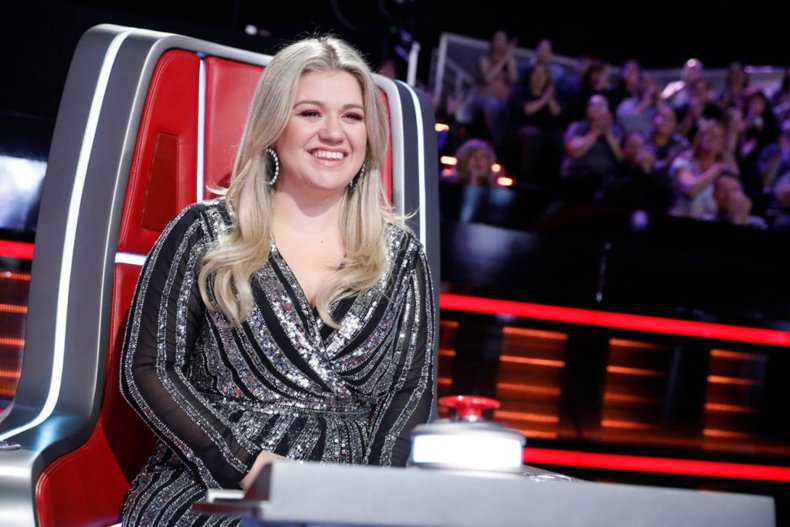 On The Kelly Clarkson Show, the singer shared a number of accidents she had around the time she was filming The Voice. In December 2020, for example, she appeared in one episode of her show in an armchair with her leg elevated.
She revealed to the audience: "This is our first holiday show, and I was really excited about it and we were running late, and I don't like to be late so I was running in my heels, which was a bad decision... Apparently I turned a corner and possibly did something to my ACL. So fun!"
In September 2020, meanwhile, Clarkson had to briefly wear an eye patch after getting something in her eye while filming The Voice. "Something got in there, maybe cut it, did something. It got infected," she told NBC's California Live.
In November 2020, meanwhile, staffers on The Kelly Clarkson Show tested positive for COVID-19 (per Deadline), though Clarkson is not believed to have had the coronavirus herself.
Writing about her temporary The Voice role, meanwhile, Ballerini tweeted: "When @kellyclarkson calls and asks you to keep her seat warm, you put all those years of being her super fan to work. thank you @johnlegend @nickjonas and ole pops @blakeshelton Face with tears of joy for making me feel like part of the @NBCTheVoice family."
Clarkson wrote a response Instagram, saying: "Thank you so much @KelseaBallerini for sitting in for me while I was feeling under the weather! I know my team is in great hands with you!! Y'all aren't going to want to miss this!! The battles start next week."
This has led some to think that Ballerini will only host that episode. This would mean that Clarkson returns on Monday, April 5, for Part 2 of the battles. However, the video announcing Ballerini on The Voice YouTube channel said that she was "sitting in for Kelly during the battles," suggesting she will be there for multiple battle episodes (which makes sense as multiple episodes are often filmed on the same day.)
If that is the case, then Clarkson will be missing for the next three episodes, meaning she will be off the show until April 19.
The Voice airs Mondays at 8 p.m. ET / 7 p.m. CT on NBC.