Kelly Schulz Pulls Out of Debates, Says Trump-Backed Opponent in Maryland
A Republican primary candidate running for governor of Maryland has reportedly pulled out of two debates with a GOP opponent who has been endorsed by former President Donald Trump.
Kelly Schulz will not participate in a Fox 45 televised debate or a Maryland State Bar Association debate, according to a statement issued by rival candidate Dan Cox.
Gordana Schifanelli, Cox's running mate, shared the statement to Twitter on Thursday. In that statement, the Cox campaign said it had been informed that Schulz, who is a former state secretary of commerce, would not attend the events.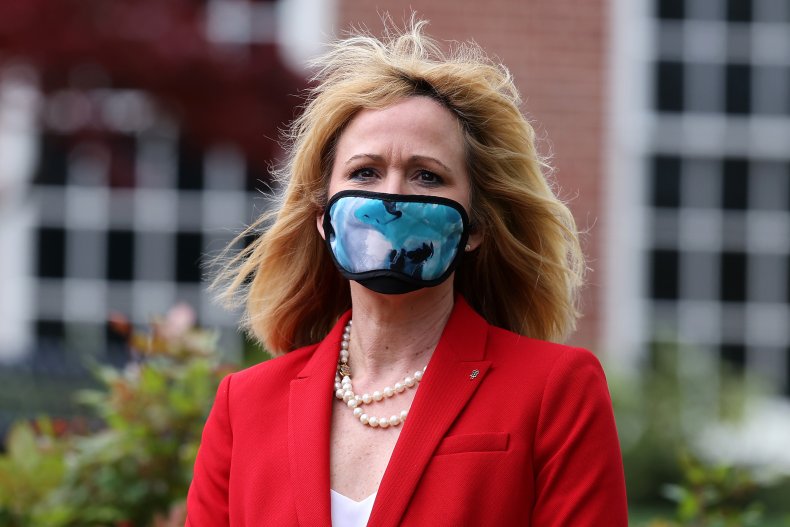 "Now, today our campaign was informed that Secretary Schulz has rejected appearing at the planned Fox 45 TV Republican Gubernatorial Debate and the previously scheduled Maryland State Bar Association (MSBA) Gubernatorial Debate scheduled in-person on May 31 in Ocean City at its annual convention," the statement said.
Mike Demkiw, a spokesperson for the Schulz campaign, told Newsweek in a statement on Friday that Schulz had not pulled out of debating Cox.
"Like most of what Cox says, nothing in this press release is true," Demkiw said, adding that the campaign has "never received a formal debate invitation from Fox 45."
Demkiw also shared correspondence he said came from the Maryland State Bar Association about their debate. That correspondence said that the MSBA had decided to change their originally planned in-person debate to a "pre-recorded virtual experience" with separately scheduled interviews for each candidate due to the size of the Republican field.
According to the State Board of Elections, there are four Republican candidates running for governor.
Newsweek has contacted Fox 45 and the Maryland State Bar Association.
Cox's statement went on to say that only Democratic candidates would now debate in person in Ocean City and that the state bar association "has submitted to the Schulz campaign demands for pre-recorded, separate videos of the Republican candidates."
Cox, who is currently a state delegate, said that Maryland wouldn't elect "elitists."
"These actions make my opponent appear she believes she is above the voters," Cox said. "She refuses to submit either to the People's questions or to primary debates."
He added that Schulz should "step up or step out of the race."
Tweeting the campaign's statement, Schifanelli wrote: "Because she'd lose."
Newsweek has asked the Cox campaign for comment.
While Cox has been endorsed by former President Trump, Schulz has received Maryland Governor Larry Hogan's backing. He has often been a critic of Trump and is not running for re-election because he's term limited.
"If you approve of how we have led Maryland, then Kelly Schulz is your choice for governor," Hogan said on March 23.
"With all the progress we have made together, we cannot afford to go back to the days of 43 consecutive tax hikes with jobs and businesses fleeing to other states, and Kelly is the only candidate in this race running to continue moving Maryland in the right direction," he said.
"She will fight to hold violent criminals accountable, cut taxes, and make sure our children can get the world-class education they deserve," Hogan said.
Kelly served in Hogan's administration for seven years, as secretary of labor and then secretary of commerce. Hogan has sometimes been the subject of speculation about his presidential ambitions due to his clashes with Trump.
Earlier in April, Hogan said that Trump was backing candidates who were "crazy" and the former president was in for "another round of losses" in 2022.
The Maryland governor's race is considered a potential pick-up for Democrats in this year's midterm elections. House Majority Leader Steny Hoyer, a prominent Maryland Democrat, has endorsed author and entrepreneur Wes Moore.
Speaker of the House Nancy Pelosi has endorsed former Democratic National Committee chair Tom Perez for the gubernatorial nomination. Both primaries are scheduled for July 19.
Update 04/29/22, 09:55 a.m. ET: This article was updated to include a statement from the Kelly Schulz campaign.