Trump, Biden Might Not Debate in 2024 as Republicans Ditch Organizing Group
The future of what presidential debates will look like in American politics is uncertain as the Republican National Committee (RNC) announced Thursday that it has officially withdrawn from the Commission on Presidential Debates (CPD), which has sponsored presidential and vice presidential debates for decades.
"Debates are an important part of the democratic process, and the RNC is committed to free and fair debates," RNC Chairwoman Ronna McDaniel said in a statement. "The Commission on Presidential Debates is biased and has refused to enact simple and commonsense reforms to help ensure fair debates including hosting debates before voting begins and selecting moderators who have never worked for candidates on the debate stage."
McDaniel said that the RNC voted to withdraw and will work to find "newer, better debate platforms to ensure that future nominees are not forced to go through the biased CPD in order to make their case to the American people."
The CPD has sponsored every presidential debate since its 1987 inception, starting with the 1988 election. Former President Donald Trump was a frequent critic of the commission during the debate cycle prior to the 2020 election, claiming it was selecting biased moderators and helping then-candidate Joe Biden.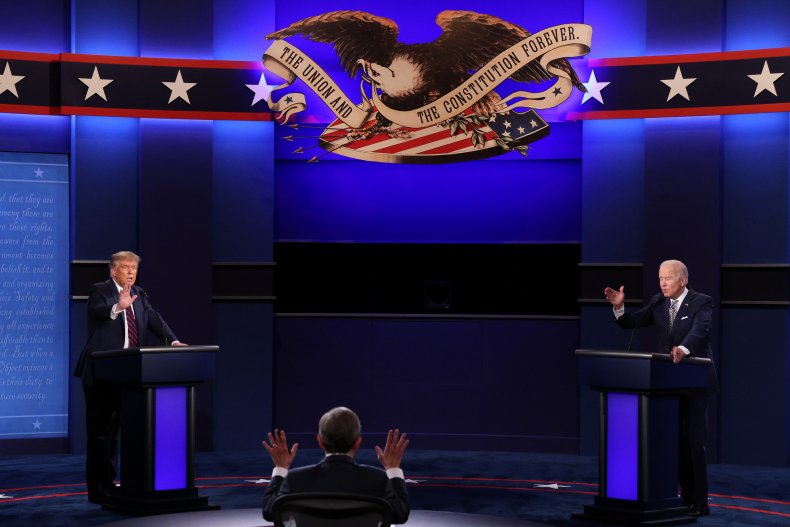 The RNC listed several other complaints in its statement, including the fact that the first debate did not take place until dozens of states had started early voting in 2020 and the past employment of at least one moderator who had previously worked for Biden.
When reached for comment on the RNC's decision, a spokesperson for the Democratic National Committee directed Newsweek to a January statement from Chairman Jaime Harrison regarding previous RNC complaints about the CPD and threats to withdraw.
"Republicans can't win a fair fight and they know it," Harrison said in the statement sent to Newsweek. "After years of having their toxic policies exposed on the national stage, the RNC has decided they would rather hide their ideas and candidates from voters."
"Regardless of the RNC's tantrum, voters can count on hearing from President Biden and Vice President Harris who are proud of their records," Harrison added.
Since the 2020 debates and election, the RNC has criticized the CPD with claims of bias and pressed to introduce reforms to the group, Newsweek previously reported.
Trump has attacked the commission since his first debates in 2016 through his failed 2020 run for reelection, including claiming without evidence that he was given a "defective" microphone in a 2016 debate against former Secretary of State and then-candidate Hillary Clinton.
When he was perceived to have performed well in debates, Trump boasted about his performances and claimed he was overcoming the bias of the commission and the debates, while poor debate performances were blamed on policies from the commission designed to harm him, Newsweek previously reported.
The RNC also voted Thursday to require candidates to sign pledges that they will only participate in debates that have been endorsed by the party, The Wall Street Journal reported.
While the 2024 debates, primary elections and general election are still two years away, the RNC's announcement could lead to the first non-CPD-sponsored presidential debate in over 35 years.
In addition, neither Trump nor Biden is set to run in 2024, as Trump has hinted at running several times and, controversially, continued to fundraise without officially declaring his candidacy, and Biden has said he plans to run if he is still in the good health he is in today.
Biden has also said that Trump running again would encourage him to run for reelection and has committed to retaining Vice President Kamala Harris as a running mate.
Newsweek has contacted the Commission on Presidential Debates for comment on the RNC's decision.
Update 4/14/22, 3:25 p.m. ET: This story has been updated with additional information and a statement from the DNC.