Kellyanne Conway Defends Donald Trump, Criticizes Husband George for Accusing President of Having Mental Disorder
Kellyanne Conway, counselor to the president, on Wednesday defended President Donald Trump's recent attack on her husband, firing the latest salvo in a barrage of insults involving the three.
Conway told Politico it was natural for the president—who has called her husband, George Conway, a "jealous loser"—to respond after he claimed the president had a mental disorder.
"He left it alone for months out of respect for me," Conway said, referring to Trump. "But you think he shouldn't respond when somebody, a nonmedical professional, accuses him of having a mental disorder? You think he should just take that sitting down?"
She then turned her criticism to the news outlet. "Don't play psychiatrist any more than George," she told Politico. "You're not a psychiatrist and he's not, respectfully."
George Conway, a prominent conservative lawyer, has almost made a sport out of criticizing Trump. But this week he sparked an especially scathing back-and-forth when he tweeted that the president was a pathological narcissist.
Trump shot off another attack on Conway Wednesday morning, tweeting: "George Conway, often referred to as Mr. Kellyanne Conway by those who know him, is VERY jealous of his wife's success & angry that I, with her help, didn't give him the job he so desperately wanted. I barely know him but just take a look, a stone cold LOSER & husband from hell!"
Undeterred, George Conway posted a few tweets in response, saying, "You. Are. Nuts." He then added, "You seem determined to prove my point. Good for you! #NarcissisticPersonalityDisorder."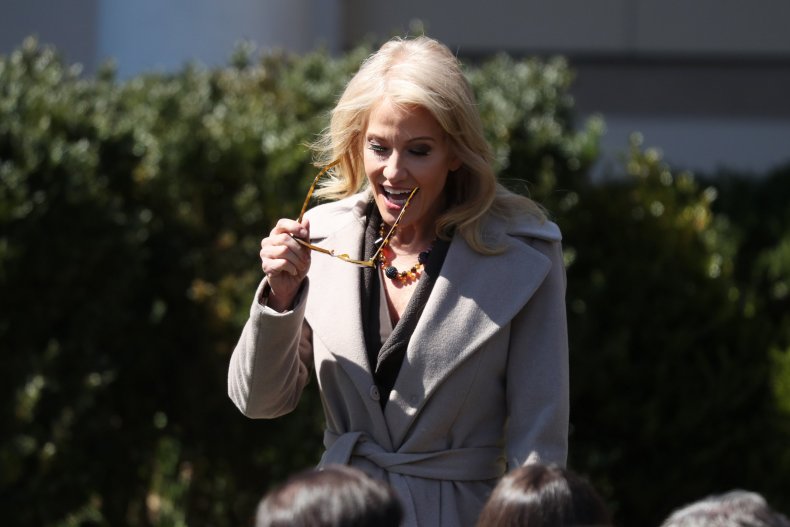 The feud between George Conway and Trump shows few signs of ending. Speaking with reporters on Wednesday, the president called Conway a "whack job," which doesn't suggest that détente is in the works.
This difference of opinion on the state of the president's mental health no doubt is causing tension in the Conway marriage. The president's counselor reportedly complained about her husband's attacks on Trump to a number of party guests at an event last month.
The Washington Post reported this week that she said "she and the president think her husband is jealous of her" and that she likes to "socialize" while her husband prefers to stay in front of the computer.