Kellyanne Conway Mocked for Relating Opioid Deaths to Marijuana: 'Nonsense'
Kellyanne Conway recently faced ridicule for relating opioid deaths to marijuana while attacking Pennsylvania Lieutenant Governor John Fetterman for hanging a marijuana flag.
In an appearance on Fox News Monday night, Conway, who served as senior counsel to former President Donald Trump, criticized Fetterman, a Democrat running for Senate in the battleground state, for displaying a marijuana flag outside the Pennsylvania State Capitol in Harrisburg.
"He put the marijuana flag up. He thought that was funny. He's trolling his opponent. He thinks that's funny," Conway said. "Here's what's not funny—that there's been a doubling of overdose deaths in Pennsylvania while he's been in office from 2015 to 2021. Fentanyl is rankling every corner of this state."
Fetterman has flown the flag to protest the criminalization of marijuana in Pennsylvania, where it is only legal for medical use. Decriminalization advocates argue marijuana ought to be legal, giving adults the freedom to use cannabis without facing jail time as well as arguing that marijuana laws are disproportionately enforced against people of color across the United States.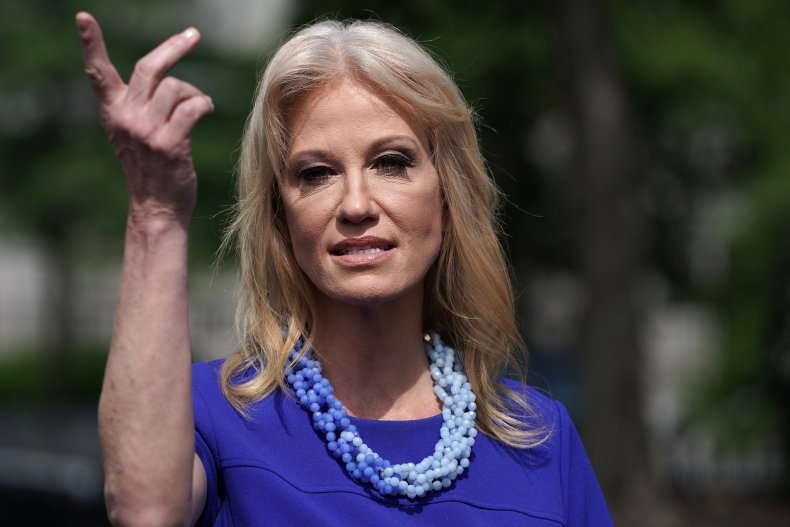 Critics called Conway out for appearing to conflate marijuana with the opioid epidemic because marijuana is not an opioid.
Marijuana can have harmful side effects—especially if taken by children—but fatal overdoses are extremely rare and it is not seen as a driving factor of the opioid epidemic like other drugs, including fentanyl.
"I thought [John Fetterman] put it up to protest the abject stupidity of the US Govt spending $50 billion in taxpayer money on a marijuana crusade that is riddled with hypocrisy. Who gets locked up? Black people. Marijuana and Fentanyl have as much to do with each other as Coors Light does," tweeted Steve Schmidt, who, alongside Conway's husband George Conway, founded the anti-Trump Lincoln Project.
"It's all nonsense," Schmidt continued. "Cannabis is legal in many states and has never killed anyone. [Kellyanne Conway] has less credibility than Trump and may be the only American who stands as a true peer of his when it comes to lying. She sold out America for fame and power. Not credible."
Political commentator Cheri Jacobus tweeted: "If marijuana deaths were doubled, the number would still be zero, you gaslighting cartoon."
"If you look really closely you can almost see the imaginary line of marijuana overdose deaths on this chart of U.S. government data from the last 22 years," Dr. Jorge Caballero tweeted sarcastically.
Fatal overdoses of marijuana are rare, but ingesting too much of the drug can lead to symptoms ranging from anxiety, panic attacks, vomiting and hallucinations.
John Fetterman's Chances of Winning In November
Conway's comments come as Fetterman appears well-positioned to flip Pennsylvania's Senate seat, currently held by Republican Pat Toomey. Fetterman is running against Dr. Mehmet Oz, who has been critical of marijuana use.
Despite President Joe Biden only winning the state by just over one percentage point in 2020, Fetterman leads Oz by an average of seven points, according to an aggregate of polling from FiveThirtyEight. An Insider Advantage poll conducted from September 23 to 24 found Fetterman leading by three points, while a September 19 to 22 Marist College poll found him up by 10.
Newsweek reached out to Conway for comment.