Historian Undercuts Kellyanne Conway With Trump-Nixon Comparison After She Mocks 'Creepy' Biden, Impeachment
A historian of modern American conservatism drew a comparison between President Donald Trump and former President Richard Nixon in response to a tweet by senior White House advisor Kellyanne Conway that mocked the current impeachment efforts.
Conway shared a 31-second video on Twitter of Joe Biden, the former vice president and now a leading candidate in the Democratic Party's 2020 race, clipped from his speech at a 2017 renaming of a Delaware swimming pool in his honor.
The brief clip shows Biden, who is a former U.S. Senator for Delaware, talking about his time as a lifeguard at the pool when he was a young man, describing the way children would flatten down the hair on his legs in the water and jump on his lap as he worked.
"Sleepy Joe is Creepy Joe. We need Ukraine's help to defeat THIS guy?" Conway, who has been a close ally of Trump's since his 2016 campaign, and is one of the longest-serving members of his administration, wrote on Twitter.
Trump is facing impeachment by the House over alleged misconduct towards Ukraine. He is accused of withholding military aid and offering a White House visit to secure from Ukraine the opening of spurious corruption investigations; one into Biden and another into the Democrats.
Those investigations could have aided Trump's 2020 campaign by damaging his political rivals. While Trump's critics say this was his intention, the president denies any wrongdoing and claims to have been legitimately pursuing corruption allegations.
Kevin M. Kruse, a professor of history at Princeton University, whose specialisms are 20th Century America and the making of modern conservatism, responded to Conway's tweet by highlighting the Watergate scandal that cost Nixon the presidency.
"Nixon didn't need his men to break into the DNC headquarters in order to beat [George] McGovern," Kruse tweeted, referring to the 1972 election, which the Republican candidate won by a huge landslide. "But Nixon still did it, and wound up being driven from office as a result."
Kruse wasn't the only person to respond to Conway. Her husband, the prominent attorney and vocal Trump critic George Conway, also took the tweet to task. "Your boss apparently thought so," George Conway wrote on Twitter.
The House Intelligence Committee has prepared its draft report laying out the case for impeachment Trump after hearing from a number of witnesses. Once approved, the report will be sent to the judiciary committee, which is exploring with its own expert witnesses the process of impeachment in the coming week.
Trump is refusing to cooperate with the impeachment inquiry.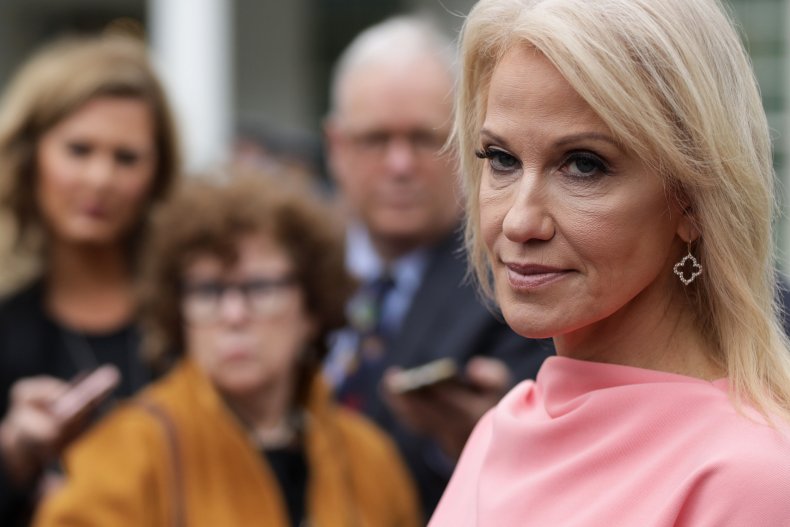 Historian Undercuts Kellyanne Conway With Trump-Nixon Comparison After She Mocks 'Creepy' Biden, Impeachment | Politics