Kellyanne Conway Says All Women Should Have a Boss Like Trump
Outgoing White House counselor Kellyanne Conway has spoken warmly of her working relationship with President Donald Trump, saying that he had "stuck by" her and other women in his administration.
Earlier this week, Conway made the sudden announcement that she would be leaving her role at the end of August, after serving in the Trump administration for nearly four years.
Ahead of her speech at the Republican National Convention, Conway told reporters outside the White House that Trump had been supportive of her even when they disagreed.
"I'm telling you, everybody, but I think particularly women, should have men in their life like that, should have a boss like that at some point," she said in a response to a question by Just The News.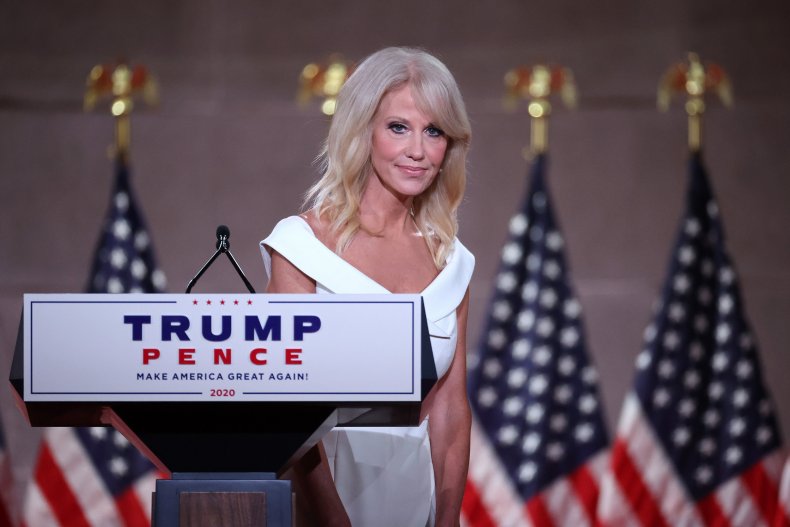 "When people have come really hard at me, and other women in this administration, he has stood by us even when it was uncomfortable, even when he clearly could have said, 'You know what, you'll always be part of our history, part of our fabric here at the White House but this is getting untenable.'"
"He stuck by me, and I think America knows he stands by them as well," she added.
She went on to say that she had told Trump that he was "well-positioned for reelection" and that "a week from now the polls are going to show him ahead in some key states."
"I'm not sure the other campaign is going to be able to adjust in time because they seem to have one gear, one note, one speed and one volume," she said.
Conway was the first woman to successfully manage a U.S. presidential campaign. As a senior counselor, she played a significant role in Trump's administration.
During her speech at the RNC on Wednesday she also praised the president for promoting women, saying: "He confides in and consults us, respects our opinions, and insists that we are on equal footing with the men."
However, her comments are at odds with frequent criticism leveled at Trump's disparaging comments about women.
Earlier this month, the hashtag "#WomenAgainstTrump" trended as a video of a 2016 interview with former first lady Barbara Bush resurfaced.
In it, she said that she didn't know "how women could vote for someone who said what he said about Megyn Kelly," referring to the president's verbal attack on the anchor who challenged him about his previous comments about women.
On Sunday, Conway said she would leave her post to focus on her family in an announcement that followed a tweet by her daughter, Claudia, 15, that her mother's job had "ruined [her] life".
Her husband, George, is also stepping away from the Lincoln Project, a Republican political action committee trying to prevent the re-election of Trump in 2020, which regularly mocks the president in videos.
He and Trump have traded barbs on social media, with George Conway calling the president "incompetent." In turn, Trump described his adviser's husband as a "stone cold LOSER."