Ken Jennings Reacts to 'Jeopardy!' Announcing Spin-Off
Jeopardy! host Ken Jennings admitted feeling intimidated by the announcement of a spin-off series across the pond in the United Kingdom.
Jennings, 48, took over the permanent hosting of the quiz show in the U.S. in 2022, an honor he shares with Mayim Bialik. They were named permanent co-hosts after a series of temporary hosts filled in following the death of long-term front man, Alex Trebek, in 2020 from pancreatic cancer.
A British version of Jeopardy! has just been announced, with Stephen Fry named as the host of the spin-off series.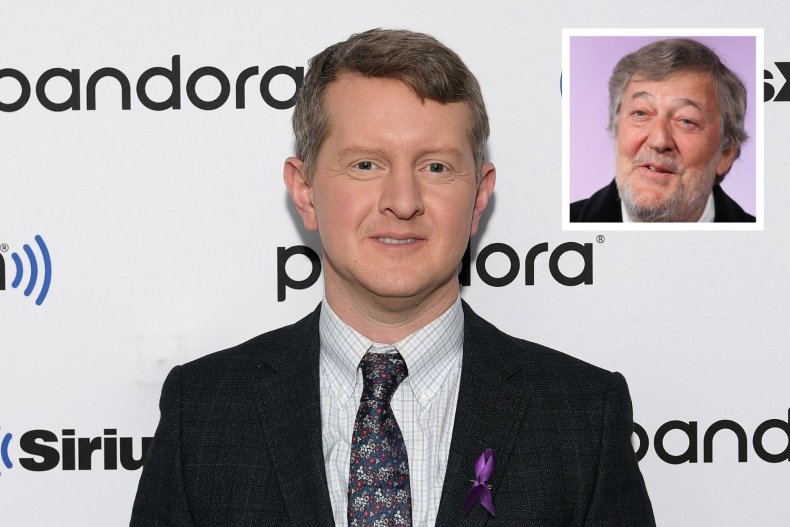 Jennings reacted to the announcement and admitted he felt intimidated to have the same "job description" as Fry.
"Nothing gives you imposter syndrome quite like sharing a job description with Stephen Fry..." he wrote on Twitter.
Imposter syndrome refers to the feeling of "an internal experience of intellectual phoniness," even if the person is highly qualified. People see themselves as imposters when they feel out of their league or that what they have achieved was more by luck rather than skill, according to Psycnet.
Fry, a British comedian and actor, is best known to American audiences for his roles in films such as V for Vendetta and TV shows, The Dropout, It's A Sin and The Morning Show.
Also a bestselling author, Fry is no stranger to hosting quiz shows and was the long-running front man of the popular British series, QI.
He will host the adaptation across the pond which will feature an extra round compared to the original series. The 20-episode premiere season will air on the public service broadcaster, ITV.
"In the United States, Jeopardy! is a phenomenon like no other. Whenever I'm in America, I do my damnedest to catch it every weekday," Fry told Variety.
"The idea of hosting it here in the U.K. makes me dizzy with delight. Such a dedicated quizzing nation as ours will, I hope, welcome this uniquely beguiling and endlessly rewarding game."
Meanwhile, U.S. Jeopardy! fans were given an update by the show's producer, Sarah Foss, on the upcoming hosting schedule between Bialik and Jennings.
Foss told the podcast Inside Jeopardy! that Jennings will "be back on March 10, and then he will continue the rest of his syndicated run, which will take us through April 28. [Bialik] will take over on May 1, and she'll take us all the way through the summer."
Kennings first became known to Jeopardy! audiences in 2004 when he became the longest-running champion ever. His 74-game saw him win a whopping $2.52 million in cash prizes.