Kendall Jenner, Lewis Hamilton and Other Celebs Delete Pro-Palestine Social Media Posts
Lewis Hamilton, Stephen Curry's wife and Kendall Jenner are among several high-profile figures to have spoken out on the conflict between Israel and Palestinians on social media, before swiftly deleting their posts.
The U.S. and the European Union have been among the world powers calling for a truce to end one of the fiercest escalations the conflict has seen in almost a decade. Citing Gaza officials, Reuters news agency reported on Tuesday that 212 Palestinians, including 61 children and 36 women have been killed by Israeli air-strikes.
Meanwhile, previous Palestinian rocket or missile attacks have killed 10 people in Israel.
With the eyes of the world firmly set on the conflict, several high-profile figures of the world of sports and entertainment have spoken out on the situation. Some, however, appeared to withdraw their initial comments shortly after posting them on social media.
Lewis Hamilton
Last week, Hamilton shared on Instagram a graphic from data company Statista, which broke down the number of casualties and injuries among Israeli and Palestinians over the last 13 years.
This came just two days after Hamilton said he had deliberately decided to steer clear of posting about the conflict to educate himself, instead of sharing his "uneducated judgment" on the situation.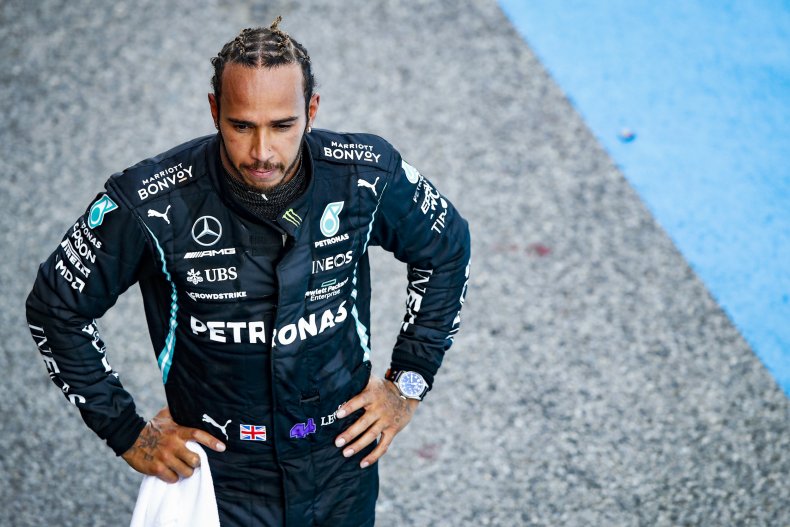 In an Instagram post, the Briton said he had "deliberately not posted about the devastating events that are happening in the Middle East simply because I do not fully understand it and me commenting on it won't do anybody good".
Hamilton's post was swiftly deleted shortly afterward.
Kendall Jenner
Kendall Jenner uploaded and then deleted an Instagram post in which she criticized those who campaigned for women, LGBT and racial equality yet "choose to ignore the Palestinian oppression."
Paris Hilton
Hilton, meanwhile, called "to stop the genocide" and "save Palestine" as she retweeted an article from British newspaper The Guardian, which reported Israel's commitment to sustain attacks on Gaza until there was "complete quiet".
Hilton, who has 17 million followers on Twitter, also shared the video of a 10-year-old Palestinian girl breaking down in tears after neighboring houses were destroyed by an attack launched by the Israeli Army.
"This hurts my heart," she tweeted.
"No one should have to live in fear. My heart goes out to the little girl and the other children around her."
Both posts were subsequently deleted and replaced by a tweet reading: "Sending love and light around the world. Praying for peace to make the world a better place for all."
Ayesha Curry
Meanwhile, Stephen Curry's wife, Ayesha, shared on Instagram a post from the Israeli military's official account. The post claimed that "terrorist organisations in Gaza" were the only party responsible for the death of both Israeli and Palestinian civilians.
Ayesha Curry then removed the post, saying she had been misinformed.
"I was misinformed by someone close to me which is why the post was removed as soon as I realized," she wrote on Twitter in reply to an account accusing her of being a "moron" for sharing the original post on Instagram.
"Its unfortunate someone screenshot it and is circulating. I am now getting properly informed on the situation."
Misinformation on both sides of the divide has flourished on social media as the conflict escalated over the last two weeks, largely because as Axios noted this week, social media platforms have a far bigger presence now than they did in 2014—up until this year, the last major round of violence between Palestinians and Israel.
Last week, a spokesman for Israel's Prime Minister Benjamin Netanyahu shared a 28-second video on Twitter showing Palestinian militants from the Gaza Strip launching rocket attacks at Israelis. However, as per The New York Times, the footage was in fact from 2018. Some video-hosting platforms suggested the video was in fact of militants firing rockets not from Gaza, but from Libya or Syria instead.
In similarly misleading and widely circulating posts, it was claimed that Israeli troops had invaded Gaza. Some of those statements came on the back of official statements the Israeli Defense Forces made to the media and on Twitter.
The latest escalation in violence began as a legal battle over attempts to evict several Palestinian families from buildings in the Sheikh Jarrah neighborhood of East Jerusalem.
Israeli officials describe it as a private real estate dispute between Jewish owners and Palestinian tenants or squatters that is being resolved in the Israeli courts. Palestinian leaders and their supporters around the world view the expected evictions as a symbol of the wider Israeli strategy of building Jewish settlements on land Palestinians want for a state.