Kendall Jenner Struggles to Slice a Cucumber in Viral 'Kardashians' Clip
A clip of Kendall Jenner struggling to slice a cucumber is starting to go viral in a bizarre moment from the latest episode of The Kardashians.
In a startling display of privilege in Episode 5 of the Hulu series, Jenner tells Kris Jenner that she is making her own sandwich, despite her mother offering the skill of a private chef who is seemingly on standby.
The new series has so far focused on some huge moments in the Kardashian Jenner family, including Kim hosting Saturday Night Live and Travis Barker proposing to Kourtney.
Funnily enough, the stand-out moment from this episode will likely be 26-year-old Jenner struggling to slice a vegetable.
The moment took place at Kris Jenner's Calabasas home in Los Angeles where the two were talking and Jenner went to fix herself a snack.
"Do you want the chef to make you a snack?" Kris Jenner asked, to which Kendall Jenner replied: "I'm making it myself. I've just got to chop up some cucumber, it's pretty easy."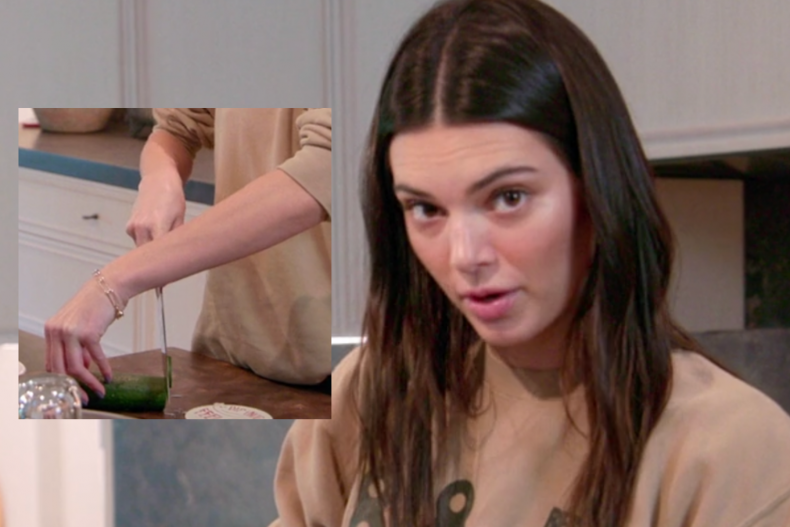 "Okay, you go girl," her mother replied as the camera focused on Kendall Jenner awkwardly holding the knife.
Kris Jenner urged her to be careful because she said she had "nicked myself the other day" and Kendall agreed: "I know, I'm kinda scared."
"Don't cucumbers have seeds?" Kendall then asked, before telling the camera operator not to zoom in on her because she's "not a good cutter."
Unsurprisingly, the model is getting roasted on social media for not being able to slice a cucumber.
"Will never be able to unsee Kendall Jenner's insane attempt to cut a cucumber," tweeted podcaster Priyanka Aribind.
While writer Brodie Lancaster added: "Obsessed with Kendall Jenner trying to prove she's not an out-of-touch spoiled rich girl by insisting on making her own snack and almost dislocating her shoulder trying to slice a cucumber."
"Watching Kendall Jenner cut a cucumber is one of the most painful things I've ever seen," said another.
A clip of the moment has gone viral on TikTok and racked up more than 2.4 million views at the time of writing.
Creator Jess Lucero shared the clip and said: "Please. If you're going to watch any scene from The Kardashians this week, just watch this one."
Ironically, just last month, Kendall and sister Kylie Jenner became the stars of a viral TikTok clip for unintended reasons, after they appeared to struggle with understanding the word "frugal."
Kendall Jenner was previously heavily criticized for her performance in a Pepsi advert in 2017.
The soft drink commercial starring Jenner was pulled from rotation after there was widespread outcry over it trivializing protests against police brutality.