Shaun King 'Not Going to Call for Peace' As Kenosha Riots Over Jacob Blake Shooting
Civil rights activist Shaun King said he supports the rioting which has been taking place in Kenosha, Wisconsin, in the wake of the police shooting of Black man Jacob Blake, believing that "mayhem is the consequence" of years of police brutality.
There has been a second night of disorder, vandalism and clashes with police following the shooting of Blake on Sunday, which included several buildings and vehicles being set on fire. Tear gas was reportedly used by officers after protesters threw missiles at them.
The Milwaukee Journal Sentinel reported that one rioter was seen throwing an incendiary device into a garbage truck which was being used to block vehicles from passing the courthouse, where hundreds of demonstrators had gathered the night before.
Following a second night of violence, Kenosha County Sheriff's Department declared another state of emergency curfew, demanding the public leave the streets from 8 p.m to 7 a.m. Tuesday.
Despite the enforcement of the curfew, hundreds of people remained on the streets of Kenosha for several hours with reports of fireworks being fired at police officers, who responded with smoke bombs and flash grenades.
Blake was filmed trying to enter a vehicle at the 2800 block of 40th Street while Kenosha Police officers confronted him. He was shot several times in the back while his three children were in the car.
Witnesses say Blake was attempting to break up a fight between two women prior to the shooting. Blake is reportedly currently in a stable condition in hospital.
After a video of the police shooting went viral, King—a prominent Black Lives Matter figurehead—said he supports the rioting while calling for the dismantling of the police.
"Nah. I'm not going to call for peace. We've tried peace. For years. Y'all don't understand that language," King tweeted.
"We are calling for a complete dismantling of American policing. It's NOT broken. It was built to work this way. And mayhem is the consequence. You earned it."
King has been contacted for further comment.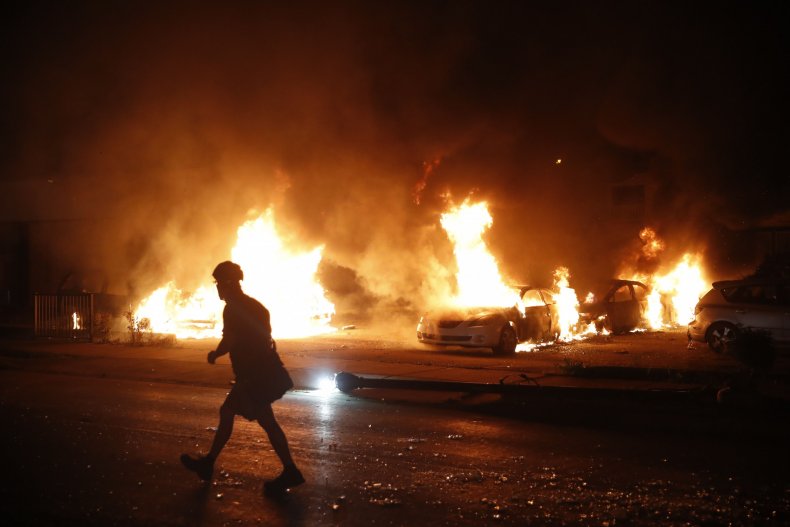 In the wake of the death of Minneapolis Black man George Floyd, which sparked major protests across the U.S., there were also calls for the defunding of police departments so the money could be better used in other social services.
Several high-profile names have spoken out against the shooting of Blake. Democratic presidential nominee Joe Biden called for an immediate investigation into the incident which he said left the country waking up "yet again with grief and outrage."
"Equal justice has not been real for Black Americans and so many others. We are at an inflection point. We must dismantle systemic racism. It is the urgent task before us," Biden said.
"We must fight to honor the ideals laid in the original American promise, which we are yet to attain: That all men and women are created equal, but more importantly that they must be treated equally."
In a statement to Newsweek, Jeffery Robinson, director of the ACLU's Trone Center for Justice and Equality, said: "The reasons that led to this shooting can't be changed with more money thrown at police departments to find ways not to murder the members of the communities that they are supposed to be serving.
"The fact that incidents of police violence like this, the murder of Breonna Taylor as she slept in her home, the murder of George Floyd across the street from a grocery store, the murder of Eric Garner outside of a neighborhood bodega and countless others have become commonplace shows that the very institution of American policing is rotten at its core."
Wisconsin Gov. Tony Evers confirmed that the National Guard will assist local law enforcement in Kenosha County with the disorder.
"I know folks across our state will be making their voices heard in Kenosha and in communities across Wisconsin. Every person should be able to express their anger and frustration by exercising their First Amendment rights and report on these calls to action without any fear of being unsafe," Evers said.
"This is a limited mobilization of the National Guard focused on supporting the needs of local first responders to protect critical infrastructure, such as utilities and fire stations, and to ensure Kenoshians are able to assemble safely."