Kentucky Flash Flood Update: Children Among 15 Confirmed Dead
The death toll from flash flooding in Kentucky this week has reached 15 and includes some children, Governor Andy Beshear said Friday.
"There's going to be multiple families that we've lost," Beshear said in an interview with CNN on Friday morning. "Kids that won't get the opportunity to grow up and experience so much that we have. We've never seen something like this."
Videos of the flooding in Eastern Kentucky on Wednesday and Thursday morning were posted on social media, showing submerged streets, and houses and cars partially underwater.
During a Thursday morning press conference, Beshear said that he expected "hundreds" to lose their homes following the flooding, and that it would be "yet another event that it's going to take not months but likely years for many families to rebuild and recover from." He also said that National Guard members were working to rescue residents stranded on the roofs of their homes.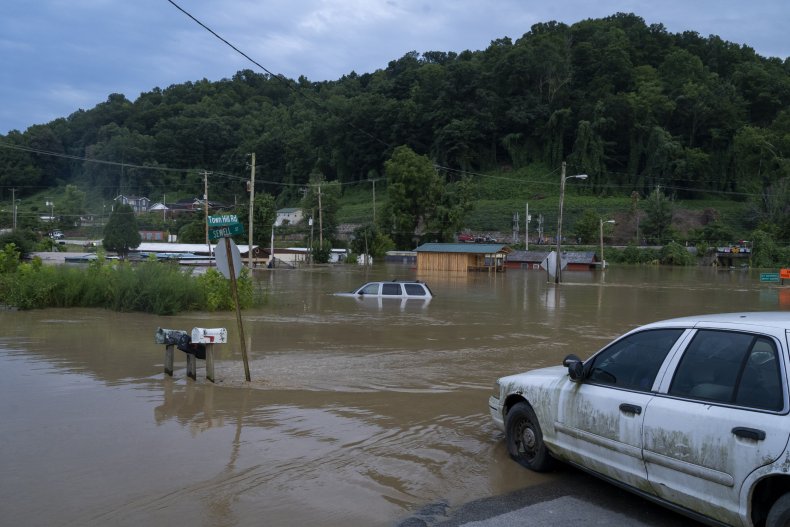 In a video he posted on social media Friday morning, Beshear said that Kentucky "may have even lost entire families." He said there are still 23,000 Kentuckians without power, and "many counties" without water.
Beshear added that on Thursday, state officials engaged in about 50 air rescues and hundreds of boat rescues.
"This situation is ongoing. We are still in the search-and-rescue mode and at least in some areas the water is not going to crest until tomorrow," he said.
"It's going to be a tough couple days, and then it's going to be a long rebuild, but we're tough enough, we'll make it. Let's stick together, let's help out our fellow human being."
When reached for comment, Beshear's office referred Newsweek to his latest video update on the flooding.
On Thursday, Beshear opened a portal for the public to submit donations for flood victims.
"I wish I could tell you why we keep getting hit here in Kentucky. I wish I could tell you why areas—where people may not have that much—continue to get hit and lose everything," he said in a statement.
"I cannot give you the why, but I know what we do in response to it. And the answer is: Everything we can. Today, we're giving everyone that opportunity to help through the Team Eastern Kentucky Flood Relief Fund."
In late 2021, Kentucky was devastated by tornadoes that destroyed communities and killed more than 70 people.
Las Vegas was also hit with flash flooding on Thursday and Friday, with water pouring into hotels and casinos, and submerging streets.
Update 7/29/22, 10:13 a.m. ET: This story was updated with additional information.