Kentucky Woman Shoots at KFC Drive-Thru Because She Didn't Get a Napkin and Fork
Kentucky police are reportedly investigating after a customer of a Shelbyville KFC fast food restaurant shot out a drive-thru window on Monday.
The altercation appeared to have been sparked after a woman was not given a fork and napkin with her food order, eyewitnesses to the incident told local media outlet WLKY. The store was closed Monday, and police say the investigation is ongoing.
An image that was posted to Facebook yesterday by Shelbyville resident Steve Cook showed the drive-thru window's glass after it had been shattered.
"This happen at KFC early today some [woman] got [mad] over paper towels and a fork and shot a 9mm at workers in Shelbyville today," he wrote in a caption.
Cook's post was shared more than 8,000 times on Facebook and has since attracted hundreds of comments, with many users expressing shock, and skepticism, at the claim a gun was involved.
Shelby County dispatchers confirmed that officers had responded to the scene after a report of a suspected shooting on Monday but has not clarified further, WLKY reported.
Sgt. Kelly Cable of the Shelbyville Police Department told Newsweek:
"At approximately 11:50 am, officers were dispatched to KFC on a "shots-fired" call. According to employees a customer (adult African American female) in the drive thru lane became agitated and verbally abusive.
"After the customer received her drinks and food, a gunshot from inside the vehicle struck a store window. The subject driving a white Mercedes Benz then left the scene driving at a high rate of speed going south on Boone Station Road. No one was injured.
Cable added: "Detectives are currently working on the case and the identity of the driver is currently unknown. There does not seem to be a known motive at this time."
A KFC spokesperson said in a brief statement: "First and foremost, we are grateful that no-one was injured. We are working with local authorities as they investigate the incident."
A paper notice was later stuck on the door to the restaurant on Monday, reading: "Sorry for the inconvenience but we are currently closed." The store was expected to re-open today.
A manager of an adjacent Subway fast food store, named Charlene Witt, told WLKY: "I had a regular customer come in and say 'Did you hear about what just happened at KFC?' I was, like, 'No.' He was like, 'Someone just shot the window out over here.' I just can't even think about what was going through their head to pull out a gun and shoot at a window. It's scary."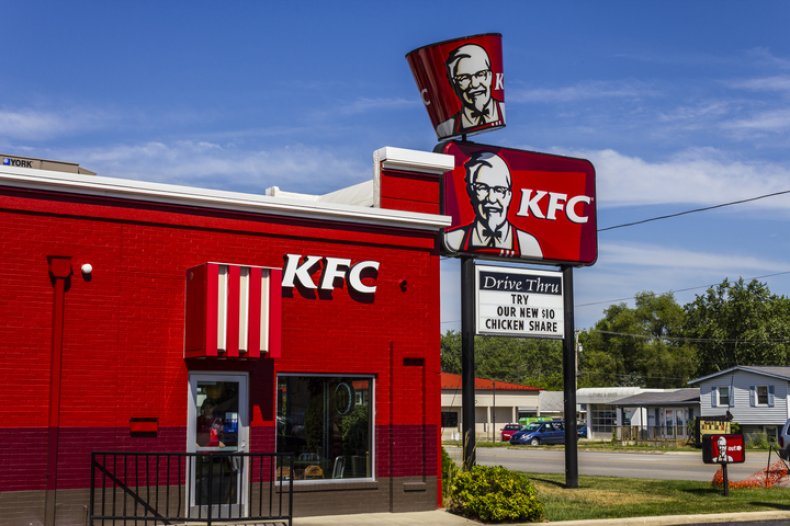 It's far from the first time that tensions have spiked at a drive-thru.
In August, Illinois police said an investigation had been launched after a Steak 'n Shake window was shattered by a woman who "became irate and acted erratically" over a delayed order.
"She came to the drive-thru window and made threats, and then eventually threw a glass bottle at the drive-thru window, causing it to break," said a police report of the incident that was first obtained by the Journal Star newspaper. The culprit was not immediately identified.
The same month, Florida police were called after a man who did not receive a correct order for Filet-o-Fish at a McDonald's drive-thru attacked a car with a shopping cart. In July, a woman in Tennessee was charged with aggravated assault after being caught on store CCTV attacking a McDonald's manager with a stun gun and trying to pull him out the drive-thru window.
This article has been updated with comment from the Shelbyville Police Department.