Kentucky Woman Arrested for Pepper-Spraying Cops at 1/6 Capitol Riot: DOJ
A Kentucky woman was arrested Wednesday for allegedly pepper-spraying a police officer while attempting to enter the U.S. Capitol building along with other supporters of former President Donald Trump on January 6, 2021.
The Department of Justice (DOJ) announced on Wednesday that Shelly Stallings faces charges including assaulting, resisting, or impeding certain officers using a dangerous weapon for her alleged role in the attack. She joins the more than 750 people who have been arrested and charged in relation to the Capitol riot in 13 months.
Stallings was named along with Virginia resident Markus Maly in a revised indictment that previously had two other defendants, one of whom was Stallings' husband Peter Schwartz, according to the DOJ.The other defendant listed was Jeffrey Brown of California. All four defendants are accused of pepper-spraying police officers while attempting to enter the Capitol building's Lower West Terrace.
In total, Stallings is being charged with entering and remaining in a restricted building or ground with a dangerous weapon; disorderly or disruptive conduct in a restricted building with a dangerous weapon; engaging in physical violence in a restricted building with a dangerous weapon; disorderly conduct in the Capitol grounds or building; an act of violence in the Capitol grounds or building; and civil disorder.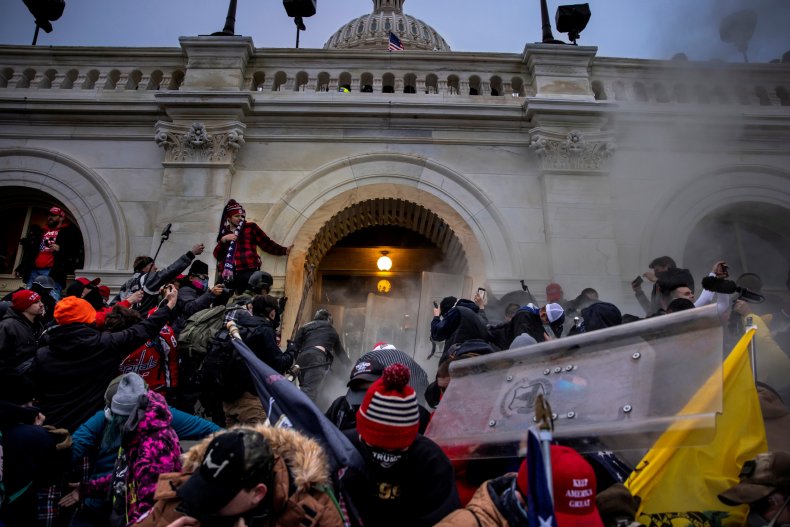 It is unknown how she will plead to the charges. Schwartz, Brown and Maly all pleaded not guilty after their previous arrests in 2021 and 2022, according to the DOJ.
Of the over 750 people arrested and charged in connection to the attack, only 87 people have been sentenced for their involvement in the riot as of January 21. The majority of those charged are either awaiting trial or have not made any plea agreements.The average prison sentence for those formally charged for their role is 45 days, Newsweek previously reported.
Stallings joins 235 other people charged with assaulting or impeding law enforcement during the riot.
The discussion over the attack continues in Washington as the House January 6 committee moves forward with its investigation. Newsweek previously reported that a Politico and Morning Consult poll found that 38 percent of Republicans considered the riot to be an "illegitimate form of political discourse," while 33 percent considered it to be legitimate. An additional 29 percent said that they did not know or did not have an opinion on the matter.
Update 02/16/2022, 2:52 p.m. ET: This story has been updated with background information and details about Shelly Stallings' arrest and charges.