Judge Ketanji Brown Jackson said Wednesday she will recuse herself from a case challenging Harvard's affirmative action policy if confirmed to the Supreme Court.
Jackson, who earned her undergraduate and law degrees from Harvard in the 1990s, told Senator Ted Cruz she'll step aside when that case comes before the Court in the fall. "That is my plan, senator," Jackson said during the Senate Judiciary Committee hearing on her nomination. Cruz is also a Harvard alum.
The case could fundamentally alter college admissions policies. In 2014, the Students for Fair Admission filed a lawsuit alleging that Harvard discriminates against Asian American applicants. SFFA is asking the Supreme Court to overturn its landmark decision in Grutter v. Bollinger, which allowed colleges to consider race and use a holistic admissions policy.
"Harvard penalizes [Asian Americans] because, according to its admissions office, they lack leadership and confidence and are less likable and kind," lawyers on behalf of SFFA wrote in a filing to the Supreme Court.
Jackson was selected by President Joe Biden to fill the seat being vacated by retiring Associate Justice Stephen Breyer, who will be stepping down at the end of the current term that runs through June. If confirmed, Jackson would be on the bench at the time the Harvard case is taken up by the justices.
The Supreme Court in January agreed to hear the case, as well as another lawsuit against affirmative action policies at the University of North Carolina at Chapel Hill.
SFFA said in a statement that it was "grateful" to the Court for taking up the cases for review.
"It is our hope that the justices will end the use of race as an admissions factor at Harvard, UNC and all colleges and universities," Edward Blum, the group's president, said in a statement.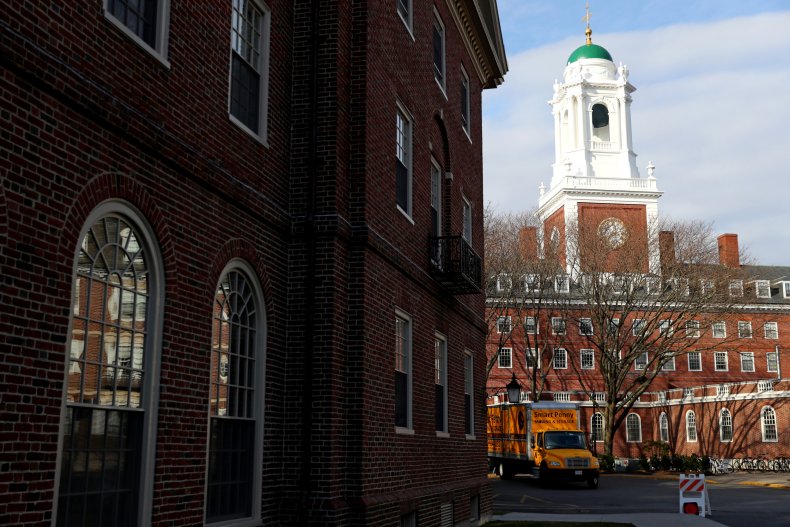 Harvard responded to the Supreme Court's decision to take up the case by noting that "both a federal district judge and a federal appeals court previously found in Harvard's favor in the case."
"The Supreme Court decision to review the unanimous decisions of the lower federal courts puts at risk 40 years of legal precedent granting colleges and universities the freedom and flexibility to create diverse campus communities," Harvard President Larry Bacow said in a statement.
"Considering race as one factor among many in admissions decisions produces a more diverse student body which strengthens the learning environment for all," Bacow said.
Oral arguments in the Harvard case will likely be heard in the court's next term, which will begin in October.
Update 03/23/22, 4:30 p.m. ET: This story was updated with more information and background.