Kevin Durant Claims the Media Are Trying to Make Him 'Look Crazy'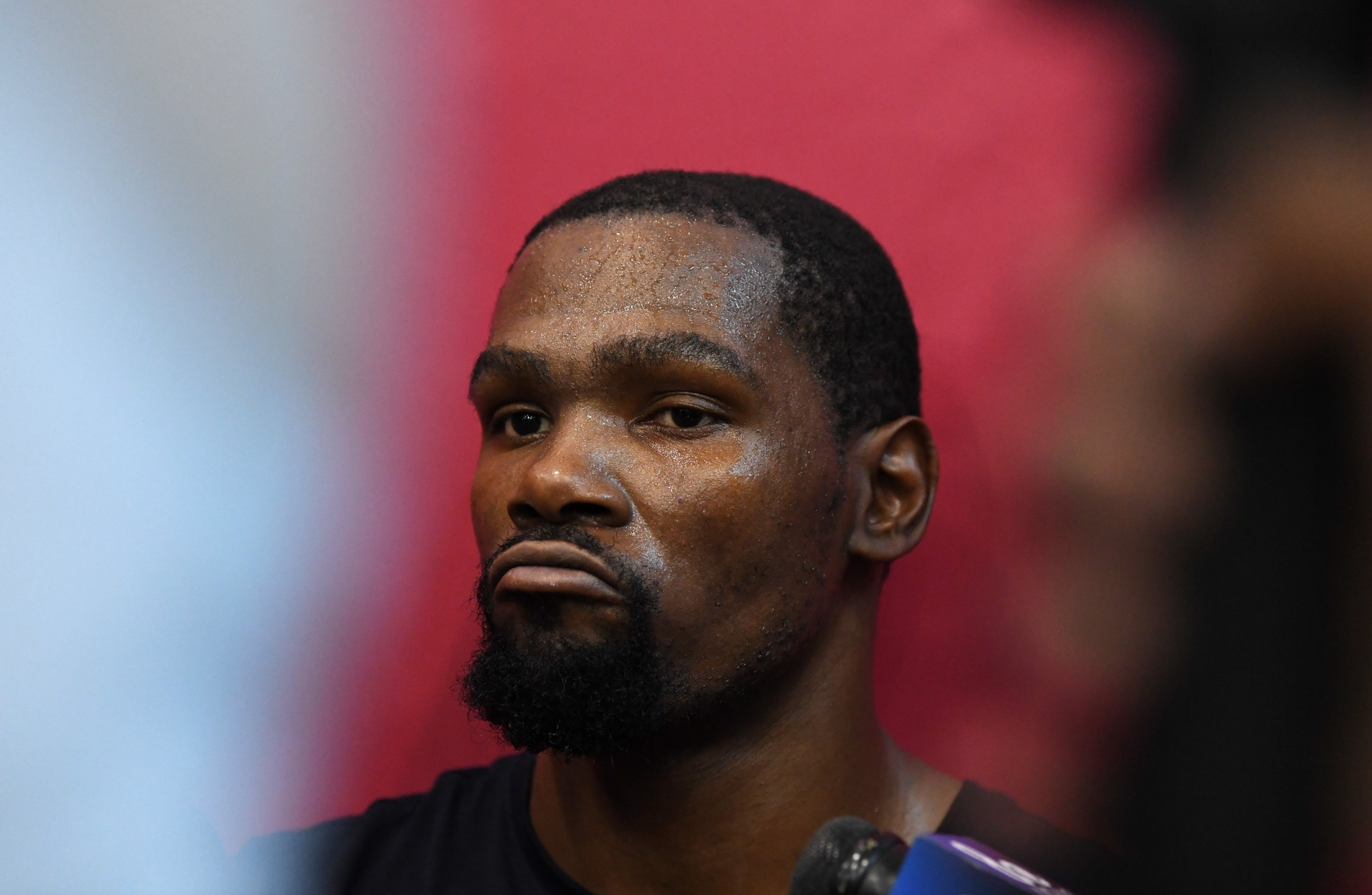 Kevin Durant has criticized the media for what he perceives as an attempt to portray him as angry and insecure.
The two-time NBA champion believes some members of the media have deliberately set out to make him look like "the sensitive one" simply because he's forthright and honest about his opinions.
"It is just to the point that I know what you're upset at. Just say it instead of make excuses," Durant told reporters after USA Basketball practice, as reported by ESPN.
"Know what I'm saying? I got too many texts or I talk too much on Instagram or I talk too much on Twitter or I don't know how to talk to my teammates, or I am angry or insecure or sensitive. Tell me what the real problem is.
"Because every time I say something, I go about my business, and when I say something, House of Highlights and Bleacher Report [mash] it all up and y'all run with it, and as soon as I say something back, I'm the sensitive one. I mean, I know y'all trying to make me look crazy and discredit me and strip me of my credibility. But I see what you doing. But I'm going to still keep standing."
Durant's words came just a day after he was involved in a Twitter spat with Portland Trail Blazers guard CJ McCollum, who described Durant's decision to join the Golden State Warriors as "soft."
Since leaving the Oklahoma City Thunder for the Warriors as a free agent two years ago, Durant has had to justify the decision, amid criticism he opted to join the best team in the league instead of trying to beat it.
Earlier this month, the two-time NBA Finals MVP spoke with McCollum on the latter's Pull Up with CJ McCollum podcast, when the Trail Blazers guard bemoaned DeMarcus Cousins' decision to sign for the Warriors as a free agent this summer.
Durant and McCollum exchanged tweets, before the latter tried to defuse the situation by suggesting there was "no feud" between him and the Warriors forward.
The latter explained he was growing tired of media running stories off the back of some of his comments.
"If I got something to say, if I am getting mad because I say something and then you catch feelings, I call you out on it and [then] I am [portrayed as] the sensitive one," Durant said. "I am insecure and all these [other labels] [...] everybody running with it.
"Now people come up to me and say, 'Damn, man, I didn't know you were so cool,' when they meet me in person. Why? Because what y'all said. But that goes for everybody around here. Y'all say s*** about him, they don't say nothing, and they just keep on adding on, but I am the one. I just talk, I say how I feel. But I guess I'm the bad guy."