Kevin McCarthy Says He Called Paul Gosar Over AOC Anime Video
House Minority Leader Kevin McCarthy said he called Representative Paul Gosar after he posted an anime video depicting violent attacks against Democrats last week, and the Arizona Republican followed up by releasing a statement condemning violence.
"He took the video down and made a statement that he doesn't support violence to anybody," McCarthy said Monday afternoon, according to Politico. "I called him when I heard about the video. And he made a statement."
McCarthy declined to say whether he directly asked Gosar to apologize for the video, which showed him killing Representative Alexandria Ocasio-Cortez, a New York Democrat, and using a sword against President Joe Biden.
After the phone call, Gosar posted a statement online saying that he does not "espouse violence or harm towards any Member of Congress or Mr. Biden." Rather, the Arizona Republican argued that the video was "symbolic" and meant to show "a battle between lawful and unlawful policies and in no way intended to be a targeted attack. "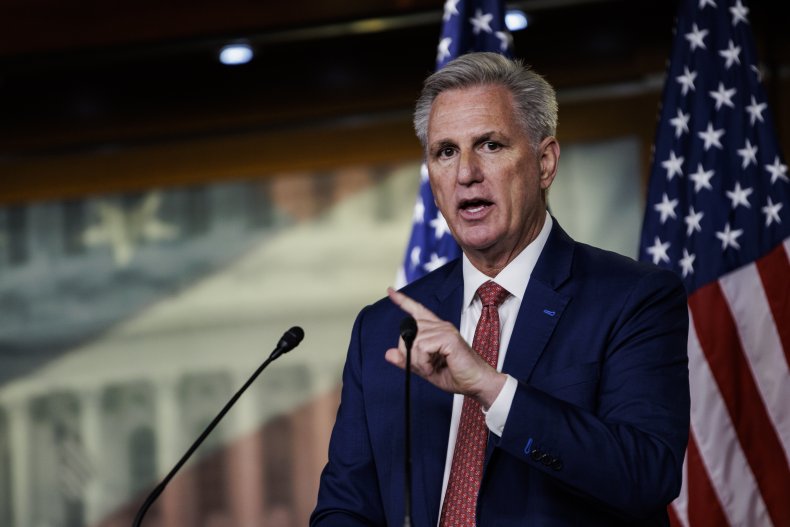 On Sunday, Gosar also doubled-down on his defense in a newsletter to constituents, calling outrage over the video "infantile" and said any accusations that it was dangerous were "laughable."
The video has sparked widespread condemnation from Democrats and some Republicans, who have urged the GOP House Caucus to censure Gosar and strip him of his House committee assignments. House Speaker Nancy Pelosi has also urged the House Ethics Committee to investigate Gosar's actions, and for McCarthy to publicly condemn them.
This weekend, Representative Ted Lieu, a California Democrat, slammed the GOP for failing to reprimand Gosar, calling the video "dangerous, disgusting and despicable."
"In any other workplace in America if a coworker made an animated film killing another coworker, that person would be fired," Lieu said while speaking on The Dean Obeidallah Show Friday.
At least two Republicans—Representatives Liz Cheney and Adam Kinzinger—have also joined Democrats in condemning Gosar's actions. In a recent interview, Cheney criticized McCarthy for his lack of action in the matter.
"In a moment where you've got an avowed white nationalist in Representative Gosar who has posted a video advocating the killing of another member, the idea that our leader will not stand against that but that he's somehow going after and allowing attacks against 13 members who are conducting themselves in a serious and substantive way is really outrageous," she said.
House Democrats introduced a resolution to censure Gosar on Friday, but it's unclear if or when it will receive a floor vote. However, if Democrats are successful, Gosar will be the first congressman to face the political rebuke in more than a decade.
Newsweek reached out to Gosar for comment.