'Kevin McCarthy, You Did This': Lincoln Project Ad Blames House Minority Leader for Riots
The Lincoln Project's new ad lays at least some of blame for the January 6 U.S. Capitol insurrection at the feet of House Minority Leader Kevin McCarthy (R-Calif.).
The political action committee formed by former and current Republicans, which gained national attention for their ads against former President Donald Trump during the 2020 election cycle, tweeted the new ad on Monday. The video features a clip of McCarthy expressing his support for Trump's false claims that the election had been "stolen" due to massive voter fraud, intercut with footage taken during the violent breach of the Capitol building.
"President Trump won this election, so everybody who is listening, do not be quiet," McCarthy says during the ad in the clip taken from a Fox News appearance, while dramatic music and clips of chaotic scenes at the Capitol begin to play.
"Do not be silent about this," McCarthy continues before footage of the pro-Trump rioters pushing their way into the building while chanting "stop the steal" is shown.
"We cannot allow this to happen before our very eyes," concludes McCarthy as a clip of the rioters bashing in a window plays. The ad ends with the words "Kevin McCarthy You Did This" appearing in white-on-black block lettering.
The Lincoln Project released a similar ad on Sunday accusing Sen. Josh Hawley (R-Mo.), who objected to President Joe Biden's Electoral College win in Pennsylvania hours after the insurrection, of being responsible for the deadly riot. The ad predicts that the senator will "lose it all" due to his actions and, like the McCarthy ad, heavily featured the words "You Did This."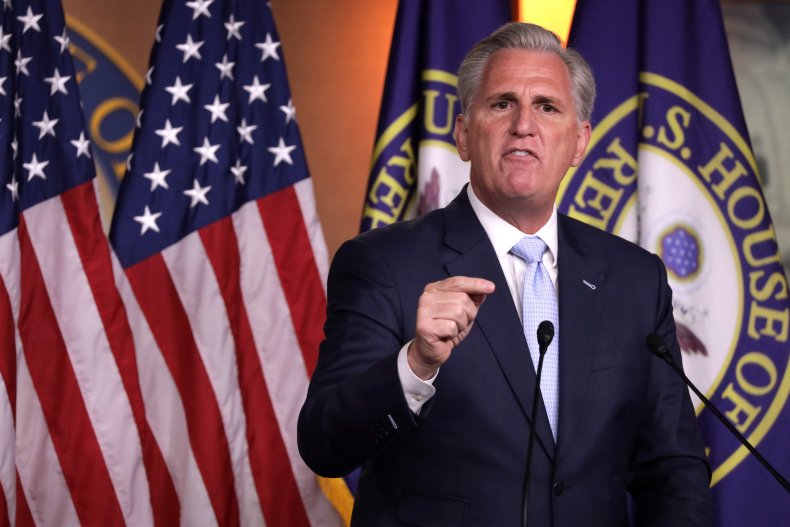 On Saturday, the group released a different ad accusing McCarthy of being a "traitor" and "seditionist" for his rhetoric concerning the election. It also highlighted anti-Trump statements that he had made prior to the 2016 election, calling him a "Trump lackey" for becoming an ardent supporter of the former president after he took office.
Although McCarthy has condemned the violence at the Capitol, he did vote in favor of overturning Biden's win in the hours after the breach, which left five people including a Capitol Police officer dead. McCarthy was also one of 126 House Republicans who signed a brief supporting GOP Texas Attorney General Ken Paxton's failed Supreme Court lawsuit attempting to overturn the election outcome.
The Lincoln Project itself has been under fire in recent days and weeks due to sexual harassment allegations against group co-founder John Weaver. A New York Times article on Sunday claimed that 21 young men had received unsolicited sexually charged online messages from Weaver, who allegedly suggesting that he could offer them political work in exchange for sex.
Weaver issued an apology after some similar allegations emerged weeks earlier, telling Axios that he was "very sorry" for sending "inappropriate" messages. The Lincoln Project denounced Weaver after the Times article was published, releasing a statement describing their co-founder as "a predator, a liar, and an abuser" while maintaining that the group had been "betrayed and deceived" by him.
Newsweek reached out to McCarthy's office for comment.