The Key to the Long Game is Women of Color | Opinion
Leading up to the Supreme Court's expected—yet no less devastating—ruling to overturn Roe v. Wade, President Joe Biden tweeted on May 11: "To protect the right to choose, voters need to elect more pro-choice senators this November, and return a pro-choice majority to the House." The problem is that in every roadmap described to answer the president's call to action, one critical pathway is often left off the map: women of color.
We can no longer afford to make that mistake. While some may feel helpless over losing a constitutional right, know that we don't have to change everything right now. But we must focus. Only by activating the power of women of color, especially in two states where Black women are Democratic nominees, gives us the best chance of flipping the Senate and winning our freedom.
Ending abortion rights is not the end game. This ruling has set a dangerous precedent that now threatens our rights to marry who we choose and the right to use birth control—and all of which will disproportionately impact the health and safety of women of color and non-wealthy women. As the fastest growing voting bloc in the country, women of color have the power to reverse course.
An electoral strategy that centers women of color is the key to electing senators in Florida and North Carolina. This will be critical if we have any hope of codifying abortion rights into law, restoring voting rights protections, establishing childcare tax credits, passing the Build Back Better package, raising the national minimum wage during this recession, and protecting basic rights in our country.
Here's what we know:
From 2016 to 2020, voter turnout by women of color nationwide increased by 10 percent, compared to a 6 percent increase for white women. Among AAPI (Asian American Pacific Islander) women, the increase was 24 percent, and among Latina women, 27 percent. The study also revealed that Black women have an "outsized influence" in states such as Georgia, North Carolina, and Florida.
Ninety percent of women of color voted for Joe Biden in the 2020 election. Their participation brought wins in Georgia and Arizona, both states that were crucial to Democrats' control of the Senate.
In Georgia, Florida, Texas, Ohio, and North Carolina Democrats have lost statewide elections by an average of less than 300,000 votes. But if they pay attention, women of color can make the difference—we have candidates at the top of the ticket who can help motivate women of color to turn out.
Women of color are the majority of Democratic voters in North Carolina and Florida. In North Carolina: Latina women are 5.6 percent of registered Democrats; Black women are 47.1 percent of registered Democrats; and AAPI women are 1.5 percent of registered Democrats. In Georgia: Black women are 71.4 percent of registered Democrats; Latina women are 2.8 percent of registered Democrats; and AAPI women are 1.24 percent of registered Democrats. In Florida: Black women are 30.4 percent of registered Democrats; Latina women are: 21.7 percent of registered Democrats; and AAPI women are 1.56 percent of registered Democrats.
This is why She the People will help close Florida's roughly 300,000 vote deficit by increasing turnout among infrequent women of color voters by 10 percent. There are currently 250,000 infrequent voters (1 percent of total universe of all voters); 1.6 million women of color who have only voted once in the last 4 elections; and a 10,033 vote margin, with 1.2 million registered women of color. In North Carolina, Democrats have traditionally lost by margins of less than 100,000 votes or 1 percent.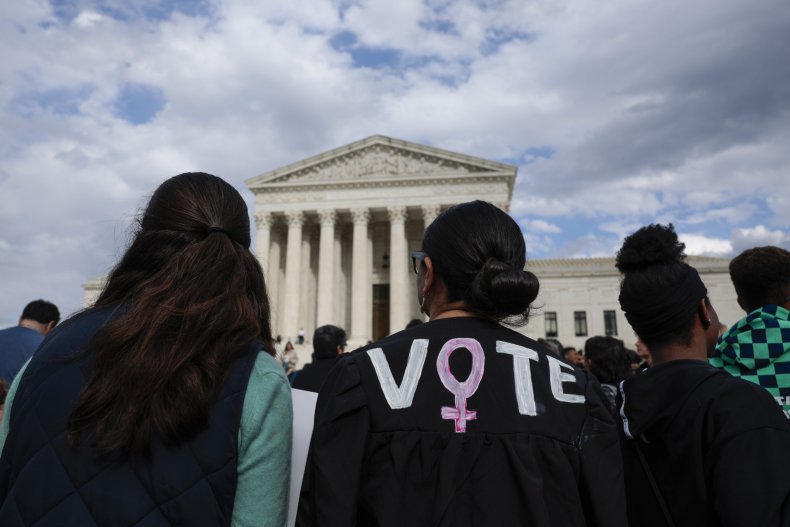 She the People will focus on turning out 100,000 women of color who have voted in either two, one, or none of the last statewide elections (300,000 women of color fit this category). There is a 91,556 average vote margin loss for Democrats, but 1.5 million registered women of color.
But Democrats must begin early to support candidates and the women on the ground doing the work. They must also reach the women of color voters who will be the margin of victory.
Democrats need to win an additional 61 electoral votes in order to keep the presidency in 2024. Beltway Democrats would most likely make deep investments in states such as Minnesota, Iowa, Wisconsin, Ohio, and Pennsylvania, with the argument that these are the voters that the party must reach in order to win. Yet the Democratic consultant class is still focusing on narratives centered around reaching white voters.
Focusing on states where women of color are a big part of the electorate not only secures more electoral votes in 2024, but also builds a firewall for future state legislative races. These voters are key to increasing our numbers in the Senate and flipping important gubernatorial seats.
She the People will work to reach 2.5 million women of color across six states who are considered infrequent because they vote in presidential elections but don't vote in midterm elections. Women of color voters care deeply about abortion rights and just a 10 percent increase over 2018 turnout can close the gap and overcome Republicans.
By increasing the vote share of women of color who vote in every election in states like North Carolina and Florida, there is a path to restore abortion rights and break the stranglehold that Republicans have on the Supreme Court and in state legislatures.
And we can help to shift the balance of power in 2024.
Aimee Allison is founder and president of She the People, a national network of women of color in politics.
The views expressed in this article are the writer's own.