Key Moments From Joe Biden's UFO Speech
President Joe Biden delivered public remarks on Thursday about aerial objects that have recently been shot down over North American airspace amid speculation about unidentified flying objects (UFOs).
Biden was facing pressure from Democrats and Republicans to provide more information to Americans about the three aerial objects after a suspected Chinese spy balloon was shot down on February 4.
Speculation was rife about the origins of the three objects, with the White House dismissing the idea that they were in any way extraterrestrial earlier this week.
Here are the key moments from Biden's remarks about the UFOs.
Not Connected to China
President Biden said that the three aerial objects are probably not connected to the suspected Chinese surveillance balloon that was shot down off Myrtle Beach, South Carolina.
"We don't yet know exactly what these three objects were. But nothing — nothing right now suggests they were related to China's spy balloon program or that they were surveillance vehicles from other — any other country," the president said.
"The intelligence community's current assessment is that these three objects were most likely balloons tied to private companies, recreation, or research institutions studying weather or conducting other scientific research," he said.
However, the president didn't explain the origins of the three aerial objects.
Newsweek has reached out to the White House for comment.
Biden Will 'Take Down' Any Object That's a Threat
The president promised that he would shoot down any similar object that could pose a threat to the U.S.
"But make no mistake, if any object presents a threat to the safety and security of the American people, I will take it down. I'll be sharing with Congress these classified policy parameters when they're completed, and they'll remain classified so we don't give our roadmap to our enemies to try to evade our defenses," he said.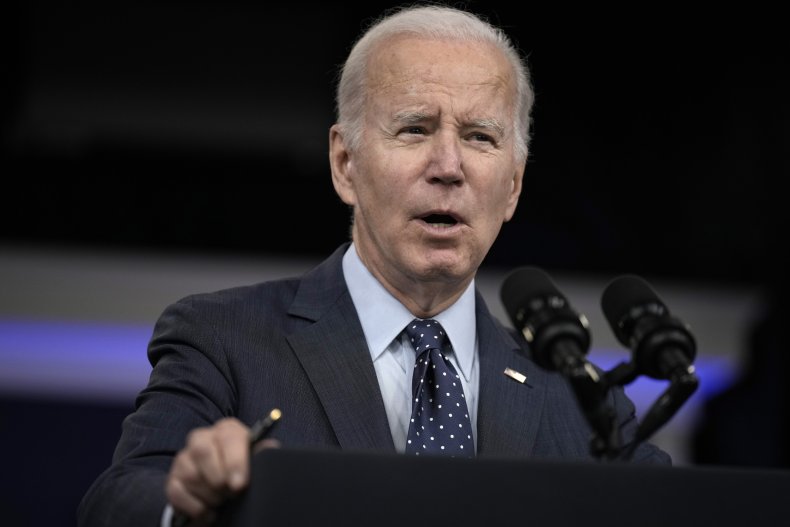 New Steps to Prevent Threats
President Biden also committed to taking further steps to prevent potential threats, saying that at the start of his administration he had "instructed our intelligence community to take a broad look at the phenomenon of unidentified aerial objects.
"We know that a range of entities, including countries, companies, and research organizations operate objects at altitudes for purposes that are not nefarious, including legitimate scientific research," he said.
The president said there was no evidence of a sudden increase in aerial objects, but we are now "just seeing more of them, partially because the steps we've taken to increase our radars — to narrow our radars. And we have to keep adapting our approach to delaying — to dealing with these challenges.
"That's why I've directed my team to come back to me with sharper rules for how we will deal with these unidentified objects moving forward, distinguishing — distinguishing between those that are likely to pose safety and security risks that necessitate action and those that do not," Biden said.
Those measures will include "a better inventory of unmanned airborne objects" in U.S. airspace, improving the U.S. capacity to detect aerial objects, updating rules surrounding the maintenance and launching of aerial objects, and efforts to establish "common global norms in this largely unregulated space."
Biden Will Speak With Xi
China has dismissed U.S. claims that the balloon shot down on February 4 was being used for surveillance, but the U.S. has maintained that was the case. Biden said he would be speaking to Chinese President Xi Jinping.
"This episode underscores the importance of maintaining open lines of communication between our diplomats and our military professionals. Our diplomats will be engaging further, and I will remain in communication with President Xi," Biden said.
The president added: "I expect to be speaking with President Xi, and I hope we have a — we are going to get to the bottom of this. But I make no apologies for taking down that balloon."
Biden Dismisses Reporters for Not Being Polite
At the end of his speech on Thursday, reporters in the room began to ask Biden questions, with some talking over each other. The president responded by suggesting they needed to be more polite.
One reporter asked Biden about criticism that shooting down the Chinese balloon and other unknown aerial objects was an overreaction, but was unable to ask his full question because he was interrupted.
"You can come to my office and ask that question when we have more polite people," Biden said to the reporters just before he walked off the stage.