Khloé Kardashian Slammed for Resurfaced Photo With Black Women on Leashes
Khloé Kardashian has received backlash online over a resurfaced photo where she appeared to be a "pimp," holding several Black women on leashes.
In a Reddit thread titled "Let's Never Forget *This* Happened," posted on Monday, July 4, fans slammed the now 38-year-old for her tone-deaf Halloween costume.
"Can someone fill me in on this mess? Khloé, dressed … as a pimp?" one user commented. "This is actually one of the worst things I've ever seen a celebrity do," someone else chimed in, while a third pointed out a familiar face. "[Meagan] Good is a legit actress, why is she here??"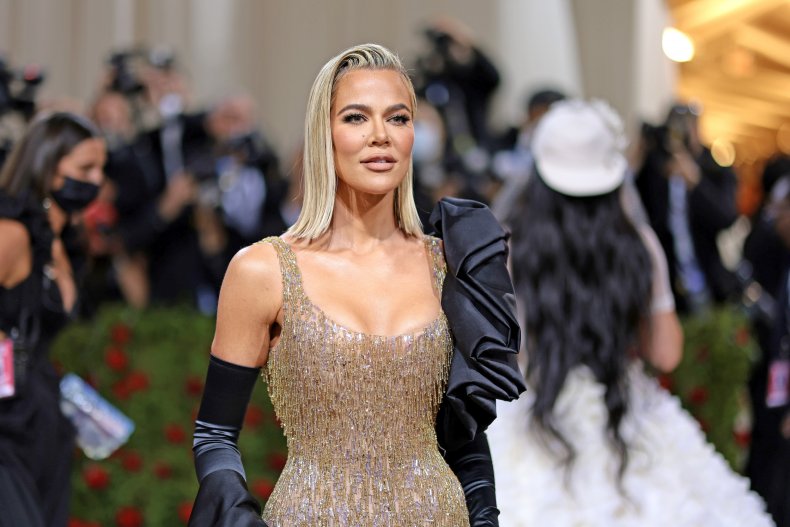 Back in 2019, Meagan addressed the controversial snap, which she appeared in.
"That one time on Halloween when you were young and dumb … and clearly didn't think 15 years ahead lol smh," she explained in an Instagram comment, posted on Twitter. "Well, mistakes were made."
Meagan Good's sister La'Myia Good was also in the picture, as were Khloé's best friends, twins Malika and Khadijah Haqq.
Earlier this year, fans called for the Kardashians star to be canceled after an old clip re-emerged of the Good American founder seemingly using racist language. In the scene from Keeping Up With the Kardashians, Khloé defended sister Kim Kardashian from trolls who accused her of appropriating Black culture.
"Hashtag fact, my baby is Black," she said. "Hashtag I only like Black c--k. That's what I would say."
The reality TV mom, who shares daughter True Thompson with ex Tristan Thompson, then appeared to use the n-word while revealing some of names she had been called at the time.
Upon learning the information, fans took to Twitter to share their reactions.
"Dear @hulu, if you continue to enable the Kardashian family and give them a platform, I will cancel your service," one person wrote in January 2022, referring to the famous family's new series. "I will never condone racism or bullying the way the Kardashian/Jenner family continues to perpetuate."
Several others agreed. "Oh hell no! Why haven't I known about this?" a second said, while a third pleaded, "Please sign the petition for @hulu to cancel the Kardashian's new show. #BoycottHulu #CancelKardashians"
A Change.org petition titled "Hulu to cancel the Kardashian's new show" garnered 1,458 signatures of 1,500 at the time of publication.
The description from the organizer read: "The Kardashian/Jenner family have continued to perpetuate racism and bullying of young girls throughout their 20 years on TV. Hulu needs to cancel their new show, so women around the world don't have to feel bad about themselves anymore."
Despite the criticism, however, many also came to Khloé's defense.
"Oh, this is ridiculous! It's not like she called someone the n-word. She said that people call her n-lover. This is stretching it. They are not racist and everyone knows that."
Another, meanwhile, said, "I don't see the problem. People are overreacting."
Newsweek reached out to Khloé's rep for comment.