Politics or Entertainment? Kid Rock and 10 Other Celebrities Who Could Follow Trump Into Office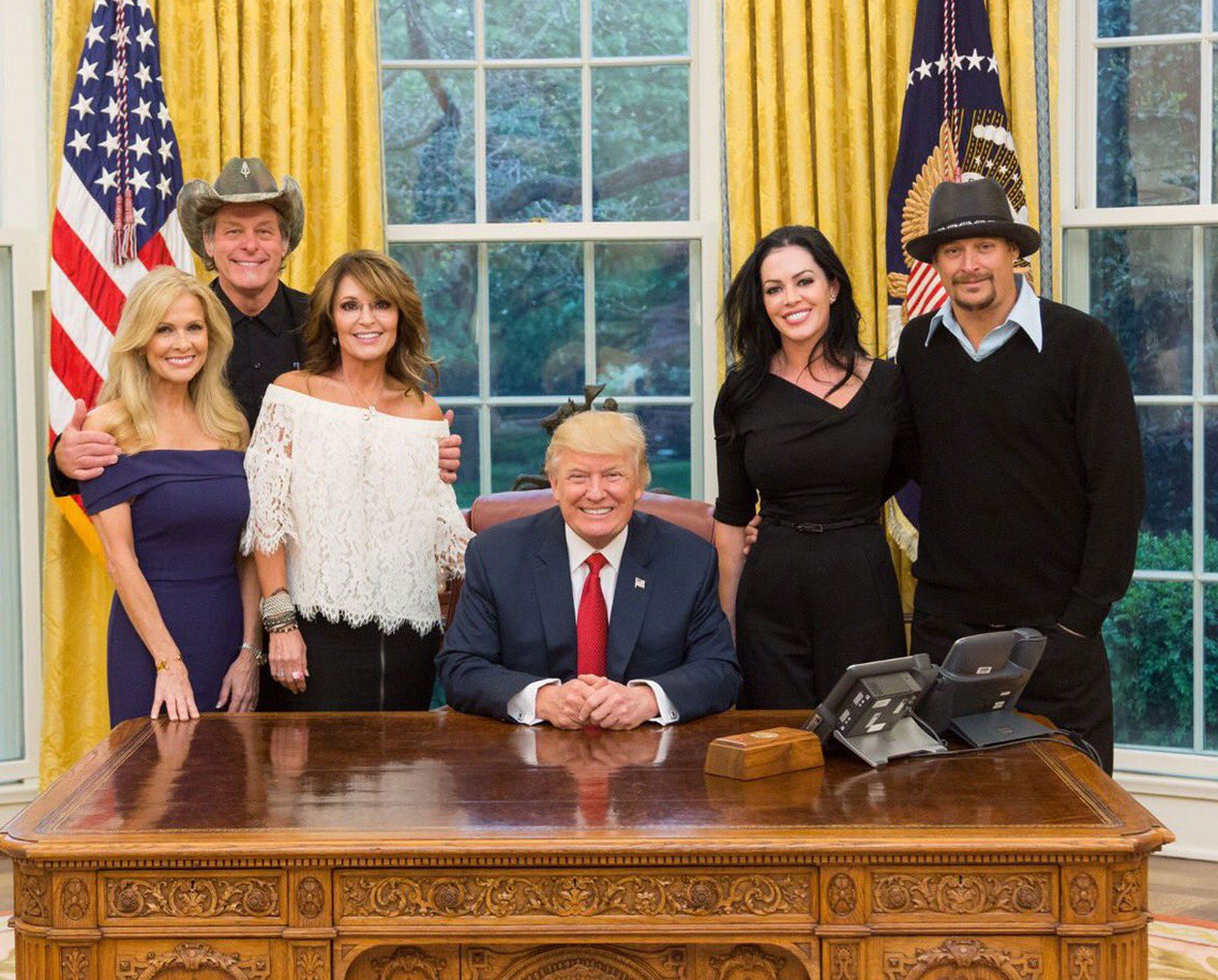 Kid Rock, the musician and folk hero of rural America, unveiled a website on Wednesday touting a prospective 2018 campaign for U.S. Senate. "I have had a ton of emails and texts asking me if this website is real… http://kidrockforsenate.com," he tweeted. "The answer is an absolute YES." He noted in a subsequent tweet that he "will have a major announcement in the near future."
Related: Vote Kid Rock in 2018
The website, which features a picture of Kid Rock sitting next to a taxidermied deer, is at the moment nothing more than a web store for campaign merchandise. The musician has not actually filed the paperwork necessary to register as a candidate, and it's entirely possible this is nothing more than a marketing stunt. (He did on Thursday release a note implying that a campaign and new music were forthcoming.)
It wouldn't be the first time Kid Rock has tried to capitalize financially from the political climate created by Donald Trump, of whom he has been a vocal supporter. He has hawked American-made grills and graphic T-shirts to his suddenly politically active fanbase. Also for sale are "Make America Badass Again" hats in the signature red-and-white style popularized by Trump with his "Make America Great Again" campaign slogan.
It's difficult to imagine how a Kid Rock for Senate campaign would unfold or whether he would have a legitimate chance of unseating Michigan Democrat Debbie Stabenow, but America had better brace itself just in case.
Speaking of bracing, Kid Rock is not the only celebrity rumored to be running for office since Trump took over American politics. Some others:
Kanye West
Just as Trump's campaign was gaining steam in August 2015, West announced onstage at the VMAs that he would be running for president in 2020. "And yes, I have decided, as you probably could have guessed by this moment, I have decided in 2020 to run for president," he said at the end of a prolonged rant following his acceptance of the Video Vanguard award.
Many laughed off the announcement, but considering Trump's rise and West's megalomaniacal unpredictability, it was hard to shrug it off completely. A few months later, President Barack Obama gave him some advice.
Obama is clearly joking, but then again, he was clearly joking at the 2011 White House Correspondents' Dinner when he mocked a potential Trump presidential run.
A year later, in an interview with BBC Radio 1, West confirmed he was serious about running. "When I talk about the idea of being president, I'm not saying I have any political views," he said. "I don't have views on politics, I just have a view on humanity, on people, on the truth. If there is anything that I can do with my time and my day, to somehow make a difference while I'm alive, I'm going to try to do it."
In November, after Trump was elected, West praised the future president onstage in Sacramento, California. "It's a new world, Hillary Clinton, it's a new world. Feelings matter. Because guess what? Everybody in Middle America felt a way, and they showed you how they felt," he said, before calling Trump's way of communicating "very futuristic."
A few weeks later, West met with the president-elect in Trump Tower, tweeting afterward that they had discussed "multicultural issues" including "bullying, supporting teachers, modernizing curriculums, and violence in Chicago." He ended his recap by tweeting, "#2024," perhaps implying he would wait for Trump to serve two terms before starting his own run for president.
In February, West reacted to Trump's proposed travel ban by deleting his tweets about his meeting with Trump, and said he no longer supported the president.
Mark Cuban
Cuban could probably be considered the most realistic option of anyone on this list. Like Trump, he accumulated billions of dollars through his business dealings. Unlike Trump, he hasn't been accused of sexual abuse, screwing over contractors, racism or stealing money from kids with cancer.
Cuban has been a vocal critic of Trump, and many think the entrepreneur has designs on the White House. He has come close to saying as much. When asked about a potential run by Business Insider, he said, "We will see." A month later, he delivered some issues-oriented quotes at an SXSW panel that focused on disruption and government regulation. At 58, Cuban could conceivably run in 2020, 2024 or even 2028.
Curt Schilling
Schilling is essentially your meme-posting uncle who follows every thread of every conspiracy...except he used to be a Hall of Fame-caliber Major League Baseball pitcher. So emboldened was Schilling by the social media praise for his image-and-block-text-dependent political views that he announced in October he would be running for Elizabeth Warren's Senate seat in 2018.
Earlier in 2016, Schilling posted on Facebook that he would be aiming for the White House in eight years, after he'd had time to get that pesky state-level experience out of the way.
Those hoping for a Schilling ticket in 2018 were disheartened in March, after the former pitcher endorsed Shiva Ayyadurai to take Warren's seat.
Ayyadurai replied that they should get a beer together.
Kid Rock
The Kid Rock for Senate website isn't the first time his name has been floated as a potential political candidate. In February, the musician's name was reportedly brought up, along with Ted Nugent's, as a possible option to replace current Democratic Senator Debbie Stabenow.
"I think he would be awesome," GOP press officer Sarah Anderson told Fox News. "I wouldn't be surprised if there was a movement for him to run, but to my knowledge he has not been asked."
The Rock
America loves The Rock. His charm is infinite. He is sculpted like a god. He is the nation's highest-earning actor. He can do no wrong. As the only unimpeachably "good" celebrity the country has to offer, his name was jokingly floated as a potential presidential candidate as Trump rose to political prominence. Then it was floated a little less jokingly. Then a little less jokingly. Now it seems as if a ticket led by The Rock could happen. In May, he told GQ that he considers the idea of one day running for president "a real possibility."
The wheels continued to turn this week, when someone filed with the Federal Election Commission to launch a "Run the Rock 2020" campaign committee.
It's not as if a history in professional wrestling has ever kept anyone out of the White House.
Tim Tebow
Tebow is kind of like The Rock of the sports world—clean-cut, says all the right things, a role model, etc.—except he's highly annoying to a large portion of the country. People have been envisioning a future in politics for the current minor league baseball player since his football-playing days, and Trump's rise reignited the prospect of a President Tebow.
He's not ruling anything out.
"I don't know at this time in my life," he told Fox in 2016. "If there's a chance to make a difference someday at something, that's intriguing."
Tebow's assets could be said to include his strong Christian faith and his reality TV experience.
Antonio Sabato Jr.
The former soap opera star is actually running for office. In July 2016, while giving a speech at the Republican National Convention, he admitted that he "never considered [himself] very political." Ten months later, the nonpolitical Calvin Klein model announced that he will be running for Congress in California. His preliminary campaign strategy has included tweeting memes like this one, which reminds followers both of the sacrifices made by the troops and of Sabato's own chiseled features.
Mark Zuckerberg
If the 2016 election taught us anything, it's that a candidate needs to be relatable. Americans want to see themselves in the person they're voting for. This doesn't bode well for Zuckerberg, whose struggles to approximate human behavior make Hillary Clinton look like James Dean. Nevertheless, many feel the Facebook founder and CEO could be positioning himself for a future presidential run. He's filthy rich—which people like, apparently. He's self-made. He's highly educated but also never graduated. He decided before the year began that he would visit and meet people from every state in America. Campaigning without campaigning, basically.
In January, Vanity Fair's Nick Bilton wrote a piece about the prospect of a President Zuck, citing a number of indicators Zuckerberg might be suited to run the country.
He's been meeting with heads of state since his mid-20s.
He knows how to think globally.
He is equipped to handle—or at least understand—automation, artificial intelligence and cyber warfare.
He's said he believes "religion is very important" after previously stating he was an atheist.
A Facebook proxy statement made it clear that Zuckerberg could run for office and still control the company.
Obama's former campaign manager joined the Chan Zuckerberg Initiative.
He loves games that involve conquering the world or building civilizations.
Many who have known him have said he "wants to be emperor someday."
As of now, Zuck is still traveling the country, learning to emote.
ZUCKERBERG/FREEMAN 2032!
Peyton Manning
After Manning was spotted on a golf course with President Trump, Mike Freeman of Bleacher Report asked an AFC general manager what he thought of the prospect of he retired quarterback in office. "Peyton Manning will be president one day," the GM replied.
Pat McAfee, one of Manning's former teammates, felt similarly. "If he was to become a politician, I assume he'd be incredible at it," he told Bleacher Report. "He's a leader, a tireless worker and a fabulous communicator. I don't know much about politics, but I think if you have those three traits, you have a chance of being a real world-changer. I hope he gets into it someday; [it] would be great for our country."
We already knew he's a fan of the Trumps. Let's hope he doesn't follow them into the White House.
Chris Rock
The comedian took to Twitter to announce a 2020 run after Trump was elected in November.
Rock is clearly joking, but his role as President Mays Gilliam in the 2002 film Head of State arguably makes him more qualified than Trump, and certainly more qualified than the other Rocks on this list.
Jerry Springer
Before he became a titan of daytime TV, Springer was the mayor of Cincinnati and a onetime congressional candidate. He's explored Senate runs in the past, but now Ohio Democrats want the talk-show host to run for governor. "I think he has a very strong ability to communicate what I think is the heart of the Democratic message," former Ohio Governor Ted Strickland said in May. "I think he is a superb communicator."
Springer has said he has not ruled out running if he is "needed by the party"; current governor John Kasich is not eligible for re-election in 2018.