Who Is More Delusional, Tim Tebow or Curt Schilling?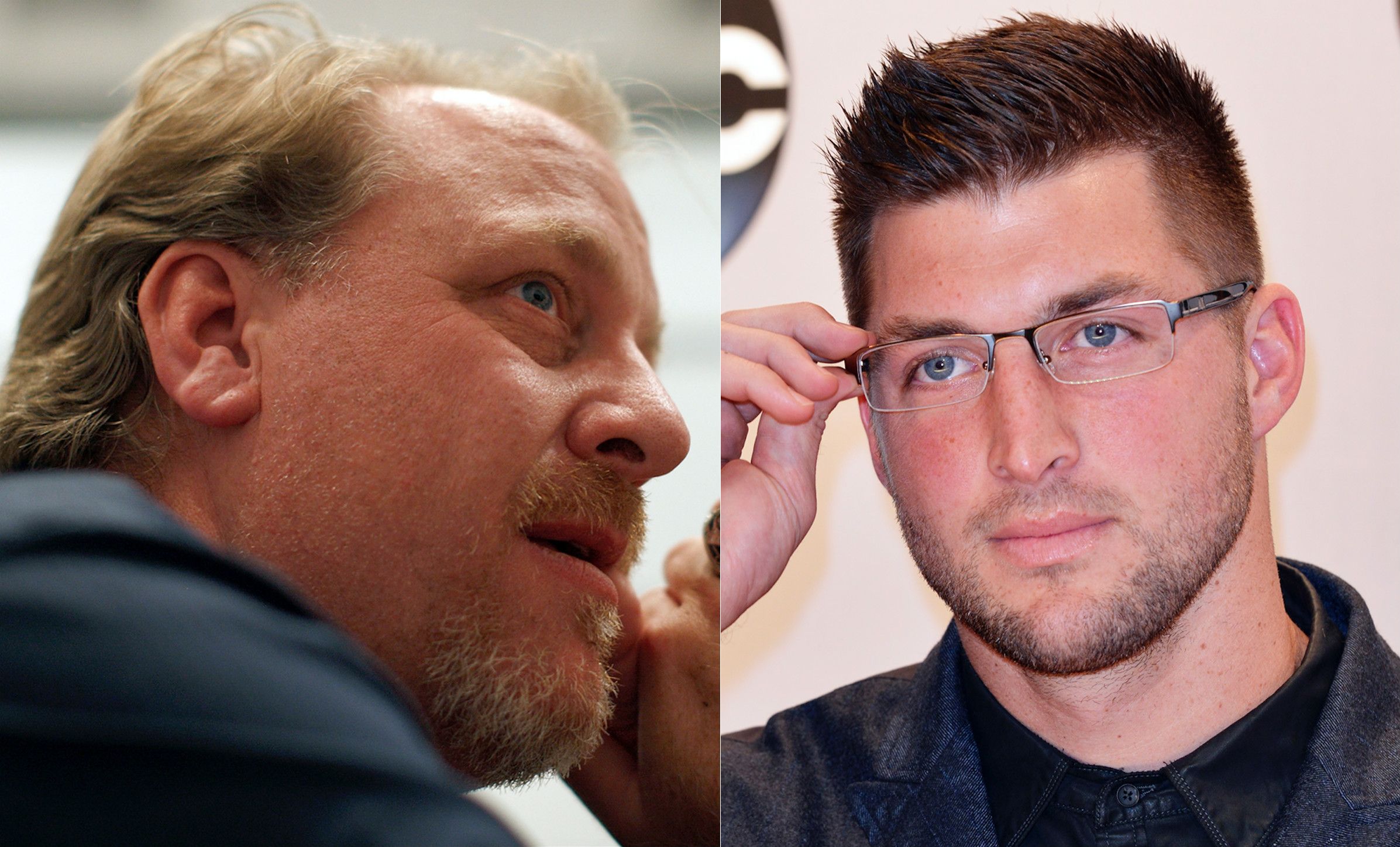 On Tuesday morning, NFL insider Adam Schefter reported that Tim Tebow wants to play baseball. It's not totally unprecedented, as the Heisman Trophy-winning quarterback-turned-conservative folk hero played the sport in high school. He was pretty good, too, hitting .494 and earning all-state honors in Florida. The only problem is that Tebow will turn 29 on Sunday, and hasn't played competitive baseball since his junior year at Jacksonville's Nease High. Somehow this isn't stopping him from pursuing a pro career. According to his agents, Tebow will hold a workout for Major League teams next month. He invited all 30 of them.
"Tim's athletic ability, his work ethic, his leadership and his competitiveness were evident in football and will show in baseball," Jimmy Sexon, his agent, told Schefter. "Knowing Tim's passion and desire, we won't be surprised by anything he accomplishes."
Bo Jackson and Deion Sanders famously played football and baseball at the same time in the late '80s and early '90s, but both were in their athletic primes at the time, and neither had taken a prolonged hiatus from either sport. Michael Jordan, of course, left basketball at the age of 30 to try making it as a pro baseball player, but struggled mightily in the minor leagues before returning to the NBA to win three more championships with the Chicago Bulls.
Tebow might have a better shot at making it than Jordan—his build and athletic skill set lend themselves to baseball more than MJ's did—but competing at the highest level after not playing the sport for a decade—and never above the high-school level–is borderline unconscionable. There's no doubt that current professional baseball players are rolling their eyes at the news. Then again, Tebow winning an NFL playoff game seemed pretty damn unthinkable before it happened too.
Tebow wasn't the only former athlete to express what many will say is a delusional ambition this week. Curt Schilling, noted hard-line conservative and former ESPN commentator (Tebow's current job), mentioned on Facebook that he would like to run for president in eight years. Why not sooner? He reckons he would need to hold office at the state level first.
Or how about four?
Schilling wants to run because he is fed up with how "fraudulent" the Democratic party is. He routinely expresses his views on his Facebook page, often through memes, which actually may be a good way for him to court the youth vote come 2024. This time is was a ex-California state senator heading to jail for weapons trafficking that inspired the World Series champ's rage, which hasn't really been that difficult of a thing to inspire.
In the past, Schilling has compared Muslims to Nazis, which got him banned from covering the Little League World Series. In April, the network outright fired him after he posted an anti-transgender meme when the controversy surrounding the HB2 "bathroom" bill was at its peak (he then accused ESPN of racism liberal bias). He's also made the conservatives chanting "lock her up!" at the Republican National Convention look tame by suggesting that Hillary Clinton should be buried under a jail. If Tebow is a conservative values folk hero, Schilling plays the same role for deranged internet commenters.
Now, a guy who couldn't even hold a job at ESPN has designs on the White House. It might seem ridiculous, and it might seem like he's kidding, but you could have said the same things about Donald Trump before he descended that golden escalator last June. It'd be naive to say that in eight years, essentially an eternity, it would be impossible for Curt Schilling to ride into a press conference on an ATV and announce his candidacy for president on a platform of making our bathrooms pure again. He already has supporters. This is how it starts.
Like Schilling, Tim Tebow is a staunchly conservative Christian, and many have said he could potentially run for office some day. Thankfully, Tebow is aiming within a realm that he actually has some knowledge of, unlike Schilling with politics (or basic human decency). The former Red Sox star is a total joke, of course, and while many might say the same of Tebow's ambition to play baseball at such a late stage of his athletic career, there's something admirable about him giving it a go. If he wants to, believes he can and is able convince some Major League teams to come watch him play, then why not? Unless they decide to start giving the nuclear codes to outfielders, we're all for it.