Kid Rock has doubled down on controversial comments he made about Oprah Winfrey and other prominent women during a drunken speech.
During a swear-laden rant onstage in 2019, he took aim at Oprah, Kathie Lee Gifford and Joy Behar. He reflected on his words in a recent episode of Tucker Carlson Originals and stated, "I own what I said."
The video was filmed at a venue in Nashville, Tennessee and was published by TMZ. It featured Rock laying into the television personalities. Audience members commented on how he seemed "blackout drunk" as he spoke for two minutes onstage before having to be helped off the stage by security.
Speaking to Fox Nation's Tucker Carlson in the episode titled "Life of a Rockstar," which began streaming on Wednesday, Rock stood by his drunken rant.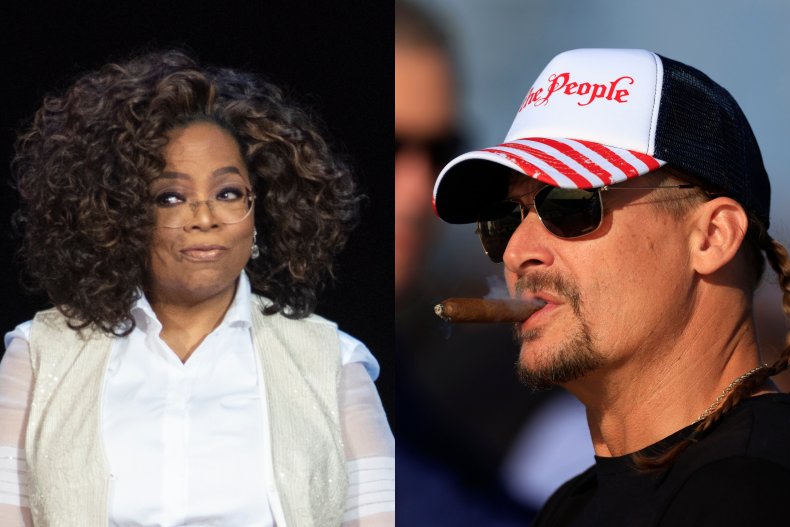 "A drunk man's words are a sober man's thoughts, I own what I said," Rock said of his harsh comments. He continued, reflecting on that night: "I don't apologize to anybody. I'm not an Oprah Winfrey fan.
"I got drunk and f***in' next thing, I'm on stage — f***Oprah," Rock said.
Rock did clear up one mistake he made during his drunken 2019 speech. He accidentally criticized Kathie Lee Gifford when he actually meant to call out the comedian Kathy Griffin. "I was trying to go after Kathy Griffin you know, for holding up Trump's head, but I'm so out of it I'm like 'f*** Kathie Lee Gifford.'"
Griffin received huge backlash in 2017 after she posted a picture of herself holding a mask designed to look like then President Donald Trump's severed head. She was widely criticized and lost a number of jobs as a result.
During his 2019 rant, Rock repeated, "F*** Oprah Winfrey and f*** Kathie Lee Gifford." He added, "I'm not a bad guy. I'm just an honest guy that says, 'Hey, I don't like Oprah Winfrey or Joy Behar. They can suck d*** sideways.'"
At the time, he continued his tirade against Oprah on social media as he tweeted about the television host.
"My people tried to get me to do The Oprah Winfrey Show years ago and her people wanted me to write down 5 reasons why I loved her and her show..." He then included the rainbow flag before concluding the tweet, sent on November 29, 2019 with "I said f*** that and her. End of story."
Rock has often courted controversy for being outspoken with his views. In June 2021 he was filmed using a homophobic slur at fans who were filming during one of his shows. He defended his remarks and tweeted about his love for his "gay fans."
In March, a snippet from Carlson's interview with Kid Rock was aired, in which he revealed that Donald Trump once asked for Rock's opinion on what to do on dealing with North Korea while he was in office.
Newsweek has reached out to Kid Rock's representatives for further comment.