Kim Basinger Calls for Dog Meat Ban in South Korea: 'The World is Watching'
Kim Basinger has called for an end to South Korea's dog meat trade, as a government task force deliberates on whether to bring in a ban.
In an impassioned op-ed published by The Korea Daily on Monday, the Hollywood actress, 68, wrote about her 2019 visit to South Korea, during which she protested the treatment of dogs in the country's meat industry.
Basinger also pointed out that President Yoon Suk-yeol is an "animal lover," who has four dogs and three cats living in the home he shares with his wife, Kim Keon-hee. She has thanked the pair for speaking out about the dog meat trade.
"Korea was and still is the only country in the world that purposely raises dogs for meat consumption," Basinger wrote in her op-ed. "Yes, Indonesia, China, and Vietnam also have dog meat trades, but none have large-scale dog breeding farms.
"South Korea is a very beautiful and progressive country, and based on my last visit and the many conversations I have had, I believe as a people, Koreans no longer want to be recognized as the only country in the world that raises dogs for humans consumption."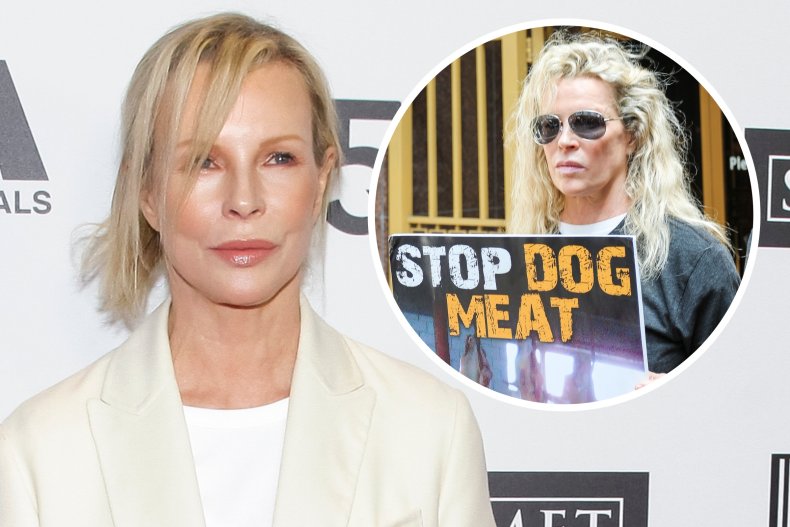 According to the Humane Society International/Korea, opinion polls conducted in 2020 showed that almost 84 percent of South Koreans don't consume dog meat, while close to 60 percent favored a ban altogether.
While Basinger, mother of Ireland Baldwin, spoke out against the trade in her op-ed, the screen star also noted that she could be seen to be condemning another culture.
"I understand and I am truly sensitive to the fact that this is a cultural issue," she wrote. "Koreans have eaten dog meat for a long time, and due to the importance of cows in farming, traditionally the Korean people considered cows, rather than dogs, to be man's best friend.
"In fact, the beef and dairy industries were only introduced to Korean culture in the 20th century. Before that, beef was a rarity, and milk was for calves, leaving dogs as the primary source of animal protein for many Koreans."
Basinger further stated that activist groups the Animal Liberation Wave (ALW) and Last Chance for Animals (LCA) will imminently be raising awareness in Seoul around Boknal, the three hottest days of the summer when some Koreans eat dog meat in the belief that it will help them cool down.
"Their point will not be to judge the Korean culture; it is quite the opposite," Basinger said of the activist groups. "Instead, ALW and LCA efforts this year will highlight the rising animal rights movement in Korea that is leading to monumental change. I, along with LCA, have so much reverence for South Korea and its people."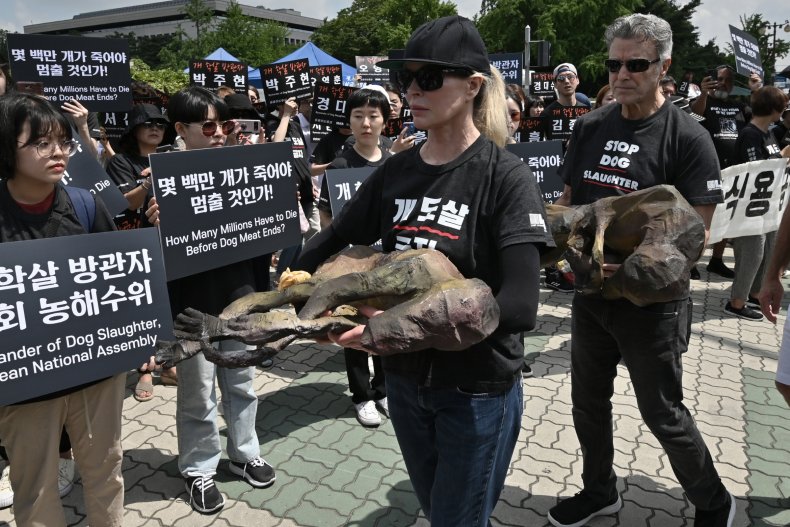 "Korea has always been a leader in fashion, beauty, film, television, music, and cuisine," she went on. "Since the last time I was there, BTS consolidated its place as the biggest band on the planet, Squid Game the most watched series on Netflix, and Park Chan-wook the best director at Cannes.
"Korea used to be one of the poorest countries in the world, scarred by the war. But within my own lifetime, it has evolved into one of the richest countries on the planet, with the tenth largest economy across the globe.
"Gandhi famously said that 'the greatness of a nation and its moral progress can be judged by the way its animals are treated.' By many different measurements, Korea is great, progressive, and now leading the world.
"A light has been shining on South Korea for a long time. The timing could not be better for Korea to take this step and become an example for every other country on the planet—that letting go of past traditions in the name of humanity and compassion gives a nation strength, not weakness.
"Korea has a unique chance to make a statement to the world by proving that an age-long tradition of eating dogs can be abandoned as a nation progresses. Despite the ongoing atrocities that continue to occur like those at the Seongnam Dog Market, I have reason to believe that Korea will achieve this feat soon."
L.A. Confidential star Basinger went on to state that ending the trade appears to be an issue that is uniting people across the political spectrum in South Korea.
"Three years ago, I met with then-Governor Lee Jae-myung to thank him for his decision to crack down on dog slaughterhouses in Gyeonggi Province," she wrote. "In the last presidential election, he promised to end the dog meat trade once and for all. I was hopeful, given his track record.
"But it turns out, Lee's opponent and now-President Yoon Suk-yeol is no less an animal lover. He lives with four dogs and three cats. What's more, First Lady Kim Keon-hee made it absolutely clear: 'The problem of dog meat trade can be solved through policies such as supporting the transition of the industry people's livelihoods... A universal culture should be shared among developed countries because it can create negative sentiment against South Korea.'
"Liberals and conservatives in Korea, alike, seem to agree, and each day there is growing public support to ban the dog meat trade. It is time for Korea to finally make the great transition."
Basinger added that she hopes to make another trip to South Korea "soon" to "support President Yoon and First Lady Kim's stance on the dog meat trade. I want to meet with them to thank them and tell them they are not alone."
Dogs Raised for Meat
"The world is watching. Perhaps the country that now produces many of the best music, movies, and tv shows, will also prove to be the best in its treatment of animals," she concluded.
According to The Korea Times, Yoon, who took office in May, sparked controversy during his presidential bid, when he suggested during a debate last year that there was a difference between dogs raised for meat to those living as pets.
"I am personally opposed to the consumption of dog meat," he was quoted as saying. "But implementation of related government policies would require a social consensus."
"Dog meat consumption is not a matter of animal abuse because dogs for meat are raised in a different environment from pet dogs," he reportedly added.
Per the Humane Society International, South Korea has set up a task force to deliberate on banning the dog meat industry. Its recommendations are expected to be published this summer.