Kim Jong Il's Guard Opens Up About Protecting North Korean Leader
A former bodyguard for North Korea's ruling family has spoken out in a new interview, describing his experience training and protecting a man who wields absolute power in the secretive nuclear-armed state.
Lee Young Guk served on the security detail for the former North Korean supreme leader Kim Jong Il, father of current ruler Kim Jong Un, from 1978 to 1988. A few years later, Kim Jong Il took the helm of the Kim dynasty, which was then still led by his father, revered founder Kim Il Sung. Lee went on to serve as a military adviser before fleeing the country sometime around 2000, but recalls preparing for his role.
"I was taught to believe I had to protect him with my life," Lee said in footage obtained by Newsweek of a yet unreleased July interview that will appear in National Geographic's upcoming documentary, "North Korea: Inside the Mind of a Dictator," set to premiere Monday, February 15 at 8 p.m. (EST).
"We were young and enthusiastic back then!" he said.
Since its establishment more than seven decades ago, political life in North Korea has been dominated by the Kim family, and their safety has long been considered paramount. Dissent is virtually nonexistent under their authoritarian rule, but training and preparation of the leader's bodyguards remain a priority.
"The most important thing was marksmanship," Lee said. "Bang, bang," he continued, using his hands to mimic the action of firing a handgun.
But even during training, the man who would become supreme leader after his father's death in 1994 was never far away.
"Kim [Jong Il] loved watching us shoot and do martial arts," Lee said. "I could break 11 bricks, that is how I got this scar," he added, pointing to his right palm.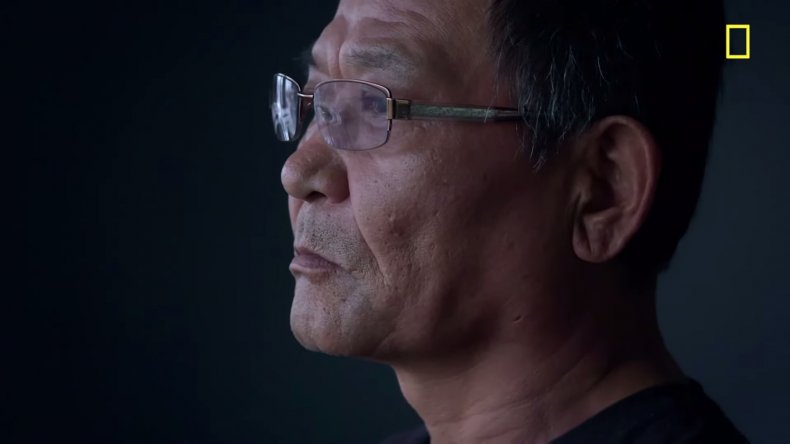 Lee has said he spent time with the third-generation ruler Kim Jong Un, who is believed to have been born in January 1984. Unlike Kim Jong Il, who is thought to have been designated heir for years, his son is believed to have had less time to prepare for the role, which he assumed in late 2011 at the age of 27, making him the youngest world leader at the time.
Lee has previously described Kim Jong Un's childhood as "lonely," saying "he had no one to play with" as a child.
Kim Jong Un is believed to be the middle child of two siblings raised partially in the Swiss city of Bern, older brother Kim Jong Chol and younger sister Kim Yo Jong, who has become an increasingly prominent and powerful figure in North Korea's hierarchy. The trio are also thought to have two older half-siblings, Kim Jong Nam, who left the country and was killed with a nerve agent in a 2017 Malaysia airport attack that Kim Jong Un has been accused of orchestrating, and Kim Sol Song, who has reportedly held government positions.
Lee said a failed attempt to escape in the 1990s earned him prison time and torture in a country routinely accused of human rights abuses. When he fled the country around the year 2000 and managed to get to South Korea, he still feared for his life, and ultimately left in 2016 for Canada, where the interview obtained by Newsweek was conducted.
But The Toronto Star reported in September 2020 that his claim for asylum had been denied, citing inconsistencies in Lee's claims regarding human rights activism in South Korea.
North Korea has rejected claims that its country was guilty of human rights violations, and has lashed out at United Nations reports that suggested as much. While Kim Jong Un's succession led to some degree of economic and social reform, it also ushered in a new era of crackdowns and advances in nuclear weapons designed to defend the country from it's historic foe, the United States.
He became the first in his position to meet a sitting U.S. leader after a landmark 2018 Singapore summit with President Donald Trump. While both men agreed to work toward a peace-for-denuclearization deal, subsequent meetings and working-level talks stalled. The process remains frozen to this day, just two weeks before Trump's tenure in office is set to end with the inauguration of his successor, Joe Biden, on Jan. 20.
North Korea's Eighth Party Congress is also scheduled for this month. Kim Jong Un is widely expected to reveal a new five-year plan as it convenes, one which would replace the 2016 strategy that the supreme leader himself last year, with rare candor, admitted he fell short of achieving.
North Korea faces many challenges as the new year begins, including international trade sanctions that remain in place. Although North Korea has reported zero cases of COVID-19, the pandemic has induced lockdowns in the country that have choked an already crippled economy.
But the supreme leader remains upbeat in his public statements. In a New Year's message published by state-run media, Kim Jong Un thanked his people "for having invariably trusted and supported our Party even in the difficult times."