North Korea's Kim Jong Un Spends Birthday With Wife In China, but How Old Is He And What Is He Doing There?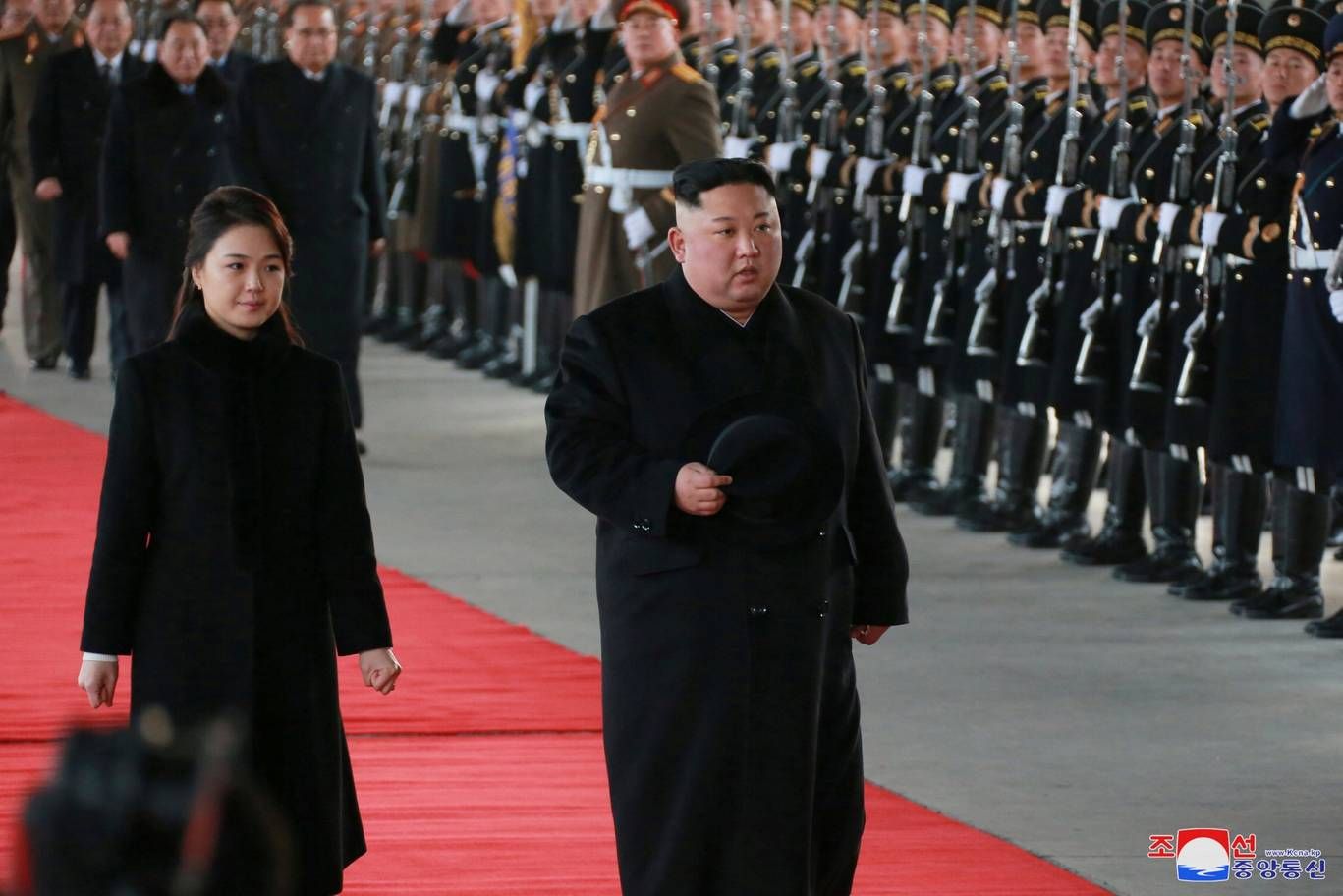 North Korean supreme leader Kim Jong Un spent his birthday in Beijing during a three-day trip that will likely include a summit alongside Chinese President Xi Jinping, with whom he's shored up relations amid an unprecedented warming of ties between Pyongyang and Washington.
Kim arrived Tuesday by armored train to the Chinese capital and was accompanied by an entourage that included his wife, Ri Sol Ju, as well as leading senior members of the young ruler's inner cadre. The official Korean Central News Agency reported on Kim's departure Monday, while Chinese officials confirmed that he had arrived on Tuesday at the behest of Xi, who also serves as head of the ruling Communist Party of China (CPC).
"Chairman Kim Jong Un is visiting China at the invitation of General Secretary of the Central Committee of the CPC and President Xi Jinping," Chinese Foreign Ministry spokesperson Lu Kang said Tuesday during a press briefing.
"China and the DPRK are close neighbors," he added, referring to North Korea's official title, the Democratic People's Republic of Korea. "It is an important part of our fine tradition to maintain high-level exchanges. As for the arrangements of Chairman Kim Jong Un's visit, we will release relevant information in due course."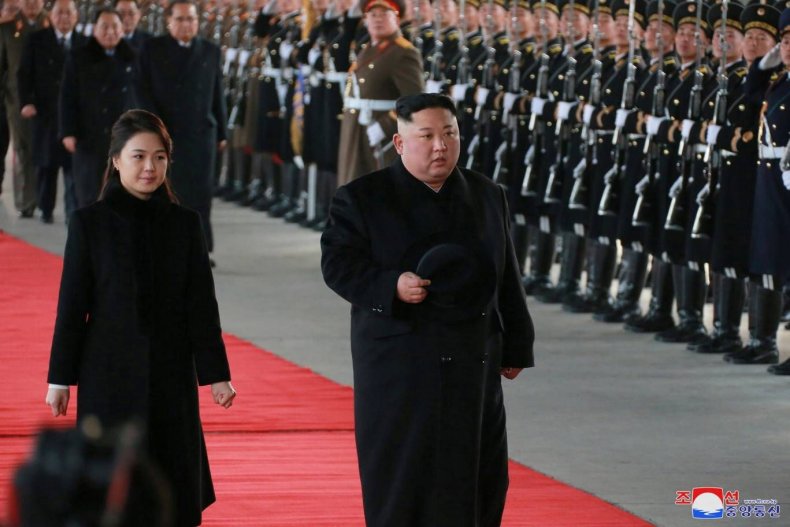 While Kim's actual date of birth remains a point of contention among some sources, most experts, as well as the U.S. government, have settled on January 8, 1984, as the likely official day, making his age 35, or finally old enough to run for U.S. president. (By comparison, President Donald Trump is 72 and Xi is 65). Upon succeeding his late father at the end of 2011, Kim became not only the youngest to head his now-three-generation dynasty but also the youngest serving world leader at the time.
Kim's youth may have played a factor in his early efforts to violently purge some of his father's leading officials, who were reportedly skeptical of his ability to lead. Some of these individuals, such as Kim's own uncle, Jang Song Thaek, were also particularly close to China, North Korea's top ally since the 1950s war that pitted the two against U.S.-backed South Korea.
Until last year, Kim broke with his predecessor by displaying comparatively cool signals toward Beijing, which signed on to U.S.-led sanctions and condemnations of North Korea's increasingly advanced nuclear weapons program. Trump even sought to exploit a potential rift between the two communist neighbors to pressure Kim during a period of heated tension between Washington and Pyongyang in 2017. But the following year would show Kim had other plans for both powers.
After striking up a dialogue with South Korea in early 2018, Kim invited Trump for a first-ever U.S.-North Korea summit, which the president promptly agreed to. Shortly after, Kim made his first visit to China, following this up with two more trips to Beijing and three more inter-Korean summits, in addition to his historic meeting with Trump in Singapore in June.
Both Trump and Kim have taken steps to defuse their decades-long hostility, but North Korea's contention that the U.S. must first neutralize its own nuclear threat to the region before Pyongyang abandons its weapons of mass destruction has been a sticking point likely to consume a second meeting between the two leaders, set for later this year. It was ahead of this anticipated meeting, which Trump recently said could take place in the "near future" after receiving a new letter from Kim, that the North Korean ruler set out for his fourth journey to China.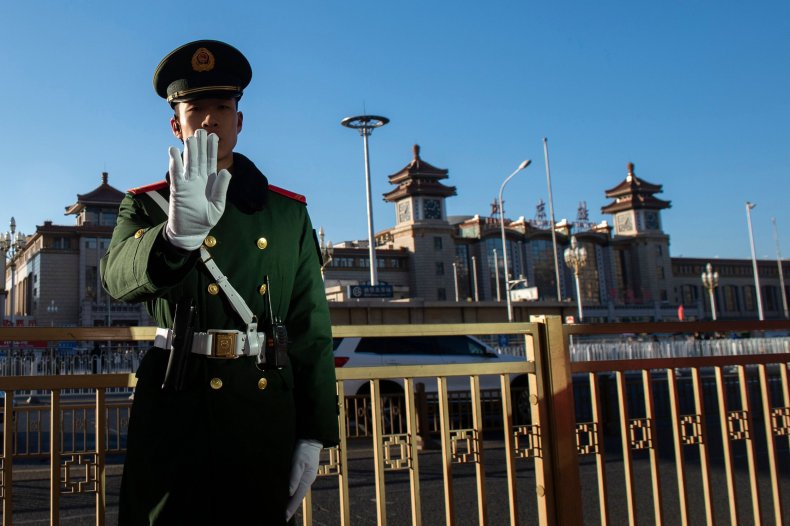 In addition to his wife, Kim was reportedly accompanied by senior members of the ruling Korean Workers' Party, such as Vice Chairman Kim Yong Chol, International Affairs Director Ri Su Yong and Science and Education Vice Chairman Pak Thae Song, as well as Foreign Minister Ri Yong Ho and Defense Minister No Kwang Chol. Citing footage aired by the Korean Central News Agency, South Korea's official Yonhap News Agency reported that Kim's sister and propaganda chief, Kim Yo Jong, was seen departing to China as well.
The North Korean supreme leader's visit comes at a time of heightened tensions between the U.S. and China, which have engaged in tense encounters in the disputed waters of the South China Sea and are locked in a trade war that has cost both countries billions of dollars. When asked Monday whether these frictions had affected Washington's working relationship with Beijing in regards to the denuclearization of the Korean Peninsula, Secretary of State Mike Pompeo said the two countries were still cooperating independently of their feud.
"The Chinese have been very clear to us that these are separate issues," Pompeo told CNBC News. "Their behavior has demonstrated that as well, and we appreciate that. China has actually been a good partner in our effort to reduce the risk to the world from North Korea's nuclear capability. I expect they will continue to do so."
This article has been updated to reflect the fact that Kim Jong Un's birthdate is believed to be January 8, 1984.