Kim Jong Un Stays in Luxury 5-Star Singapore Hotel While His People Starve
When Kim Jong Un arrived in Singapore on Sunday for a historic summit with President Donald Trump, the North Korean leader checked into one of the island nation's most luxurious five star hotels while many of his people continued to suffer in extreme poverty.
The St. Regis Singapore bills itself as "the epitome of luxury hotels," and the place to stay for travelers looking for "a true five star experience." With 299 rooms, the hotel is known for its "understated elegance," featuring hand-cut crystal chandeliers and a sizable art collection said to be worth S$10 million ($7.4 million). Works by artists such as Pablo Picasso, Frank Gehry, Fernando Botero, Chen Ke Zhan, Li Chen and Georgette Chen decorate the building's interior.
Meanwhile, North Korea remains one of the world's most impoverished nations. According to the Borgen Project, a campaign against poverty, most North Koreans earn between $2 and $3 per month. A 2017 study by the United Nations revealed that 18 million North Koreans don't get enough food, the nation's women are especially at risk of suffering from malnutrition.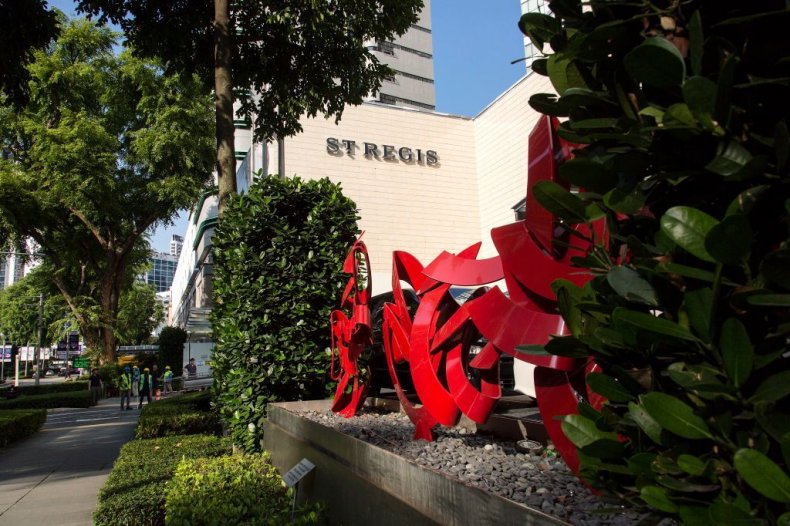 According to The Independent, Kim is most likely staying in the hotel's Presidential Suite, situated on the top floor. The 3,606 square foot suite includes a baby grand piano, hand painted silk panels and well-known works by respected artists. Beyond the master bedroom, the suite also contains a private gym, living room, kitchen and dining room.
"No detail is spared in the décor—every room is lined with gold, onyx, brass and silver accents, hand-applied special finishes of gold leaf trim at cornices, hand-painted silk artwork panels and magnificent crystal chandeliers custom made in Czechia," the hotel's website boasts.
The room's bathroom is lined with French Breche de Benou marble and includes a jacuzzi tub. Despite the fine facilities however, the North Korean leader has reportedly opted to bring his own personal toilet. Kim allegedly fears unwanted "sewer divers" may raid the hotel's plumbing to test his stool.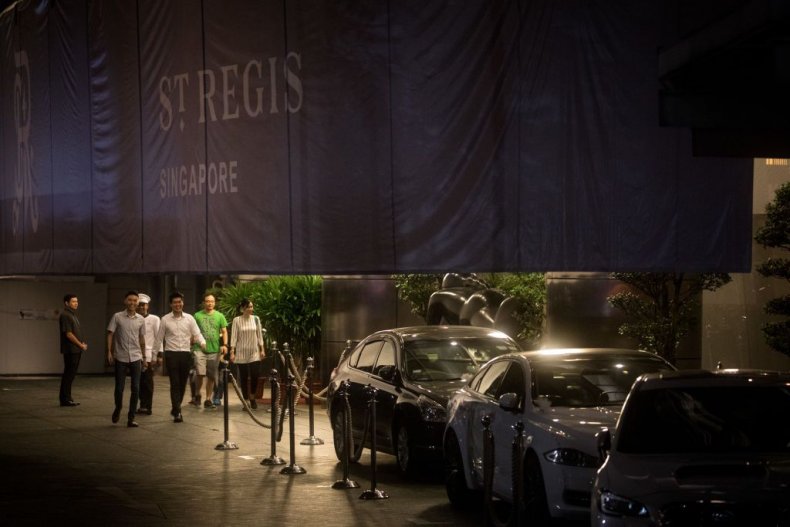 Located near the city's downtown and embassy districts, the St. Regis is just "steps" away from some of the island's finest entertainment and shopping options. Even so, it's unlikely Kim will walk much, preferring the safety of the bullet-proof limousine he flew over prior to his arrival.
While Kim could also frequent any of the hotel's six dining and drinking outlets, he reportedly sent over his own food supplies and has in the past traveled with a special noodle machine to make his favorite Korean cuisine, naengmyeon. With a full kitchen included in his luxurious suite, the leader should have no problem with his staff whipping up meals upon request.
And how much is Kim paying for a night at the St. Regis? No official report has revealed the exact amount. However, CNN reported that the presidential suite charges between $7,000 to $9,000 per night, depending on the dates.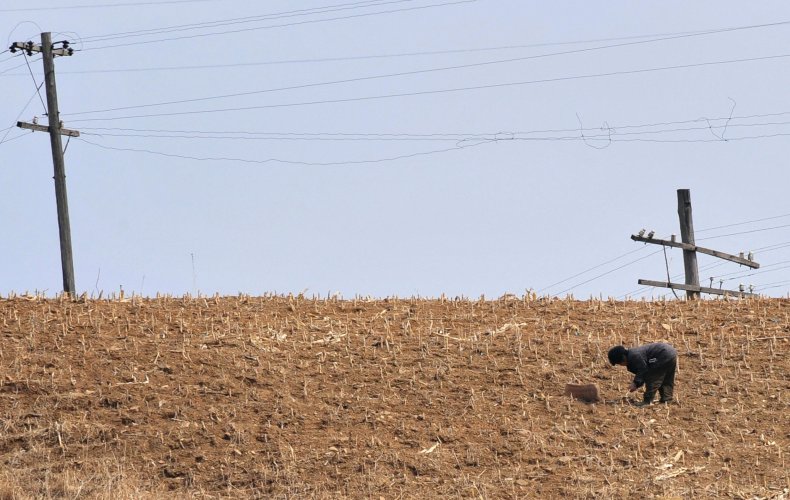 As the North Korean leader's bill adds up, many his country's citizens will go hungry.
"Malnutrition among children and women of reproductive age remains a nationwide problem. The majority of children under 24 months and 50 percent of pregnant and breastfeeding women have insufficient dietary diversity leading to micronutrient deficiencies and unacceptably high prevalence of chronic and acute malnutrition," the Borgen report reveals.