Kindergarten Class Gives Teacher Hilarious Marriage Advice on Wedding Day
A group of kindergarten school kids surprised their teacher on her wedding day with a few hilarious bits of marriage advice.
In a video viewed over 3.5 million times on TikTok, a newlywed educator called Emily Godwin and her guests were read messages from her young pupils who decided to impart some of their own unique wisdom on the big day.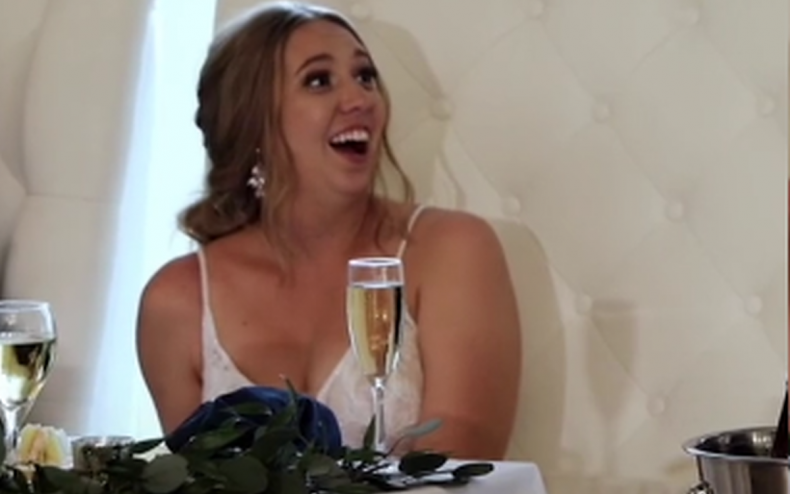 The clip, which was shared to social media by Katie Johnson of Katiejofilms, did not disappoint with the school kids offering up eclectic and often amusing advice on matters of the heart.
One boy called Carter told Emily: "Be nice to your husband and your kid." Another, Phoebe, told her to "have a marriage kiss."
Elsewhere, Brooklyn, a child who clearly prioritizes organization, told the bride "she will need decorations" and another boy, Easton, simply declared: "She will be pretty when she grows up."
Meanwhile, his classmate Evelyn's advice was simply "respect and have children" while Haley urged her to "have a really great time."
The young pupils were quizzed by two of Emily's bridesmaids who read the results out to the laughing bride and groom in front of their friends and family.
While class clowns may not necessarily be all that welcome among the teaching community, a 2021 study by academics in Turkey found children who had a strong sense of humor often scored higher in IQ tests. In particular, they were found to fare better when it came to verbal and reasoning abilities.
Given the number of amusing lines offered up by her class, it would appear Emily is in charge of a pretty bright bunch. In any case, people on social media were suitably impressed and amused. Mary Mihaela loved the video, writing: "this is such a cute idea" with Michalea Angle agreeing: "This is amazing!!!"
Aphogee singled one of the young kids out for special praise, commenting "Brooklyn is ready to take on the world" while jkobilan.hayes had a soft spot for another of Emily's pupils declaring: "Evelyn knows what's up."
Sparklesarah528, meanwhile, wrote "Eastons response got me" with lucienia_ joking: "Every husband wants a Carter." Elsewhere, many praised the bridesmaids for coming up with the idea. Nazifaa25 said: "this is so thoughtful" while eclecticeevee wondered: "How did they ask the kindergartners?"
Emily jumped in at this point to explain: "They emailed my team and my team asked my kids at recess." Katie Johnson, the videographer behind the footage, meanwhile, commented: "I was sitting there trying to film and just had a huge smile."
Newsweek has contacted Johnson and Godwin for comment.