King Charles III Has Met 10 U.S. Presidents—Here's What Happened Each Time
The U.K.'s new king, Charles III, spent 70 years waiting to ascend to the British throne and in that time he's met a huge number of dignitaries, including several U.S. presidents.
The king's later mother, Elizabeth II, met presidents as part of her official duties as head of state but Charles often encountered U.S. commanders-in-chief in a less formal capacity.
Elizabeth II passed away at Balmoral Castle, Scotland, on Thursday and has been succeeded by her eldest son. He becomes the first king since his grandfather George VI died in 1952.
Here is an overview of the king's previous meetings with U.S. presidents.
Dwight D. Eisenhower
President Dwight D. Eisenhower was the first U.S. president to meet Elizabeth II after she ascended to the throne and the former World War 2 commander was pictured with a young Charles and his sister, Princess Anne, at Balmoral in 1959.
The 11-year-old Charles and 9-year-old Anne were both wearing kilts in the photo with Eisenhower, the queen, their father Prince Philip and others.
Richard Nixon
In 1970, a much older Prince Charles traveled to the U.S. and visited President Richard Nixon. The 21-year-old prince reportedly spent a lot of his time with the Nixons' daughter, Tricia, and Charles later suggested there had been efforts to get the two of them to marry.
"That was quite amusing, I must say," Charles told CNN in 2021. "That was the time when they were trying to marry me off to Tricia Nixon."
It was his first visit to the U.S. but would not be his last. Nixon resigned in disgrace in 1974 following the revelations surrounding the Watergate break-in.
Jimmy Carter
President Jimmy Carter paid a visit to the U.K. in 1977 and posed for a photo with Charles, Prince Philip and Queen Elizabeth, the queen mother among others.
That visit is remembered for Carter violating protocol by kissing the queen mother on the lips. She was 70 years old at the time. She passed away aged 101 in 2002.
Ronald Reagan
By the time Charles visited President Ronald Reagan in 1985, he had put his well-known bachelor days behind him and had married Princess Diana. They were styled Prince and Princess of Wales.
That visit is probably most famous for the late princess dancing with Saturday Night Fever star John Travolta at the White House and wearing an iconic black dress.
Reagan recorded in his White House diary: "The dinner for the Prince & Diana was a great success. It had not a hint of 'State Dinner' flavor. Everyone seemed to have a wonderful time."
Charles had previously met Reagan in the Oval Office in 1981 but the later visit proved more memorable.
George H.W. Bush
Prince Charles' meeting with President George H.W. Bush in 1990 doesn't appear to have been especially memorable. The prince and the president were photographed together and the Bush presidential library's documents note the meeting as a luncheon.
Charles attended Bush's state funeral in 2018, representing his mother.
Bill Clinton
President Bill Clinton and Prince Charles both attended the 1995 funeral of Israeli Prime Minister Yitzhak Rabin following his assassination. They were pictured together in Jerusalem along with other dignitaries, including then U.K. Prime Minister John Major.
George W. Bush
By 2005, Charles had been divorced from Princess Diana and she had died tragically in a car crash in Paris, France. The prince had remarried and he and his new wife, Camilla, the Duchess of Cornwall, visited President George W. Bush and first lady Laura Bush at the White House.
Charles reportedly joked about his own visit to the Nixons years earlier, saying that there was to be no matchmaking between his two sons, Princes William and Harry, and the Bushes' twin daughters.
Barack Obama
President Barack Obama hosted Prince Charles at the White House in 2011 where the two reportedly discussed environmental issues. The two had previously met in France in 2009 at the the 65th anniversary commemorations for the D-Day landings.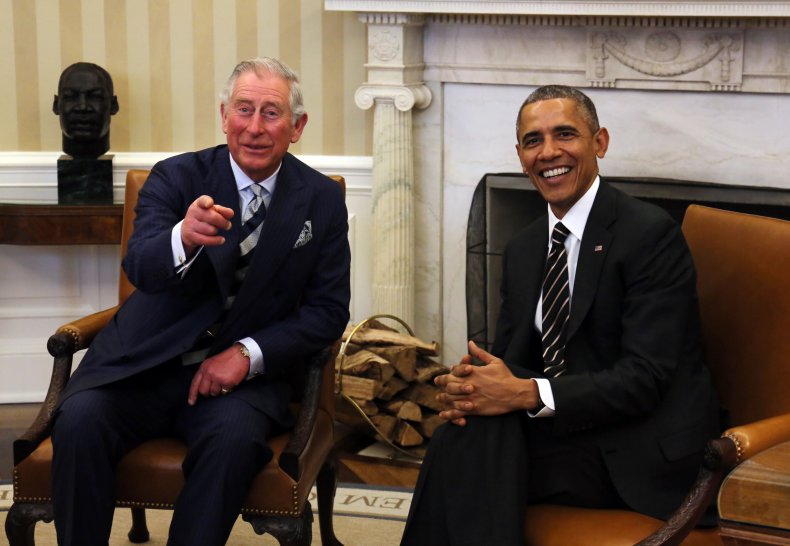 "President Obama warmly welcomed the prince's work over three decades on environmental issues, halting deforestation and encouraging sustainable food production," a White House statement said at the time.
The president also congratulated him on the recent marriage of Prince William to Kate Middleton, who had become known as the Duke and Duchess of Cambridge.
Obama met Charles again in 2015 along with his wife, Camilla, as part of their four-day tour of the U.S.
Donald Trump
President Donald Trump reportedly left Prince Charles and Camilla waiting for an hour before attending tea at their Clarence House residence in London in 2019.
Trump and first lady Melania Trump were in London for a NATO summit. They had previously met Charles and Camilla in London in 2018 and had dinner together at Winfield House as well as tea at Clarence House.
"He is really into climate change, and I think that's great. I mean, I want that. I like that," Trump told ITV in an interview in 2019.
There was also online speculation at the time that Charles had subtly given Trump the middle finger as he scratched his nose when greeting him alongside his mother, the queen.
Joe Biden
President Joe Biden met Prince Charles during the COP26 climate summit in Glasgow, Scotland in 2021 and the two were photographed shaking hands.
A senior administration official told CNN at the time: "They underlined the need for ambitious commitments and concrete actions among partners worldwide and discussed Prince Charles' initiatives to engage the private sector on sustainability."
King Charles III is likely to meet many world leaders over the course of his reign and may meet President Biden again in his new official capacity.