Charles Should Bring Harry and Meghan Back 'Half in, Half Out'—Expert
Meghan Markle and Prince Harry should be brought "back into the Firm the way they originally wanted," according to Kristen Meinzer, co-host of Newsweek's The Royal Report podcast.
The Duke and Duchess of Sussex originally asked Queen Elizabeth II and the royals for "half in, half out" status where they could perform some royal duties but also fulfill commercial contracts.
However, the suggestion was ruled out by Elizabeth and her family first in January 2020, when the Sussex exit was first announced, and again when the couple were stripped of their honorary titles and patronages in February 2021.
Since the queen's death, a new royal truce has descended, starting with an olive branch from King Charles III to Harry and Meghan in his first broadcast as king on Friday, September 9.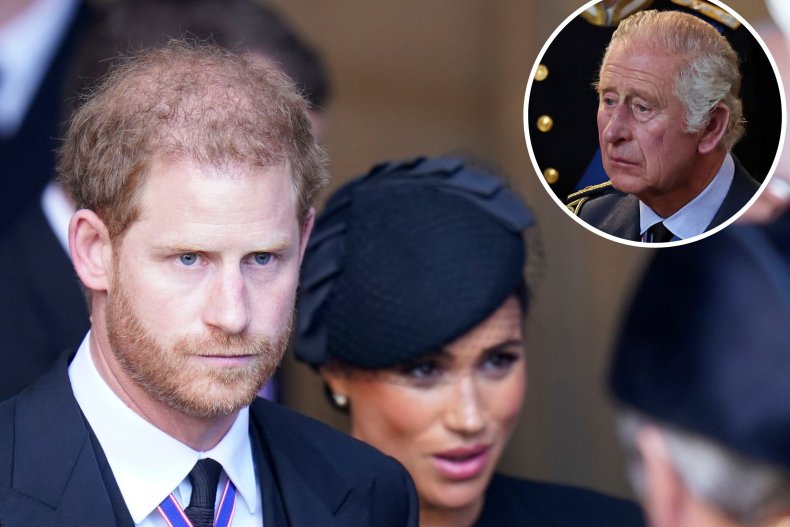 Meinzer told Newsweek: "I'm glad that Charles, in his first speech as king, took a moment to say he loved Harry and Meghan.
"And I hope Charles considers bringing them both back into the Firm the way they originally wanted: half in, half out, and earning their own salaries doing their own outside work.
"That would be in keeping with Charles' own desire to streamline the monarchy while also having enough bodies to do all the engagements required of the Crown (especially now that Andrew is off duty, the queen and Philip are dead, and Anne is getting older).
"I also hope that Charles and Wills continue to follow Harry and Meghan's lead, talking about difficult issues like racism, misogyny, colonialism, and the plight of refugees—both of them mostly stayed quiet on these issues before Harry and Meghan opened the floodgates, and I think the world really wants them to continue evolving and speaking up."
Charles said in a broadcast on September 9: "I want also to express my love for Harry and Meghan as they continue to build their life overseas."
Prince Harry walked side-by-side with Prince William behind Queen Elizabeth II's coffin on Wednesday during a procession from Buckingham Palace to Westminster Hall, where she is lying in state until Monday, September 19, the day of the funeral.
Meghan and Kate Middleton followed in separate cars and were reunited with their husbands at Westminster Hall.
William and Kate were seen walking one row ahead of Harry and Meghan, just as they had done during the Sussexes' final royal job, on Commonwealth Day, at Westminster Abbey, in March 2020.
Richard Kay, a former friend of Princess Diana's and columnist at The Daily Mail, said a return might be possible if Harry and Meghan abandoned their money-making deals in America by following Diana's path.
William and Harry's mother continued to be based at Kensington Palace even after divorcing Charles in 1996, and had a palace private secretary right up until the time of her death in August 1997.
He wrote in his column: "The difference of course is that Diana did not commercialise her life as Meghan and Harry have done.
"And it is for this reason, tragically, that for all the positive signs the couple's presence have triggered, not even the most optimistic of courtiers truly believe there is any way back for the Duke and Duchess of Sussex.
"Of course, they will be back for Charles's coronation, but after that?
"In the years ahead, failing to recognise the possibilities presented to them this week may turn out to be the couple's biggest error yet."
Kay said Meghan and Harry were welcomed back into the royal fold with "respect" at the procession for the queen and would regret not making a royal return on the palace's terms.
He wrote: "How easy it would have been to confine the Prince and his wife to some minor role, tucked away as they were during the Platinum Jubilee celebrations as a mere support act."
"Yet King Charles—and indeed William—have shown magnanimity," he continued. "Rather than being excluded, Harry has been brought into the centre of things. His role yesterday was hardly obscure.
"Indeed he was afforded every courtesy of his position as the King's son. He was in his rightful place alongside his brother and behind his father.
"In Westminster Hall, he and the Duchess of Sussex lined up exactly as they should have in the order of succession behind William and Kate to pay their respects to the Queen's coffin.
"As for Meghan, she too was shown the respect that merits a monarch's daughter-in-law."