Will Smith's Oscar-Baiting In 'King Richard' Underserves Venus and Serena Williams
Venus and Serena Williams have eight Olympic gold medals between them. Serena has won 23 Grand Slam titles (the second most of any tennis player ever), and Venus has won seven. Serena has made Time Magazine's 100 Most Influential People list twice, has spent over 300 weeks as the world's number one, according to the Woman's Tennis Association, and is considered by many to be the greatest tennis player of all-time.
And so, of course, Hollywood decided to make a film about her dad.
That film is King Richard, streaming now on HBO Max. It tells the story of Venus and Serena's father Richard Williams, played by Will Smith, and his intense planning and managing of his daughters' early careers as tennis players.
Produced by Smith himself, the film is a fairly craven attempt to get Will Smith an Oscar nomination, his first since The Pursuit of Happyness in 2007. It is full of big inspirational speeches that seem tailor-made to show up in the Academy Awards reel when they roll around in March. It also sees Smith as his most down-to-earth character in a while, in the hope that award voters will reward him for some sort of physical transformation – though Charlize Theron in Monster it is not.
Of course, it is Smith's prerogative to do a big showy performance in a desperate attempt to win an Oscar. He's in good company this year—in essence he's doing nothing different from what, say, Lady Gaga is doing in House of Gucci, Nicole Kidman is doing in Being the Ricardos or Benedict Cumberbatch is doing in The Power of the Dog.
The problem is; he's in a film which sidelines the story of two of the greatest women athletes ever to make room for his Oscar-baiting.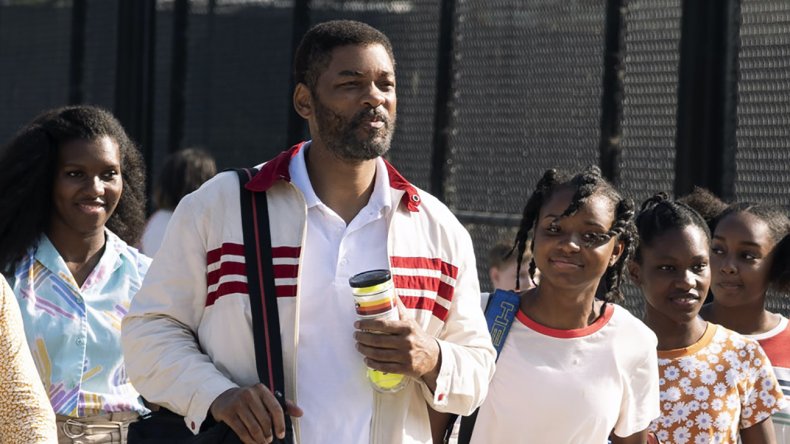 For a male athlete to get the same treatment is almost unthinkable. When Smith made Ali (based on the life of Muhammad Ali), for example, the focus was not on Ali's mom. A movie about the sacrifices his mother made to enable him to become a boxer would never get greenlit, never mind be the subject of Oscar buzz. The only real exception to this is Sandra Bullock's The Blind Side, which has many problems of its own, beyond sidelining the athlete at the heart of the story.
If you bring up the sexism inherent in the movie's premise on social media, however, people will tell you that the film was authorized by Venus and Serena themselves. Of course it was—if someone approached you saying they wanted to make a biopic that would focus on and celebrate a family member that you love, you would probably sign off on it too. But that does not mean that that focus is in the wrong place.
The main problem with the film is that throughout it takes Serena and Venus Williams' tennis talent as a given, so as to better highlight the impact of the decisions Richard Williams made about their lives. And sure, Venus and Serena were probably always preternaturally good at tennis, but the only time the film focuses on the hard work and sacrifices the women themselves had to make only exists as a platform to allow Richard to give another inspirational speech.
Richard Williams was undoubtedly a huge part of the Williams' sisters early success, and his decision to take them out of junior leagues was probably shrewd, but he was not the one putting all the hard work in hour after hour, day after day. But the film has no real interest in that work.
There is a potentially better version of this film that exists with just a little more focus on Venus and Serena and their work to become the best. That version, however, would be more of an ensemble piece, and so may rob Smith of the guaranteed spot in the Best Actor race. Instead, we just get a Venus and Serena who are determined to win, and so they do. Which is fine, but there are surely plenty of tennis players out there who are determined to win, but do not because they do not put the same work in that the Williams sisters do.
In lionising 'King Richard,' the film also leaves some characters frustratingly blank. What about Venus and Serena's two sisters that are not Richard's biological children? They are shown as blanket supportive in the movie, but surely they must have felt resentment about how much their lives were uprooted due to the focus their step-dad had?
And what about the multiple other children that Richard has that the film simply ignores? What about his daughter Sabrina Williams, who told The Sun in January 2020, "he is a selfish man, lives only for himself, he just uses his kids to get what he needs. He's not a dad, he was just a sperm donor." None of this is in the film, which paints Williams (and by extension Smith) as a hero. Which may be the way that Venus and Serena see their father (hence why they authorized the film) but may not be the full story. And you get the feeling watching that the story you are being told is less interesting that the one you are not.
King Richard is in theaters and on HBO Max now.