After commentator Malcolm Nance announced that he had joined Ukraine's foreign legion to fight against Russian troops, GOP Representative Adam Kinzinger took to Twitter to praise the MSNBC analyst and criticize two prominent Republican figures.
The Illinois lawmaker tweeted late Monday that Nance was "so moved by what he sees" that he decided to join the fighting in Ukraine. But Kinzinger added that Fox News commentator Tucker Carlson "shills" for Russian President Vladimir Putin. Kinzinger also said that House Minority Leader Kevin McCarthy has "attacked" both him and Wyoming Representative Liz Cheney, another Republican lawmaker, "more than those members expressing Putin love."
"Must be nice to live so secure and have no guilt about that," Kinzinger added.
Carlson and several far-right GOP members of Congress, such as Madison Cawthorn and Marjorie Taylor Greene, have made controversial statements since the start of the Russia-Ukraine war that have distinguished them from the vast majority of lawmakers who have expressed support for Ukraine and condemnation of Russia.
Greene, a Georgia representative, said during an appearance late last month on a conservative radio show that Ukraine "just kept poking the bear," meaning Russia, and that Russia invaded as a result, the Financial Times reported. Cawthorn, a North Carolina representative who has had several recent brushes with controversy, called Ukrainian President Volodymyr Zelensky a "thug" in a speech last month.
Russian state media outlets and government agencies have also repeatedly used videos and statements made by Carlson on his Fox News show, Tucker Carlson Tonight, as propaganda regarding the Ukrainian war.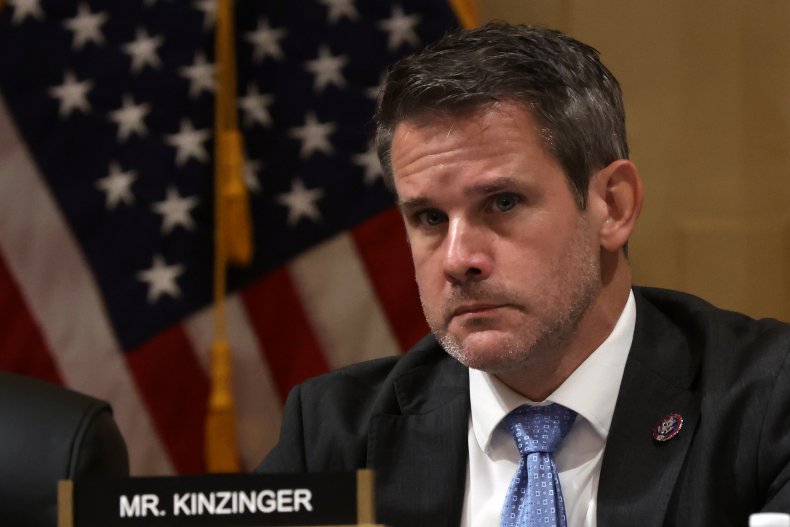 Several people have weighed in on Kinzinger's initial tweet about Nance, Carlson and McCarthy. Jack Posobiec, the host of the Human Events Daily podcast, responded to Kinzinger's post by asking the congressman when he was "heading over" to Ukraine.
Kinzinger, who is serving in the U.S. Air National Guard, replied to Posobiec's tweet: "Standard response of those with no response. If you don't "head over" you can't have an opinion."
He added, "Still in the military. Of course I'm willing to go if sent. We don't self deploy though kiddo," he added.
Kinzinger also retweeted a reply to Posobiec's tweet from Newsweek editor at large Naveed Jamali that read: "For clarity, members of the US military are forbidden to travel to Ukraine. This includes reservists and members of the guard. So no Jack, Adam can't just travel to Ukraine on his own. You can tho."
This was not the first time that Kinzinger has called out Carlson and McCarthy over comments or actions, or the lack thereof, in regard to the war in Ukraine and the rhetoric surrounding it. Earlier this month, he called for Carlson to "answer" for his alleged "support" for Russia's invasion after seeing news of Russian "atrocities."
"Now that we have seen evidence of mass graves in Ukraine, and pictures of the atrocities against civilians, We should demand @TuckerCarlson answer for his support of this war," Kinzinger tweeted at the time.
He also called on McCarthy to "demand accountability" from Congress members who have made similar statements about the war.
Newsweek reached out to Fox News and representatives for McCarthy and Kinzinger for comment.