Kinzinger Rips Tucker Carlson After Russia's Atrocities in Ukraine Revealed
Representative Adam Kinzinger, an Illinois Republican, wants Fox News host Tucker Carlson to "answer" for what he views as his "support" of Russia's invasion of Ukraine after new evidence of "atrocities" carried out by Moscow's troops has emerged.
Carlson, who hosts one of the most popular cable news shows in the U.S., has been regularly featured on Russian state television and utilized as propaganda by the Kremlin amid President Vladimir Putin's internationally condemned assault on Ukraine. Kinzinger has repeatedly slammed Carlson for the views he's expressed connected to the war, as have many other critics.
"Now that we have seen evidence of mass graves in Ukraine, and pictures of the atrocities against civilians, We should demand @TuckerCarlson answer for his support of this war," Kinzinger tweeted late Saturday evening. Continuing, he took aim at "those Congressmen who have done the same."
"@GOPLeader [House Minority Leader Kevin McCarthy] should demand accountability," Kinzinger added. Like Carlson, several prominent GOP members of Congress have expressed views critical of Ukraine or that appear more supportive of Russia's perspective on the war.
While Carlson has been used as propaganda by the Kremlin and has shared what many critics see as pro-Russian talking points during his popular program, he's also condemned Putin's invasion and expressed support for the Ukrainian people.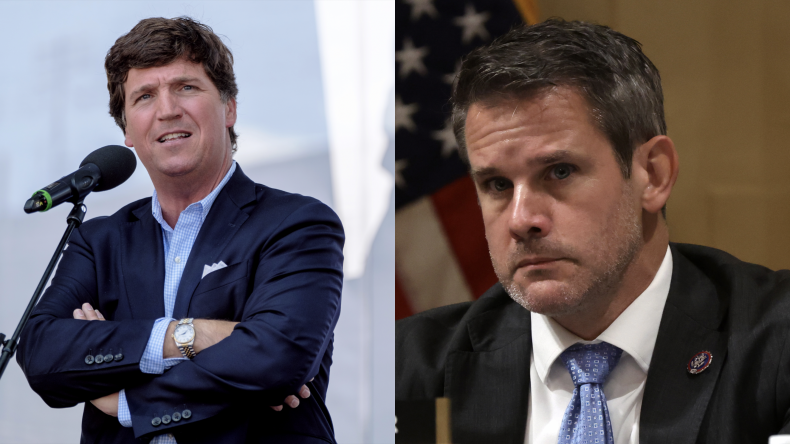 "Russia's invasion of Ukraine was shocking, it was wrong, the suffering of civilians there is entirely real, we're watching it on TV, it's horrifying. So it's entirely natural to root for the Ukrainians to expel the invaders and obviously we are rooting for them to expel the invaders, Russia," Carlson said during a March 21 segment of his program.
However, just ahead of the full-scale Russian invasion—which began on February 24—Carlson suggested that Americans should be angrier at their own leaders and others than they are at Putin. These remarks drew swift backlash from many critics.
"Has Putin ever called me a racist? Has he threatened to get me fired for disagreeing with him? Has he shipped every middle-class job in my town to Russia? Did he manufacture a worldwide pandemic that wrecked my business and kept me indoors for two years? Is he teaching my children to embrace racial discrimination? Is he making fentanyl? Is he trying to snuff out Christianity?" Carlson asked his viewers on February 22.
The Fox News host has also appeared to give credence to Russian claims about U.S.-funded labs potentially being utilized in Ukraine to develop biological weapons. Although the U.S. has supported Ukraine's bio labs, American and Ukrainian official have firmly denied that they were being utilized to create bioweapons.
Just a few minutes after his first Saturday evening tweet targeting Carlson, Kinzinger tagged the Fox News host in another post outlining alleged atrocities committed by Russia in Ukraine. "Hey there @TuckerCarlson," the Republican lawmaker posted.
"Bucha, Kyiv region. The bodies of people with tied hands, who were shot dead by soldiers lie in the streets. These people were not in the military. They had no weapons. They posed no threat. How many more such cases are happening right now in the occupied territories?" Mykhailo Podolyak, a top adviser to Ukrainian President Volodymyr Zelensky, wrote in the thread Kinzinger shared. Podolyak included an image that appeared to show what he described.
Ukraine's Ministry of Defense has alleged that civilians in Bucha, northwest of Kyiv, were "executed arbitrarily" while the area was occupied by Russian troops for several weeks. Some were killed with their hands tied behind their backs, and their bodies were left scattered in the streets, the ministry said.
Journalists with the AFP news agency reported that they'd seen the bodies of at least 20 men in civilian clothes in a single street on Saturday. Bucha's Mayor Anatoly Fedoruk told the news agency that they had all been shot in the back of the head by Russian forces, alleging that the town has buried some 300 people in mass graves.
Kinzinger has repeatedly slammed Carlson amid the Russia-Ukraine War. On March 23, he wrote on Twitter: "Pure, pointless evil. Everyone who took Putins [sic] side in American politics needs held to account. Everyone," he wrote, tagging the Fox News host below the post.
Just after Russia launched the assault on Ukraine, GOP lawmaker Liz Cheney highlighted that Carlson as well as former President Donald Trump and former Secretary of State Mike Pompeo were being utilized as Russian propaganda.
"As Russian forces invade Ukraine, Russian TV features Donald Trump, Mike Pompeo and Tucker Carlson praising Putin. Putin is evil. Every American watching what's happening in Ukraine should know that," the Wyoming Republican wrote in a February 25 tweet.
Newsweek reached out to Fox News and McCarthy's spokesperson for comment but did not immediately receive responses.