Kinzinger Wants Tucker Carlson 'Held to Account' for Taking 'Putin's Side'
Representative Adam Kinzinger of Illinois said this week that he wants popular Fox News host Tucker Carlson "held to account" for taking Russian President Vladimir Putin's "side" in the internationally condemned invasion of Ukraine.
The Republican Kinzinger has repeatedly slammed Carlson over his remarks about Putin and Russia, accusing the Fox News host of aligning with the Kremlin. Clips of the Fox News host and his show have repeatedly been used by Russian state-run media in the lead up to the invasion and amid the ongoing war.
Fox News' Tucker Carlson Tonight continues to be one of the nation's most-watched cable news shows, coming in No. 1 last week with an average of about 3.5 million viewers. Meanwhile, Carlson has drawn substantial criticism for his commentary on Putin, and Russia's ongoing assault on Ukraine.
"Pure, pointless evil. Everyone who took Putins [sic] side in American politics needs held to account. Everyone," Kinzinger wrote in a Wednesday evening Twitter post. He then added: "And talking heads like @TuckerCarlson @TulsiGabbard etc."
Former Congresswoman Tulsi Gabbard, a Hawaii Democrat, has faced backlash similar to Carlson for sharing her views about the Russia-Ukraine war. Gabbard has appeared on Carlson's show as the conflict has unfolded. Both have been accused by critics of being on Putin's side.
"The heroes of #Ukraine keep fighting. While @TuckerCarlson keeps loving him some Putin," Kinzinger said in another Wednesday evening tweet.
Over the past several days, the GOP congressman has shared multiple memes of Carlson and his quotes about Russia and Putin. On Monday, Kinzinger shared a meme of the Fox News host with a 2019 quote.
"Why do I care what is going on in the conflict between Ukraine and Russia? And I'm serious. Why do I care?" Carlson said at the time. "Why shouldn't I root for Russia? Which I am." While Russia's full-scale invasion of Ukraine began on February 24, Moscow has militarily supported Ukrainian separatists in Eastern Ukraine since 2014.
Just ahead of Putin's invasion of Ukraine last month, Carlson faced backlash after he questioned why Americans should be opposed to the Russian leader.
"It might be worth asking yourself, since it is getting pretty serious, 'What is this really about? Why do I hate Putin so much?' Has Putin ever called me a racist? Has he threatened to get me fired for disagreeing with him?'," Carlson asked.
As the invasion began, however, Carlson did criticize Putin and his actions. Putin "is to blame for what we're seeing tonight in Ukraine," he told his viewers on February 24, warning the situation "could become a world war."
"Vladimir Putin started this war, so whatever the context of the decision that he made, he did it," Carlson added. "He fired the first shots."
Multiple journalists and Russian media analysts have reported that Carlson has been featured prominently on Russia's state television as the conflict in Ukraine continues. "Every program I watched today on Russian state TV had a clip of Tucker Carlson bashing Ukraine," Julia Davis, a Russian media analyst and columnist for The Daily Beast, tweeted on Wednesday.
"Anyone who suggests there might be a way out of this disaster short of total war, anyone who says that is immediately denounced as a tool of Russian propaganda," Carlson complained in mid-March.
On March 21, Carlson also said, "On one level you can understand why people are whipped into an emotional frenzy when they talk about Ukraine, why wouldn't they be? Russia's invasion of Ukraine was shocking, it was wrong, the suffering of civilians there is entirely real, we're watching it on TV, it's horrifying. So it's entirely natural to root for the Ukrainians to expel the invaders and obviously, we are rooting for them to expel the invaders, Russia."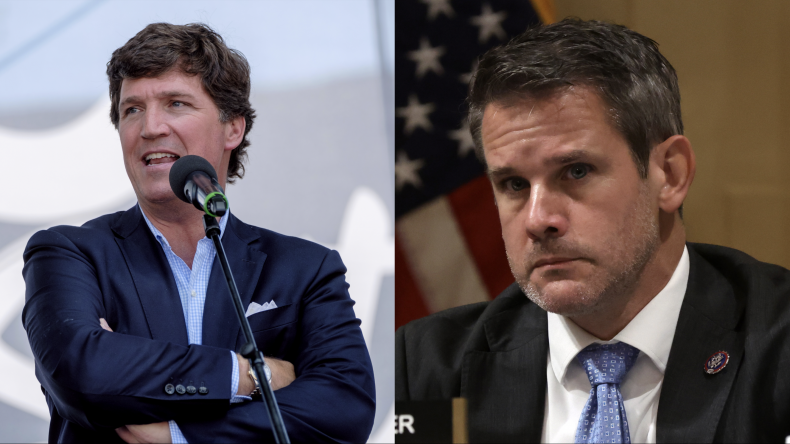 As Putin's invasion of Ukraine enters a second month, analysts have largely concluded that Russia has "failed" to achieve its objectives in its initial military campaign. The Russian president reportedly underestimated the resistance he would receive from Ukrainians, thinking that his forces would largely take control of the country within a matter of days.
Instead, after a month of war, the Ukrainian military continues to battle the Russian invaders, as ordinary Ukrainian citizens have also taken up arms to join the fighting. Meanwhile, the U.S. and its NATO allies have transferred billions of dollars in weapons and humanitarian aid to assist the Eastern European nation in its fight against Moscow.
On Wednesday NATO said that it estimates Russia has lost between 7,000 and 15,000 troops since the start of its invasion of Ukraine. To put that number in perspective, the Soviet Union lost about 15,000 troops in a decade of war in Afghanistan between 1979 and 1989. Less than 2,500 U.S. troops were killed in two decades of war in Afghanistan from 2001 to 2021.